Intelliga Glencoe kitchen - White
Truly handleless - Gloss
Create a silky smooth bright white kitchen in gorgeous high gloss for an effortless designer look and fresh, spacious feel. Intelliga's handleless design offers streamlined simplicity, providing a beautiful blank canvas for you to dress up or down, depending on the occasion.
Intelliga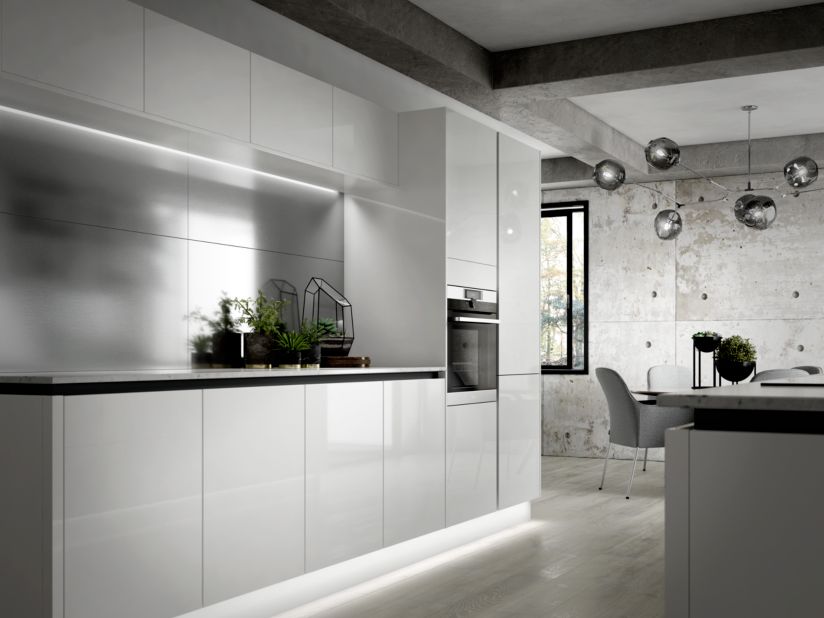 Intelliga Glencoe units
no minimum spend
---
Ends 1st November
Finance options

Book a FREE virtual design appointment
Everything you need, under one roof
We offer a fantastic selection of products and finishing touches to personalise your kitchen. From the latest appliances to completing your project with a stunning range of lighting, flooring, tiles, paint and more, we have everything you need to complete your dream kitchen project.
Showroom kitchens - Our expertise
You can learn more about our end to end installation service and how to spread your costs with our flexible finance payment options.
Ideas & Advice
Download our latest brochure or inspire your ideas with our kitchen gallery. Let us guide you towards your dream kitchen.
Your dream. Our experts.
From design to installation plus all the finishing touches, we have everything you need to create your new kitchen.
Bring your design ideas to life
Use our kitchen visualiser - and your imagination - to create your perfect kitchen.
Choose cabinets, worktops, flooring, splashbacks and wall colours from an array of designs and finishes to find what will work for you and your home.
Terms & conditions
*Up to 50% off kitchen units: Offer applies to Showroom ranges only. Excludes installation & Ready to fit kitchens. show more

Discount also applies to home office units. 50% discount applies to Esker, Heritage, Melrose and Intelliga ranges. 40% discount applies to Camden, Chester, Sofia and Tiverton ranges. 30% discount applies to Glencoe, Kendal, Milton & Oban Ivory ranges. Offer ends 1st November 2021. show less
*Kendal 8 unit example price based on: 3 x 1000mm Base Unit, 1 x 500mm 4 Drawer Base Unit, show more

1 x 600mm Under Oven Housing Unit, 2 x 1000mm Wall Unit, 1 x 500mm Wall Unit. Price excludes plinths, cornices, end panels & handles. show less
*15% off Showroom sinks & taps: Offer only available on Showroom kitchen sinks and Showroom kitchen taps. show more

Offer ends 1st November 2021. show less
*Up to 50% off fitted home office units: Excludes installation. Discount level varies by style. 50% discount applies to show more

Esker, Heritage, Melrose and Intelliga ranges. 40% discount applies to Camden, Chester, Sofia and Tiverton ranges. 30% discount applies to Glencoe, Kendal, Milton & Oban Ivory ranges. Offer ends 1st November 2021. show less