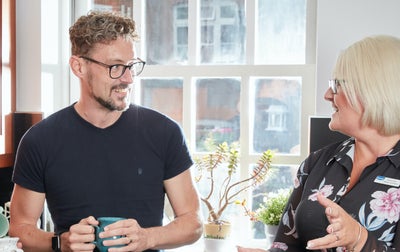 What our customers say about us
---
---
Meet our Showroom customers
Poppy Cooks
Poppy O'Toole is a professional chef, known to her hundreds of thousands of followers as The Potato Queen, so she knows what makes a great kitchen. Find out how she worked with her Wickes design consultant to get the kitchen of her dreams.
Gareth Gates
Singer Gareth Gates was looking for something dark and moody for his kitchen. He's invited us into his home for a sneak peek at the finished result.
Jim Chapman
Discover why influencer Jim Chapman chose the Milton Midnight kitchen for his brand new extension and learn about one of his favourite features of the space.
Jo
Jo dreams of being a rally car driver and enjoys days spent in the kitchen with her family. The dog especially loves the underfloor heating.
Jo's kitchen is a mix and match Heritage Bone and Sage.
John
John proudly shows us his kitchen and talks to us about the service he received from Wickes and the Installation team. We know who is really in charge though!
John's kitchen is Sofia Pewter.
Chanel
Chanel is extremely busy with her social media enterprise and needed a dedicated space to concentrate on work.
Chanel's home office is the Milton White range.
Nicky & Matt
Nicky and Matt wanted to modernise their kitchen and increase storage space. Nicky also got the coffee machine of her dreams!
Nicky and Matt have a Sofia Pewter kitchen.
Michael
Michael loves to host and wanted an open plan kitchen to have friends and family over.
Michael has a Tiverton Slate kitchen.
Carla & Simon
Carla and Simon needed a kitchen for their houseboat, our skillful Design Consultant was able to oblige.*
Carla and Simon have a Tiverton Bone kitchen.
---
I ordered a kitchen and bathroom for my mum before lockdown from Reading Wickes. Neil and Tony contacted me as soon as restrictions were lifted to start the installation and took care of sorting everything for my mum while we were separated. My mum is delighted with her new kitchen and bathroom. Thank you!
Reena Serwaz
Lockdown put our kitchen installation back a couple of months, but when it actually happened we were really happy with the result. From initial design to final fitting the process for straightforward and well handled. Ron, the installer was outstanding and restored my confidence in tradesmen! He worked efficiently, keeping us up-to-date throughout and completed the kitchen earlier than expected. Delighted with the kitchen, thank you!
Andy Stephens
Brilliant customer service from Wickes, taking us every step of the way through our kitchen design and purchase entirely using virtual tools. Our Design Consultant was brilliant at adapting our plans to create a viable solution along with arranging all ordering and fitting without us ever having to leave the house!
Tim & Becca Crossley
Wickes made the process of creating my new kitchen very straight forward. The designer was a creative genius who had huge patience, as I changed things and pondered my options along the way. I was always made to feel a valuable customer. Thank you indeed.
Allison Saetta
---
---
Our customers' projects
Our customers have shared photos of their projects with us. Have a look through for inspiration and don't forget to share your project with us too.
Upload your photos here