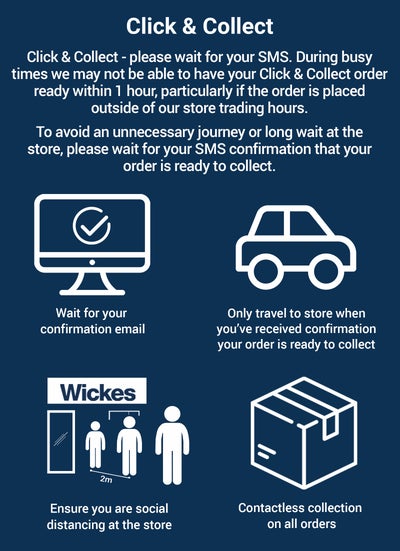 Collection of your Click & Collect order will usually be available within 1 working hour after you have placed your order. Occasionally this could take a little longer so please ensure that you have received confirmation that your order is ready before visiting your local store to collect.
We are operating a contactless Click and Collect service for our customers which will be operated outside of our stores where possible, or managed safely within our stores if external collection is not possible. When you arrive for your collection please follow the signs in our car park.
Please ensure you wear a face covering in store when collecting your order.
Our collection times may be a little longer at the moment due to customer demand but we aim to have your order ready to collect within 1 working hour.
Please wait for your SMS confirming your order is ready to collect. During busy times we may not be able to have your Click & Collect order ready within 1 hour, particularly if the order is placed outside of our store trading hours. To avoid an unnecessary journey or long wait at the store, please wait for your SMS confirmation that your order is ready to collect.
Click and Collect orders can be placed and collected every day. Orders can be collected from your local store in line with their opening hours. Please refer to your local store's opening hours for collection times. Orders will be held for a maximum of 48 hours.
Please also note If your order includes an age restricted product you will be required to show ID (instructions given when you arrive at store).
Thank you for your understanding and custom.