---
From overwintering frost sensitive or tender plants, growing cucumbers or chillies, to propagating from seed or cuttings, a greenhouse is a great addition for any keen gardener.
A greenhouse opens a world of exciting options, and by offering protection from late frosts, it means your growing season can start much earlier and extend well into the autumn or even winter. No matter how small, or large, your garden is, there's a greenhouse that will be the perfect fit.
When choosing the most appropriate greenhouse, there are a number of things you need to consider, such as size, location, and the materials from which it's constructed. This guide will help you make the right decision based on your needs.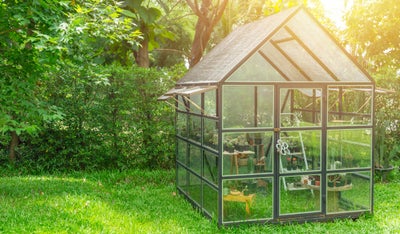 Where to site a greenhouse?
The first thing to decide upon is where you are going to position your greenhouse, as this will often determine what size you can accommodate. Don't forget to allow enough room to access the sides of the structure for cleaning and maintenance.
The ideal position would have no shade, so be aware of any shadows cast by trees or buildings.
A greenhouse running north to south offers maximum summer light, whereas east to west offers marginally more winter light.
If you intend to use electric heaters or lighting, then bear in mind the access to power.
Ideally, a greenhouse should be situated in a sheltered spot, which offers protection from the prevailing wind. Choosing a flat area will make laying a base simpler.
Having identified the most appropriate location in your garden, you can now measure up and decide what size greenhouse you want.
Different frame options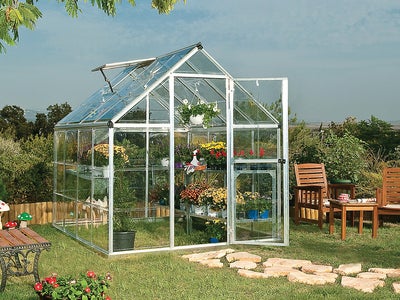 Aluminium
Advantages
Lower cost, lower maintenance
Easy self-assembly
Disadvantages
Limited colour choices
Not as strong or robust as timber in high winds or heavy snow
Shop products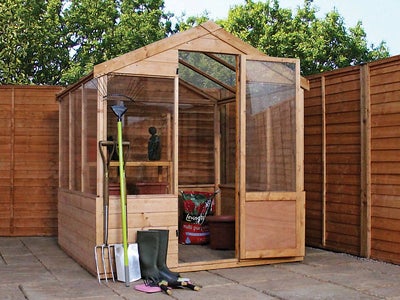 Timber
Advantages
Strong and sturdy
Tends to be better at maintaining a steady temperature
Disadvantages
Higher cost, higher maintenance
Softwoods need treating, but may still rot over time
Shop products
Shapes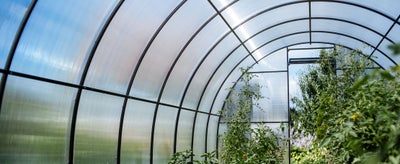 Size
The taller the eaves, the better the light distribution is, so aim for a height of at least 1.5m.
Be sure to allow enough headroom so you can stand and move around comfortably.
A width of 6 feet or greater will allow for staging or beds on both sides of the greenhouse.
It's best to go for the biggest size you can accommodate and afford.
Double sliding doors are both space saving and very practical for moving large plants in and out of the greenhouse.
Types of glazing for a greenhouse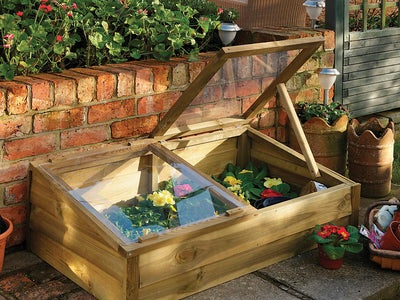 Horticultural
Advantages
Better for light than plastic alternatives
Easily replaced if damaged
Disadvantages
Most easily damaged type of glazing
Shatters into large, sharp pieces so dangerous if broken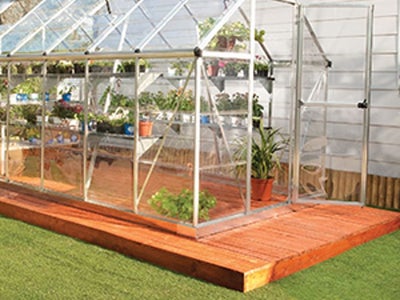 Toughened
Advantages
Better for light than plastic alternatives
Stronger and more robust
Disadvantages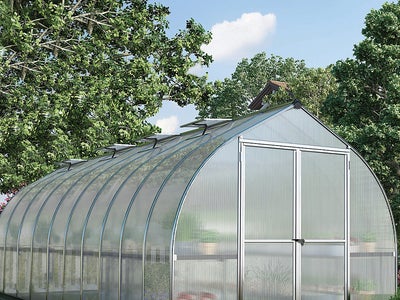 Polycarbonate
Advantages
Virtually indestructible
Better insulation, lower cost than glass
Disadvantages
Learn more about greenhouses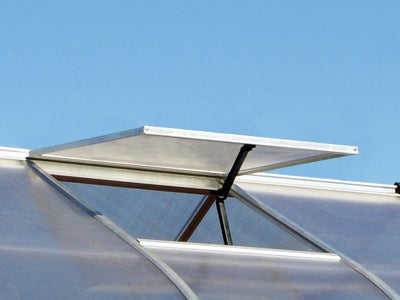 Heat and light
Good ventilation is essential for regulating temperatures, encouraging healthy plant growth and helping to combat pests and disease.
The most effective form of ventilation is roof vents, ideally on both sides of the roof. Louvred side vents can be useful too
Plants can easily be scorched by direct sunlight, so to reduce the intensity of the sun you can introduce shading, such as external or internal blinds. Shading netting is a convenient and low-cost choice
Tender plants will require a heat source as they need to be kept at a minimum temperature of 7°C all year round
Gas and oil heaters are very portable and cost-effective, but they do require regular ventilation. Electric heaters are the best and safest solution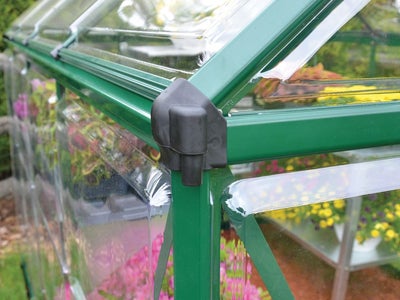 Assembly
Most greenhouses are supplied for self-build, although the price of some timber models does include professional assembly.
Ensure that the greenhouse is securely anchored to whatever foundation or surface it's positioned on
Palram offer an anchoring kit for its range of greenhouses that can withstand winds of up to 100mph
Aluminium greenhouses are generally supplied with a base, usually around 5"/12.5cm high, but not all timber frame models are, so check before you buy

Foundation
Most greenhouses sit on concrete, paving slabs or gravel over a base of hardcore and sand, which provides good drainage and is particularly suitable if you intend to grow plants in containers or gro-bags. However, if you intend to grow crops in your greenhouse, it can sit directly onto soil.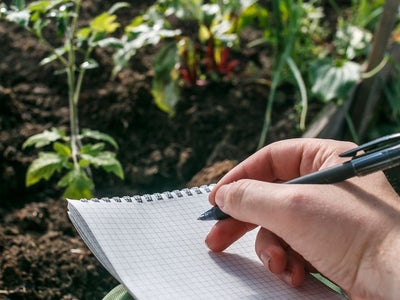 Planning permission
Unless you live in a listed property or a designated area of outstanding beauty, it's unlikely you'll need to seek planning permission as long as the following apply:
The greenhouse is for your domestic use only
Along with any other outbuildings, the greenhouse covers less than 50% of your property's land
It is less than 4m in height
If within 2m of the property's boundary, the height of the eaves can't exceed 2.5m
The greenhouse is not nearer to a public highway than the original house These are not definitive guidelines, so it's best to check with your local planning authority if you have any concerns.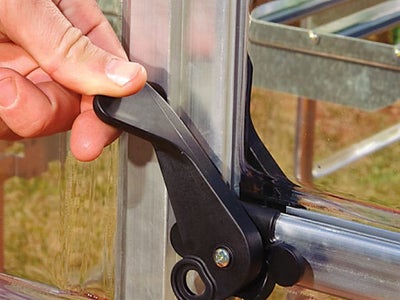 Maintenance
Like most things, greenhouses need maintenance. It is important to check on your greenhouse on a regular basis to ensure that it is providing the right conditions for your plants to flourish.
Aluminium frames will need little ongoing maintenance, other than cleaning with detergent or a damp cloth from time to time
Timber frames will need regular application of stain or oil as required
Guttering should be cleaned, checked and any debris should be removed when necessary
Glazing should regularly be cleaned, both inside and out
Internal surfaces should be cleaned annually with a disinfectant to help protect plants from disease and pests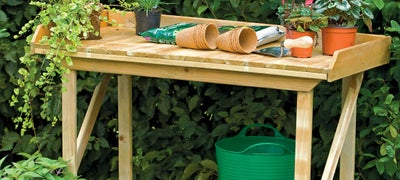 Greenhouse accessories
Everything you need to complete your growing experience. Make your greenhouse the best gardening environment with the right accessories.
A wide variety of shelving, known as staging, is available to maximise the growing space for any greenhouse
A potting bench is a useful addition, especially if you intend to grow plants from seed
A greenhouse can require a lot of water during the warmer months, so it's a good idea to install a rain collection kit and a water butt