The gardening year - a month by month guide
Whatever the season there's always something to do in the garden. Our gardening calendar will help you to keep on top of all those important jobs, from planting and pruning to mowing the lawn. Our month-by-month guide includes lots of hints and tips for following the rhythm of the seasons and making the most out of your garden all year round.
The key to bringing out the best in your garden is knowing what to do and when. Even in the depths of winter, with frost and snow covering the ground, you can start preparing for the approaching spring. From the moment the first snowdrops or daffodils emerge, your garden will be a hive of activity and there will be no shortage of jobs to keep you busy throughout the summer and into autumn.
Growing your own fruit and vegetables has become very popular recently. If you want hints and tips on which fruits and veg you can plant in your garden, and when you should plant them, read our How To Grow Fruit & Veg guide.
Use appropriate tools for the jobs. For example, cutting and pruning shears and saws are available in a wide variety of sizes, each one suited to different widths of stems, branches, etc. Remember to wear gardening gloves, particularly for heavy duty jobs such as tackling thorny bushes, and sawing through thicker branches.
It's equally important to take time out to relax and enjoy your garden and all the hard work you've put into it!
Gardening jobs for January
The garden is largely dormant in the new year, so this is the ideal time to plan ahead, carry out some garden maintenance, tidy the shed, and make sure our feathered friends don't go hungry.
Top 5 gardening tips for January
Prune dormant shrubs and climbers such as roses and wisteria. Remove any dead or damaged stems and cut back other stems approximately 5mm above a bud. Make the cut at a 45 degree angle away from the bud so water doesn't collect. Some shrubs such as wisteria can be cut back closer to the main trunk.
Tidy up and remove any dead stems from your perennials and add the waste to a compost heap if you have one. Now is also a good time to take any root cuttings from your perennials.
Brush any snow off trees and shrubs as soon as you can, to help prevent the branches splaying or breaking.
Dig over any vacant plots that haven't been dug over already. Apply mulch to your borders if you didn't do so in autumn.
Birds often struggle to find food throughout the winter. Help them out by providing seeds, nuts, fat balls and other foods, complemented by a regular supply of water.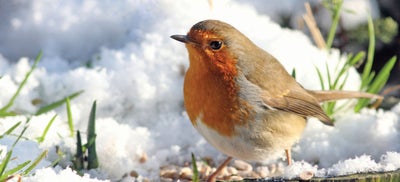 Gardening jobs for Feburary
February usually brings the first signs of spring, as snowdrops start to flower. Although it's another cold and frosty month, there is an opportunity to get ahead of the season and start preparing seed beds. Also don't forget to keep those bird feeders topped up!
Top 5 gardening tips for February
Prune any deciduous or evergreen shrubs that need attention. Some shrubs such as buddleia can be cut back quite hard. Other shrubs such as clematis and honeysuckle, and fruit trees such as apple and pear, will also benefit from pruning now.
Some bulbs such as snowdrops and winter aconites can be transplanted whilst still growing. So now is the ideal time to dig up and gently divide the congested roots before replanting.
The first early seed potatoes can be chitted by placing them eye end up in trays or egg boxes in a light, cool, frost free place. When the tubers start growing they are ready to be planted out.
Towards the end of February, dogwood stems can be cut back to within 15cm of the ground. This will greatly encourage new stem growth later in the year.
Use an indoor heated propagator to germinate early season varieties of cucumbers, tomatoes and leeks. They can later be transferred to a heated greenhouse or cold frame, but it's too early to put the seedlings outside.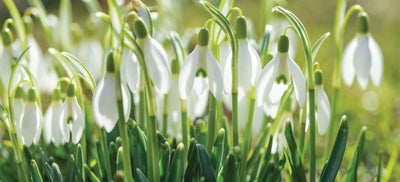 Gardening jobs for March
As March progresses the days become longer, the ground warms up, and plants start to grow. This is the month to plant out the first of your bulbs and keep a watchful eye on any weeds. It's also the time to harvest the very last of any winter crops you might have.
Top 5 gardening tips for March
Start planting perennial and summer-flowering bulbs such as lilies and gladioli, to guarantee an explosion of colour later in the year.
Finish preparing any borders and beds by digging them over, applying any mulch, and top dressing with a light application of compost or slow-release fertiliser.
Make a head start of weeding by picking out any young seedlings by hand rather than applying weed killer. Dispose of these in a green waste bin rather than putting them in your compost bin.
Put manure or rose feed around the bases of all roses, and check for dead, diseased or dying shoots.
Lightly rake your lawn to remove any moss. If your lawn is showing signs of growth you can give it the first cut of the year, with the blades on your mower on the highest setting.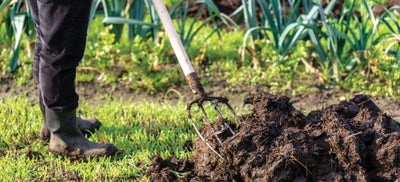 Gardening jobs for April
April is an exciting month when flowers such as primroses and bluebells start to bloom, and spring really kicks into gear. Longer daylight hours mean there's plenty of time to tend to the garden. The weather is usually changeable though, so watch out for late frosts which can kill any tender young bedding plants or vegetables.
Top 5 gardening tips for April
If you don't already have one, install a water butt or two to harvest rainwater from roofs and guttering, including the greenhouse. This guarantees you an excess supply in the dry summer months and also saves on your water bill.
Finish planting out your early potatoes and onion sets. Start planting maincrop potatoes. You can start to direct sow beetroot, carrots, lettuce, peas & parsnips.
Start a compost heap. A purpose-built compost bin gives quicker results, but a compost heap can also work. Try to create an even balance and structure between green material, woody material, and kitchen scraps and waste. Don't include diseased plants or leaves and turn the heap every 3-4 weeks.
April is the last chance to tidy and trim hedges and bushes, especially if you're using a power tool to do so. After April you risk disturbing or harming nesting birds (it's illegal to disturb or harm nesting birds during the breeding season).
Keep an eye out for any early aphid attacks or infestations and treat accordingly.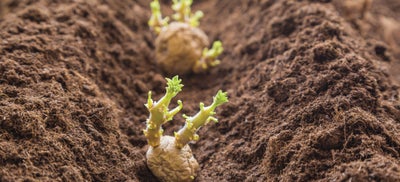 Gardening jobs for May
May is the month when the hard work of winter really starts to pay off and the garden hums with activity. This is probably the last chance to lay down any new turf, before the weather gets too dry. And don't forget to ventilate your greenhouse regularly too.
Top 5 gardening tips for May
Clean patios, paths and decking with a pressure washer or specialist cleaning solution, so they're ready to use for the summer.
Watch out for any late frosts and protect vulnerable plants with fleece.
Create micro-habitats for wildlife by installing bug hotels, leaving piles of dead wood or stacked bricks, or leaving a small corner of the garden to 'go wild'. These will help pollinating insects and bees, which in turn will help the flowers in your garden.
Deadhead any spring bulbs which have finished flowering, but don't remove any leaves until they have withered and turned yellow.
Harvest any early vegetable crops such as potatoes, asparagus, radishes and lettuce.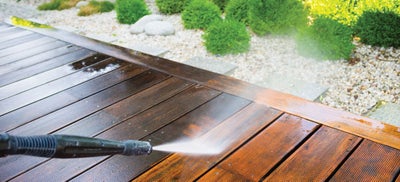 Gardening jobs for June
June is often one of the driest months, so it pays to keep your beds and borders well-watered, and to be as efficient as possible with water use. There can be a lot to do in June but it's also the perfect month for sitting, relaxing, and enjoying your garden. Time for a BBQ, anyone?
Top 5 gardening tips for June
With the danger of frosts now having passed, the more tender bedding plants and vegetables can be planted out in borders, containers and hanging baskets.
Regular deadheading of plants such as roses, salvias and penstemons will encourage them to flower again. Simply snip the flower heads off once they've started to wither and go yellow.
Some tall growing herbaceous perennials, e.g., delphiniums, wallflowers, sunflowers, may need staking or supporting before they grow too tall and bend under their own weight.
Hoe your borders regularly and pluck out any weeds that need removing.
Sow quick-growing annuals such as cosmos and nasturtiums.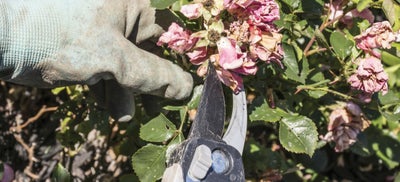 Gardening jobs for July
July is another month for enjoying the garden in all its glory, as most flowers are now in full bloom. It's also the peak season for pests such as aphids, which can multiply extremely quickly. Remember to keep your garden watered and your greenhouse ventilated in the summer heat.
Top 5 gardening tips for July
Continue with maintenance jobs such as deadheading herbaceous perennials, trimming back hanging baskets, and hoeing and weeding borders.
Some evergreen hedges and bushes can be trimmed again if the bird nesting season has finished, which it usually has by the end of July. Fast growing aggressive evergreens such as leylandii may need trimming more often than slow growing species such as yew.
During hot dry spells, ease the stress on your lawn by mowing it less often, and raising the height of your mower blades when you do cut the grass.
Plant out autumn flowering bulbs such as crocus, dahlias, nerine lilies, and cyclamen.
Maincrop vegetables such as carrots, peas, turnips, lettuce and spinach may need a top up of organic fertiliser. Harvest your courgettes before they turn into marrows.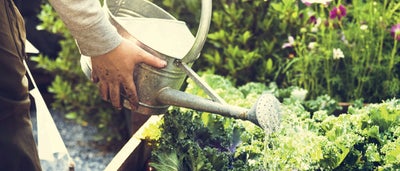 Gardening jobs for August
Although August usually has plenty of suitable weather for BBQs, the gardening mind turns to preparations for autumn and winter. It is also another month to keep on top of the watering and stay vigilant for pests and diseases which can flourish in the warm weather.
Top 5 gardening tips for August
The harvest season begins for many fruits and vegetables such as blackberries, raspberries, runner beans, carrots, maincrop potatoes, onions, peppers and chilies.
Collect seeds from your favourite flowers to store and use next season.
Many patio and container plants will need regular watering and feeding, especially in hot, dry weather. Water in the early morning or evening to reduce evaporation and keep them in good shape with regular pruning and deadheading.
Order your next year's batch of spring-flowering bulbs.
Any wisteria shrubs will need pruning again. Cut back the whippy green shoots of this year's growth back to 5 or 6 leaves once flowering has finished.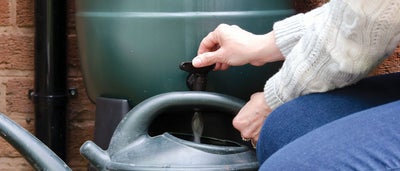 Gardening jobs for September
September is traditionally harvest month, with ripe fruits and vegetables ready to be picked. Other garden plants will start to die back, having finished their flowering season. With the days getting shorter September is a good month to generally tidy up and perform any tool maintenance and repair.
Top 5 gardening tips for September
Tidy up your borders by clearing leaves, removing any dead growth and checking plants for signs of disease. If you do find any diseased plants don't put them in the compost heap – it's better to burn them.
If you need to move any shrubs or plants as part of new plans, it's best to do this in the autumn so they can bed in properly for the winter.
Scarify the lawn to remove any moss, aerate it with a garden fork, and apply any top dressing and lawn feed if necessary.
Plant any autumn onion sets, and sow winter greens such as land cress, spinach, and hardy lettuce.
Autumn generates a lot of plant waste, so use this to keep your compost heap topped up. And don't forget to turn the heap over every few weeks.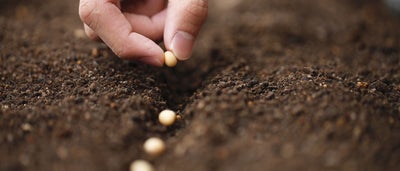 Gardening jobs for October
October is a truly autumnal month, with shorter daylight hours, flowering and harvesting slowing down considerably, and leaves turning from green to yellows, browns and reds. It's a great month for planting new trees and shrubs, tidying up the garden, and starting to feed the birds again.
Top 5 gardening tips for October
Plant any new trees and shrubs whilst the soil is still moist and warm. Prepare the ground thoroughly and add some compost and mulch to help the new plants get established.
Plant any spring-flowering bulbs such as daffodils. But don't plant tulip bulbs yet. Leave them until November to avoid tulip blight.
Cut back any perennials that have died down, and divide any perennials by carefully lifting them, dividing them into clumps, and replanting them.
If you're tidying leaf piles, be wary of hedgehogs! They begin hibernation in October, and leaf piles are ideal for them, so check before you start tidying up. You can provide special habitat for them by buying a hedgehog house or leaving log and leaf piles in a corner.
If a frost is forecast, cover any late season crops with a fleece.
Gardening jobs for November
Winter has finally arrived, and November can often be a challenging month – wet, windy and cold. There's a lot less to do around the garden, but it's an opportunity to prepare for winter and make sure your precious plants survive through to the spring.
Top 5 gardening tips for November
Part prune climbers such as roses and tie them back to prevent wind damage during the winter.
Make the most of any dry days to treat, preserve and repair any exterior wood such as sheds, fencing and decking.
Dig over any vegetable plots that have now finished. Work in some compost or manure as you turn the soil over with a fork.
Check any stored fruit and vegetables for signs of rotting and decay.
Don't cut back any ivy though, as this is a fantastic late-season source of nectar and pollen for insects.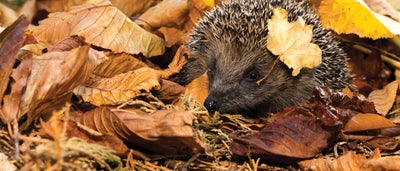 Gardening jobs for December
The days are at their shortest in December and the garden is mostly dormant. There are still a few maintenance tasks to perform, and it's also time to plan any changes or projects for next year. December is also a great month to enjoy the birds which visit the garden feeders you've put out to help them through the winter.
Top 5 gardening tips for December
Harvest any winter vegetables such as sprouts, broccoli and parsnips.
Check any exterior pipes and taps and install or replace any lagging to prevent them freezing.
Keep any borders tidy by removing leaf debris, dead vegetation etc, and apply mulch if it's needed and the weather is still quite mild.
Make sure any compost heaps or bins are covered to prevent the compost becoming waterlogged during the winter.
Plant seasonal outdoor pots and hanging baskets for Christmas with winter-flowering pansies, hardy cyclamen, or evergreen grasses.