---
There are a few things you need to consider when choosing your lawnmower. Firstly, what do you want to achieve – are you simply after a tidy looking garden, or do you want a beautifully striped lawn that wouldn't look out of place at Wimbledon?
The size of your lawn is a major factor too; petrol mowers are powerful and efficient for mowing large areas, whereas a corded or cordless mower could be ideal for a smaller lawn. Where and how you intend to store your lawnmower also needs to be considered, especially if you will need to carry it up steps or through the house in order to get to the lawn. And, if the thought of putting your feet up while the lawn is being cut appeals, then the latest 'robot' mowers are for you!
What type of lawnmower do I need?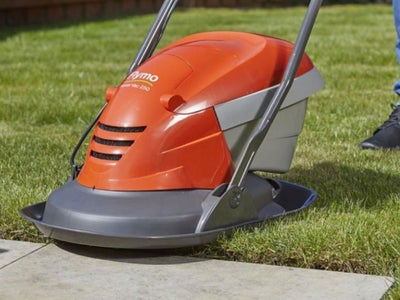 Hover mowers
Corded hover mowers are ideal for small to medium lawns. Moving on a cushion of air, these lightweight mowers glide over grass in any direction, making them ideal if your lawn has an uneven surface or is an irregular shape. They are also a good choice for busy households as they are quick to get the job done but, generally, the quality of the cut isn't as good as some of the other options. Corded models are relatively light, and the folding handles make them easy to store; however, a petrol model would be more suitable for larger areas and where power is not accessible.
Advantages
Light, highly manoeuvrable, easy to use and store
Good for uneven, sloped and irregular shaped lawns
Excellent value
Disadvantages
Relatively small grass collection box capacity
Not the highest quality of cut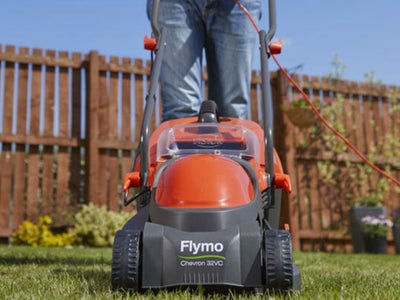 Rotary mowers
With a single, high-speed rotating blade, rotary mowers are a good choice for those who don't have time to mow very regularly, as they can cope with damp or longer grass with ease. Rotary mowers are available in cordless, corded and petrol options and a wide range of widths. The quality of the cut is good, and some models also have a rear roller to give a striped look. Most rotary mowers have four small wheels, so are easily manoeuvred. Some of the heavier petrol models are self-propelled, whereby the mower is pulled along by its engine so that you just need to steer rather than push.
Advantages
A real workhorse that can cope with damp and long grass
Comes in a wide variety of power sources and widths
Easily adjustable cutting heights
Disadvantages
Large in size so could be difficult to store
Petrol versions are heavy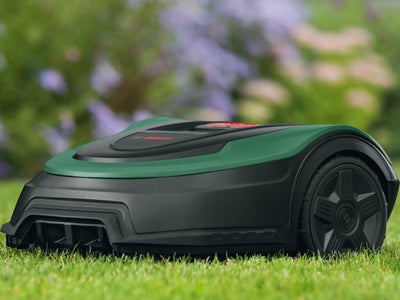 Robot mowers
If you think mowing is just too big a chore, or mobility is an issue, then the latest robot mowers could be the perfect solution. These technologically advanced units can be programmed to cut your lawn as regularly as you choose, and when its lithium-ion battery needs to recharge, it simply returns itself to the charging station. By cutting little and often, which it does in random patterns to avoid leaving wheel imprints on your lawn, the mower can let the fine cuttings mulch the lawn.
Advantages
Never manually mow your lawn again
Regular cutting achieves very healthy lawns
Quiet and environmentally friendly
Disadvantages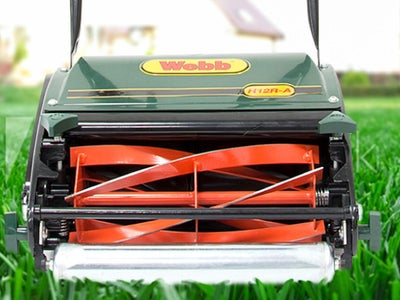 Cylinder mowers
Very traditional in appearance, the cylinder rotates and cuts the grass with a scissor-type action which provides a good quality and even cut. In terms of power, cylinder mowers are offered as either push (manual) models or, if they have a heavy roller at the rear, are petrol powered. For a small lawn, a push model is a good low budget option. However, cylinder mowers can struggle with longer or damp grass, so it would need to be cut at least weekly in the height of the growing season.
Advantages
Good for flat lawns
When combined with a roller, they give the classic striped finish
Push mowers are a low-cost option
Disadvantages
Not suited to a bumpy, uneven surface
Petrol versions are heavy and quite large so can be difficult to store
Blades will need to be sharpened
Which power type is right for me?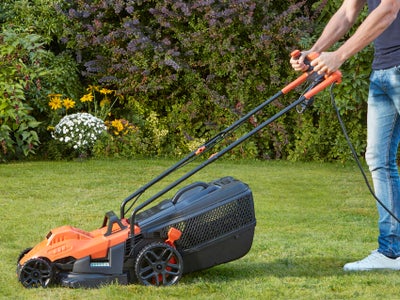 Corded
If you have easy access to an electric socket, a corded mower is a practical choice. They require very little maintenance, and with no need to refill with petrol or re-charge a battery, you can simply plug in and go. Power is measured in Watts (W) so the higher the wattage, the better the mower will cope with damp, long or thick grass.
Before purchasing a corded mower, check that the cable is long enough for your lawn, as you may need to purchase an extension lead. When using a corded mower, high visibility extension cables are useful so that you know the whereabouts of the cable at all times.
Shop products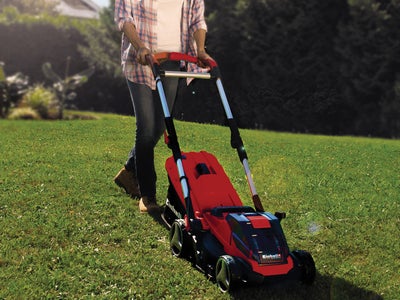 Cordless
The range of cordless mowers isn't as broad as it is for corded models, but it's worth considering if you have a small to medium sized lawn that doesn't have easy access to a power source. A fully charged battery will run for about 25 minutes before needing a recharge. Robot mowers are all powered by lithium-ion batteries.
Cordless mowers also tend to be a quieter option than corded and certainly petrol models. The power output of cordless mowers is given as an amp rating or Ampere-hours (Ah); the higher the amp rating, the longer the mower can perform between charges.
Shop products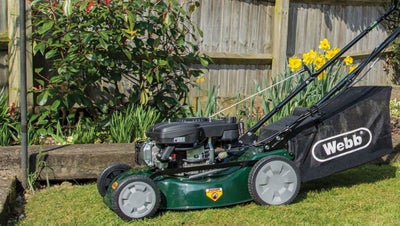 Petrol
Generally, petrol mowers are more powerful than corded or cordless electric models, so are ideally suited to tackling demanding conditions such as damp or long grass. They are also a great choice for larger gardens, as other than having to fill up with petrol and occasionally oil, they can be in use for long periods of time.
Whilst petrol mowers are very mobile, as they aren't dependent on a power source, be aware that they are much heavier than the corded or cordless equivalents. Petrol mowers also require regular maintenance and have higher running costs.
Shop products
Lawnmower features to look out for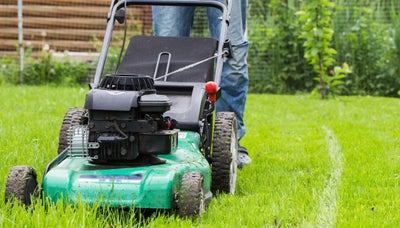 Check the grass collection box capacity, which is given in litres (L). The smaller the capacity, the more frequently you'll need to empty the grass box as you mow
Adjusting the height of the mower gives flexibility, which is particularly useful if you mow less frequently. Changing the height of your mower allows you to select the length you want to cut your grass
Consider the width of the mower blades, as the greater the width, the fewer the number of passes you'll need to finish the job
Check to see how any particular mower can be folded to aid storage
Some petrol mowers offer a push button electric start option rather than the traditional pull cord system
A grass comb is a useful feature that gives a much neater cut to the border of the lawn, without the need for edging tools
Some models have additional features such as a mulch option, leaf collection, or even a power hose
Top tips for better mowing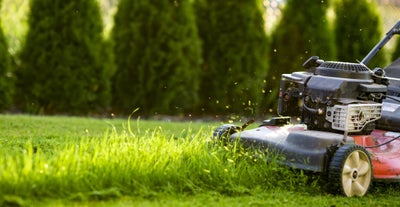 For the first cut of the year, set the mower at its highest cutting height, then gradually reduce the height of cut over the next few weeks. Aim to cut the height of the grass by about 1/3rd each time
In drought conditions, raise the cut height to not stress the grass
If possible, try not to mow the grass when it's wet, or even damp, as the grass will clump, making it more difficult to cut and to collect the clippings
If you mow regularly, you can simply let short cuttings mulch the lawn
Grass clippings can be added to compost heaps if mixed in with other, more woody, material
For a really neat finish, edge the lawn with a strimmer or a lawn edger. You could even use a garden comb if your mower has that feature
Check the manufacturer's instructions on how often to sharpen the mower's blades
If your lawnmower has a roller, simply mow in straight lines, turning 180º at the end of each pass, to create a beautiful striped finish. You could make a second cut at a 90º angle to the first cut to create a checkerboard finish