---
As with any natural product, exterior wood will need some care and attention from time to time, to ensure that it looks its best and remains in top condition.
The extent of the care and protection wood needs will depend on several factors, including the type of wood, i.e. hardwood or softwood, whether it can be stowed away during the winter months, or whether it's a permanent feature that has to deal with the changing weather.
Ultraviolet (UV) rays in sunlight cause shrinking and/or cracking and can, over time, damage the wood cells. This will affect the colour and surface texture, making wood more susceptible to water penetration and damage, so protecting your wood from harmful UV light is essential.
As well as protecting wood from the elements, woodcare products also give you the option of introducing a splash of colour to your outdoor space.
What different types of wood are there?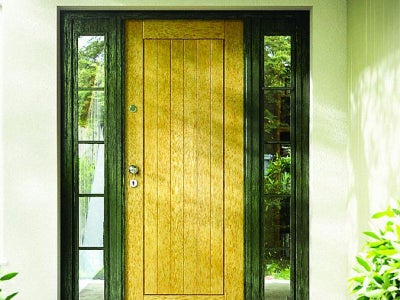 Hardwood
Slow growing and with a higher natural density, hardwood is much stronger and more durable than softwood. Hardwoods, particularly oak, are often the material of choice for external doors, as they are far less inclined to warp, twist or split.
Left untreated or unpainted, hardwood weathers beautifully, as the colour lightens and softens over time. If you do want to retain the original darker colour, then simply apply a clear varnish or stain, which will prevent the weathering taking effect.
Hardwood requires little regular maintenance, other than an annual washing down with soapy water to help prevent the build-up of algae or lichens.
Advantages
Stronger and more durable than softwood
Little maintenance required
Disadvantages
More expensive than softwood alternatives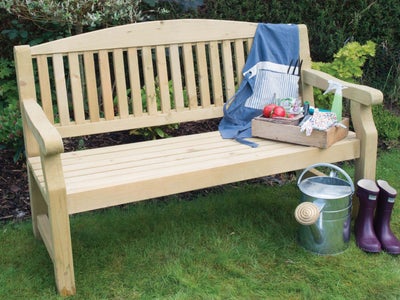 Softwood
Softwood is the most commonly used material for exterior items such as sheds, deck boards and fence panels. As softwoods grow faster than hardwoods, they are a less expensive choice of material. Even so, products labelled as 'slow grown' will be more robust.
Although initially needing more treatment, well-maintained softwood is long-lasting. Pressure-treated wood is especially adept at withstanding the elements, with many products carrying a guarantee that can extend to 15 years. However, sawn or untreated timber will need an application of preservative before being left outside. Stains, varnish and paints are a great way to protect your wood and you can either choose to enhance the natural colour of the wood, or opt for a splash of colour.
Advantages
More cost-effective and easier to work with
Wide choice of coloured stains and paints available
Disadvantages
Will require more regular maintenance than hardwood
How to maintain exterior woodwork

Preserver
If you're working with untreated or bare wood, then you'll first need to apply a coat of wood preserver. Preserver will penetrate the wood and provide long-term protection against rot or insect infestation. Once the preserver is dry, you can then apply paint, stain or varnish.
Shop products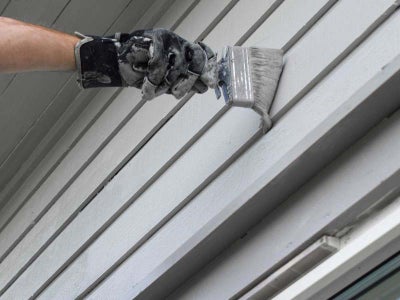 Paint
Make sure the paint you choose is intended for exterior use; sometimes it'll be labelled as 'garden' paint. Exterior paint is designed to seal and protect wood from water penetration and can help to extend the life of your wood by many years.
The range of exterior paint offers a vast array of colour options. Matt paint, sometimes referred to as 'opaque', covers the colour of the wood, but still allows the wood grain to show through, so is an ideal solution if you want a uniform colour even when applied to timber of differing shades, such as fences.
Softwoods, particularly those with rough-hewn surfaces, can absorb a lot of paint, so it's worth patch testing a colour before application.
Advantages
Wide range of colours available
Provides long-term protection
Can also be applied to other materials such as brick and stone
Disadvantages
Old flaking or peeling paint will have to rubbed back to a clean surface before repainting
Shop products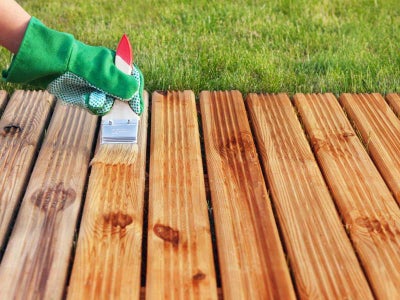 Stain
Woodstain, which is suitable for both exterior and interior use, is generally available in a range of natural wood shades. Stain does change the colour of your timber, but as it's semi-transparent, woodstain will allow the natural grain of the wood to show through.
Woodstain offers long-lasting protection against algae and mould growth, UV light and rain, with product guaranteed of up to 10 years. Some decking stains offer anti-slip properties which are worth considering, as deck boards can become slippery if not cleaned on a regular basis.
Woodstain is best applied with a brush, or a roller for larger areas; excess stain is then wiped off with a cloth or rag.
Advantages
Creates a barrier against weathering, UV light and foot traffic
Wide choice of natural coloured stains to choose from
Quick drying product available - useful if applying additional coats
Disadvantages
Surfaces will need to be stripped back before re-applying stain
Over time, stain can peel, flake and crack
Cannot be applied to surfaces previously treated with oil
Shop products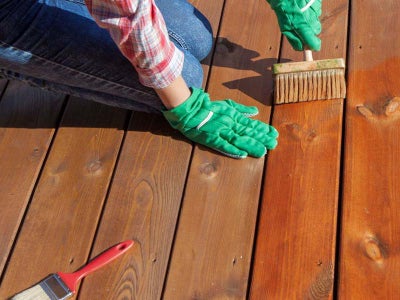 Oil
Unlike paint and woodstain, oil penetrates the wood to replace the natural oil and resin. This protects against rain and harmful UV light, and the oil also prevents the timber from warping or splitting.
Decking oil is easy to clean and repair, which is useful for high traffic areas. Oil is sometimes also used for garden furniture, especially teak and other hardwoods, as it brings out the best in the natural colour and woodgrain of the material.
Advantages
Easy to clean and maintain
Future recoats can be made without much preparation
Less slippery on decking than stains without anti-slip properties
Disadvantages
Can't be painted over or stained for several years
Colour will be influenced by the natural tone of the wood being covered
Will need to be reapplied more often than stain or paint
Shop products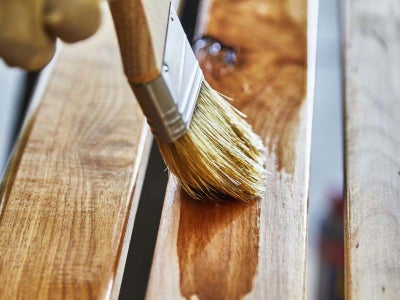 Varnish
As varnish is very durable, it's a good choice for hardwood doors, but be sure you select a product that is clearly labelled as 'exterior' (sometimes also called 'yacht varnish') as interior varnish will not be up to the task.
Generally, varnish offers a clear finish that accentuates the natural colour of the wood and offers high protection against UV light and water penetration.
Advantages
Excellent protection against scuffs and knocks
Offers a deep sheen and accentuates the natural beauty of the wood
Disadvantages
Very thorough wood preparation needed prior to the application of each coat
If water does penetrate, it will blister
Shop products
Woodcare features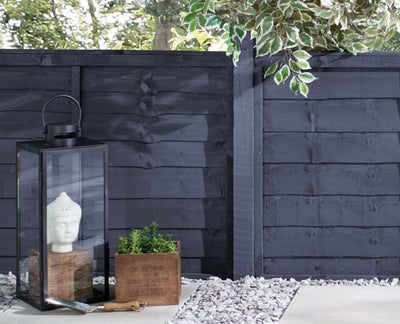 Whichever wood care product you choose, there are a few things to consider when it comes to applying it.
Timber needs to be dry before you apply paint, stain, varnish or oil. Bear in mind that each product has a different drying time, from minutes for the fast-drying products to 24 hours or more for others, so be sure to check the manufacturer's instructions and keep an eye on the weather forecast.
Manufacturers will also advise the number of coats required, and again, these can vary from just one to three coats, with some products recommending you allow three days between coats and others needing a second application within 8 hours. Some products are designed for use with specific surfaces, such as rough-hewn, so be sure to check the details on the packaging.
The area coverage of any particular product will depend on the surface you're working with. For example, rough-hewn surfaces will generally absorb more product and therefore, the coverage will be less. The method of application can also influence the amount of product needed. Brushes or rollers both offer good coverage but are slightly more time consuming, whereas sprayers are a good choice to cover larger areas such as fences or decking, which they'll do quickly and give an excellent finish, but will require more product. You'll need to check which application method is recommended by the manufacturer for the product that you've chosen, as generally only specially designed stains can be used in a sprayer.
Woodcare safety

When handling or working with woodcare products, always be sure to follow manufacturer's safety instructions and wear protective gloves, safety goggles and a face mask, as advised.
Treated timber (high pressure, painted, stained or varnished) is considered a hazardous material and should not be burnt. Your local authority or recycling centre should be able to advise on how to dispose of it safely.
Environment - FSC certified wood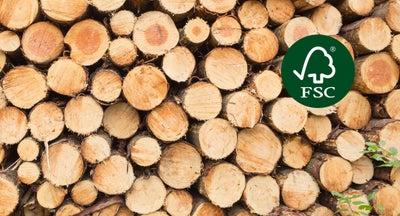 FSC (Forest Stewardship Council) certified wood means you can buy with confidence that the wood has been responsibly sourced and managed, both environmentally and ethically.
Woodcare products have traditionally been oil-based, but more water-based products are now available, which tend to be better for the environment. If the packaging refers to low VOC level (volatile organic compound), then it is water-based, whereas oil-based products will be listed as high VOC. Another way to tell is the cleaning advice given; if brushes or rollers can be cleaned in water, then the product is water-based, but if white spirit is needed, then the product is oil-based.