WD-40® product range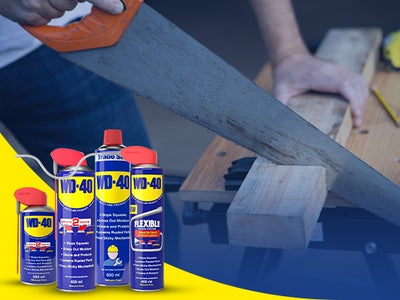 WD-40® Multi-Use Product range
WD-40 Multi-Use Product is the ultimate lubricant in a spray. Without a doubt, it is the original all-round household essential. Apart from greasing, it also displaces moisture, so it can be sprayed on all machines and mechanisms to protect them from rust and corrosion.
Penetrates components to loosen stuck parts
Stops squeaky hinges
Loosens rusted parts
Cleans and protects
Shop now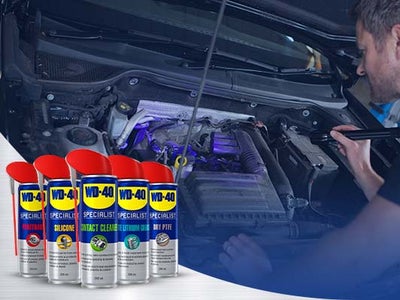 WD-40® Specialist range
You can rely on WD‑40 Specialist for intense use and heavier tasks. For example, High Performance White Lithium Grease is great for heavy duty, metal-to-metal applications. You can also use products like Anti-Friction Dry PTFE Lubricant or High Performance Silicone Lubricant for precision work with more specific requirements.
Professional grade range of lubricants, greases and lubricants
Unique formulas for specific tasks
Solves those more demanding jobs that need to be done right saving you time and money
Performs well in various conditions, temperatures and surfaces
Shop now
WD-40® Multi-Use products
---

---
WD-40® Multi-Use Flexible Lubricant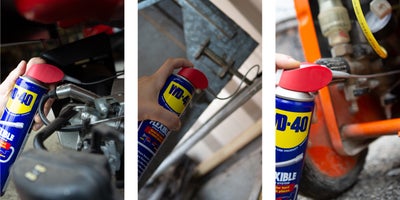 The flexible 8-inch metal straw helps you lubricate, clean and protect hard-to-reach areas.
The taller, thinner 400ml can cleverly reduces overuse and waste and allows for a longer straw.
Spray two ways with the 360º valve - flip it up for a precise, narrow spray or down for a broad spray on bigger surfaces.
Protects your tools and equipment to make them run smoother for longer.
Removes oil, dirt and grease from surfaces and provides protection against water, moisture, rust and corrosion.
Buy now
---
WD-40® Specialist® range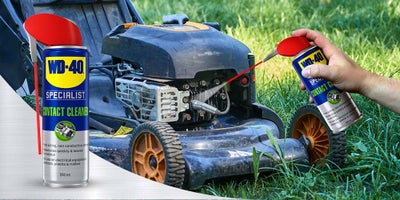 WD-40® Specialist® Contact Cleaner
Easily cleans oil, dirt, flux residue and condensation from sensitive electronics and electrical equipment. Improves electrical contact in cars in damp conditions.
Cleans 12V sockets, USB and audio connections
Cleans and restores trailer electrical connections
Removes condensation from spark plugs and restores function
Buy now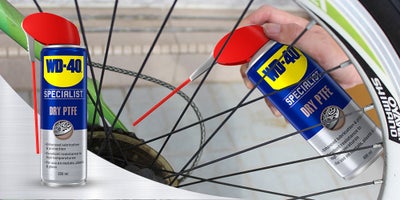 WD-40® Specialist® Dry PTFE
Provides enhanced lubrication and protection, leaving a dry, clear film that resists dirt, dust and oil. Keeps tools and machinery working smoothly.
Lubricates seat sliding mechanisms
Lubricates and protects gears, racks and pinions
Loosens locks and latches
Buy now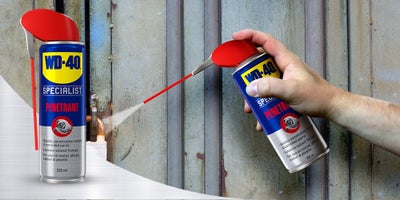 WD-40® Specialist® Penetrant
Lubricates to prevent rust and corrosion. Fast acting solution that quickly penetrates its way into hard-to-reach areas, rapidly loosening seized fixings, stuck or rusted moving parts.
Releases stuck nuts, bolts and fasteners
Releases corroded doors, latches, hinges and mechanisms
Easy assembly and disassembly of automotive parts
Buy now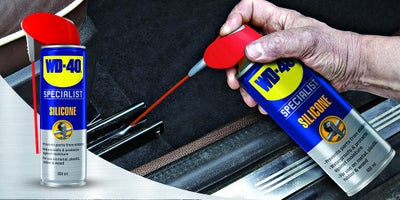 WD-40® Specialist® Silicone
Prevents parts from sticking. Formulated for improved performance on high-pressure equipment such as hydraulics.
Conditions wiper blades
Lubricates seat belts
Renews plastic dashboard parts
Buy now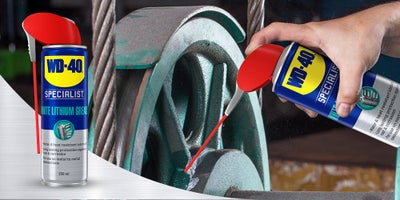 WD-40® Specialist® White Lithium Grease
Ideal for use on metal-to-metal applications to ensure tools and equipment keep moving smoothly.
Lubricates steering parts and cables
Lubricates winches/pulleys
Protects car battery terminals
Buy now
---
See WD-40® products in action