Planning & preparation
Carefully plan your fence before starting, as this will limit cutting and wastage, and will help you to be accurate when ordering the materials you need.
Use a detector to check the area for any underground cables and pipes, to make sure you can dig the necessary holes along your fence line.
In most cases, you can build a fence up to 2 metres in height without planning permission, but it's best to check with your local planning office if you are unsure of the restrictions.
If you are installing a fence that runs adjacent to your neighbour's garden, talk them through your plans and check whether they are happy for you to access their garden, as it's easier if you can work from both sides of the fence.
Whilst it is possible to install a fence all year round, it's best to avoid very hot, very cold or wet weather conditions.
If you are going to be securing your posts with Postcrete, as we are, you'll need 8ft posts for a 6ft fence, as roughly 2ft will be underground. If you are planning to use post-spikes or bolt down post sockets, you'll only need 6ft posts.
If you are planning to add a gravel board or trellis to your fence, factor it into your plans as their size may determine the length of fence posts you need.
Do it right
Even though the posts are already treated, it's a good idea to soak the base of the post in wood preservative before installation.
Always use treated wood and exterior grade screws to prevent premature rotting and rusting.
Even if you are installing a pressure treated fence panel it should be raised a minimum of 50mm above ground level to prevent rotting.
If you are installing a fence onto a sloping area, keep the fence panels horizontal but fill the angled gap by cutting gravel board to size. Use a circular saw or jigsaw to make accurate angled cuts. Some heavily sloped areas will require a different method of installation, so it's best to seek advice as the method will be dependent on the specifics of your garden and the gradient of the slope.
Whilst it is possible to install a fence on your own, it's much easier with an extra pair of hands, so ask a friend to help out.
Staying safe
When using Postcrete, wear a dust mask, safety goggles and protective gloves and be sure to follow manufacturer's instructions.
Wear protective gloves when handling wood or applying wood preserver and be sure to always follow manufacturer's instructions for drying and safety.
When drilling, wear safety goggles.
Offcuts of treated timber should be disposed of safely – your local recycling centre should be able to advise.
Aftercare
Treat all cut timber and drill holes with two coats of preservative.
Once the fence is complete, apply a paint or wood stain to add a splash of colour and further protect the timber. These come in a variety of colours so be sure to look at the range.
Step by step
Step 1
Remove any rocks or debris from the area and carefully dig up any small plants or shrubs that you want to replant once the fence is in position.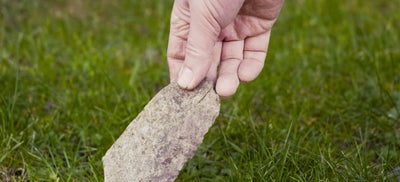 Step 2
Mark out the position of your first fence post. Use a spade or post hole digger to dig a hole appropriate to the length of the post you are using; this tends to be about 600mm deep by 300mm square.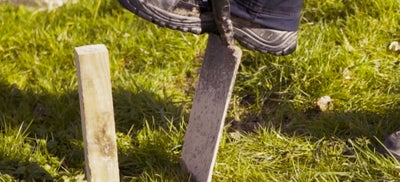 Step 3
Add roughly 25mm of gravel or MOT Type 1 to the bottom of the hole; this will aid drainage and reduce the chance of the post rotting over time.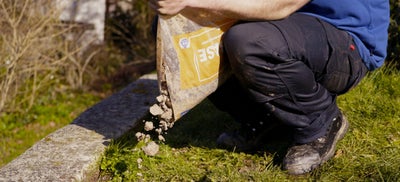 Step 4
Place a length of fence post into the hole. Use a spirit level to check that the post is perfectly vertical on two adjacent sides then screw pieces of timber to the post to hold it in place.
Step 5
Add Postcrete and be sure to follow manufacturer's instructions. Fill the hole until the Postcrete is 25mm beneath the soil line and continue to check the post stays vertical.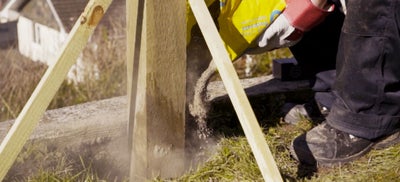 Step 6
Use a trowel to create a gentle slope in the Postcrete so that rainwater runs away from the post on all sides. Remove the timber props once the Postcrete has set.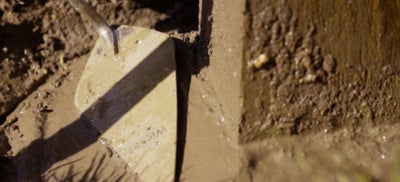 Step 7
Use stakes and a string line to mark where the fence will run.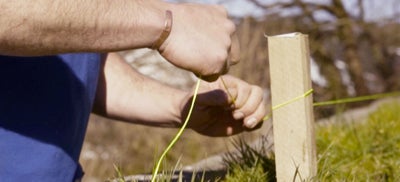 Step 8
Using a batten that is cut to the same length as your fence panel as a guide, carefully mark out where the centre point of each post will be.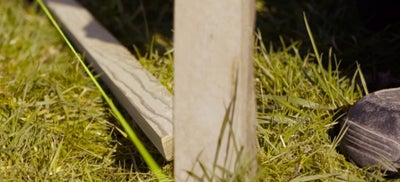 Step 9
Repeat the above process until all fence posts are in place.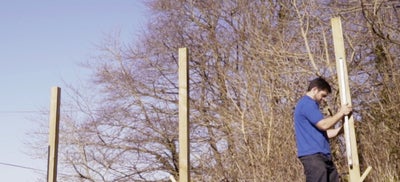 Step 10
If your fence panels are dip treated then protect them from rot by installing pressure treated gravel boards. Start by marking the positioning of an L bracket onto the base of each post.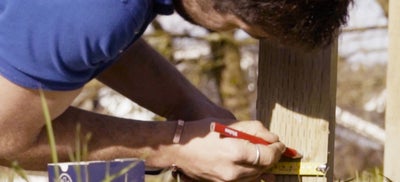 Step 11
Use a drill or electric screwdriver to fix an L bracket to each post. Secure the gravel boards through the L bracket with 20mm screws.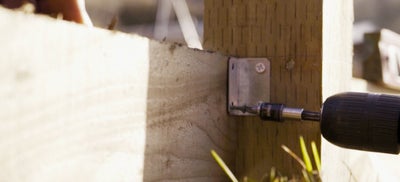 Step 12
Mark out the positions of two U brackets to the inside of each post, one 150mm from the top, and one 150mm from the bottom of where the fence panel will be. Secure in position with 35mm external grade screws.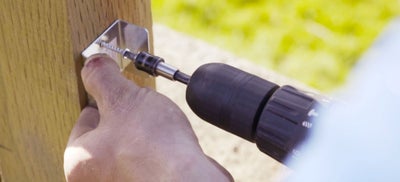 Step 13
Carefully lift the fence panels into position, sliding them down and between the U brackets and then secure in place with 35mm external grade screws.
Step 14
Lay a piece of timber across the top of two consecutive posts and use a spirit level to check the posts are level. If need be, trim the tops of the posts down so they are all the same height.
Step 15
If you need to trim a fence panel to fit the remaining space, measure out the section you need and mark a saw guideline. Then, remove the framing battens from the front and the back of section you will be using.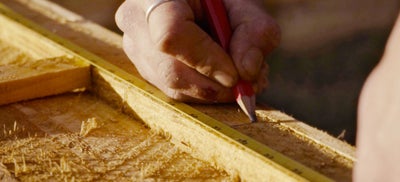 Step 16
Carefully saw down your guideline. Place the framing battens back into the required position and fix the panel.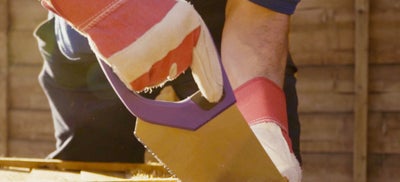 Step 17
Finally, add a neat finish and protect the end of the wood by adding a post cap. Pre-drill your hole before securing with one screw.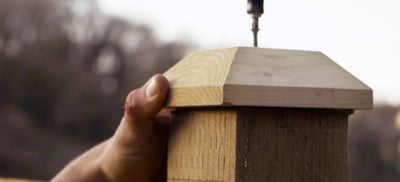 Adding trellis
Step 1
If you included a trellis in your plans, then you should have ordered posts that are long enough to accommodate the extra height of the trellis.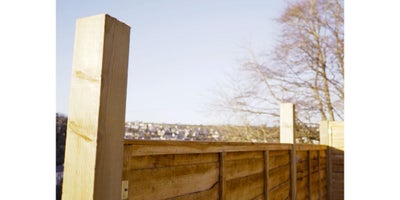 Step 2
Start by fixing a U bracket into the middle of where the trellis will be positioned. Add additional brackets if the fence is situated in a particularly windy location.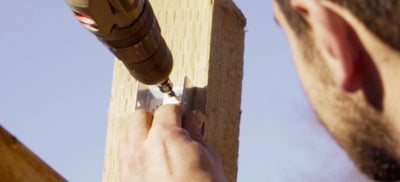 Step 3
Slide the trellis into position and secure through the brackets with 35mm external grade screws. Repeat this process until your trellis is complete.