Chicken wings

BBQ Marinades

Cold pressed rapeseed oil

Salt & Pepper

Marinade
BBQ Chicken wings method
Take the chicken out of the fridge for 15 minutes or so before cooking.
Set the BBQ to around 220c direct heat.
Pat the chicken dry with kitchen paper & season with salt & pepper.
Caramelise the chicken on both sides at around 220 – 230c then move the chicken to indirect heat at around 180c until it's core temperature hits 65c.
You will get plenty of BBQ smoke flavour from the chicken fat vaporising on the charcoal.
Move the chicken on top of a double thickness piece of foil over Indirect Heat and brush with a BBQ marinade.
Cook until the core temperature has reached 75c and the glaze has set.
Take the chicken wings in their foil to a serving plate and sprinkle with sesame seeds.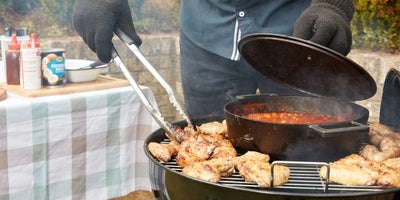 Serve with a simple cucumber pickle or try our chickpea dhal recipe.