BBQ Pineapple Dessert Recipe
2 medium - large pineapples

Grade 1 Maple Syrup

Ice Cream (optional)
BBQ Pineapple Dessert method
Top, tail and spiral cut the pineapple to remove all of the woody outer skin. This gives you 20% more pineapple and looks amazing. (Watch the video to see how it's done!)
Cut it from the top downwards into four quarters then cut out the hard centre from each quarter (save the core for juices and smoothies).
Put the pineapple pieces over direct heat on a clean BBQ grate and leave until a deep caramel colour has formed on that side then repeat the process for the other two sides.
If you like it with a bit of crunch get it off the BBQ and pour a little maple over and enjoy with some ice cream.
If you like the pineapple a little softer simply move them to indirect heat and roast it through until you have the level of softness that you like.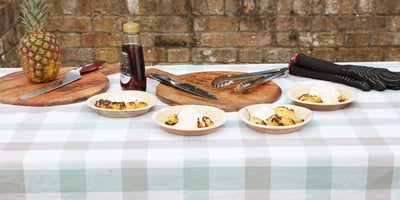 Serve the roasted pineapple with a drizzle of maple syrup and a big helping of vanilla ice cream.