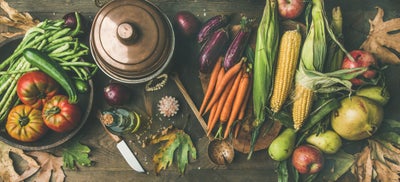 Whether you've grown your own from cuttings and vegetable seeds or you're enjoying seasonal produce from the supermarket, grocer and local markets, now's the time to make the most of delicious autumn veggies in the kitchen.
Ripe for roasting, baking, grilling and pureeing, expect to find leafy greens, golden squash, beetroot, onions, cabbage and chard this season.
With the evenings drawing in and the weather becoming chilly, a warming bowl of homemade soup makes a great meal for the whole family. Batch cook and freeze in portions, reheating well for a hearty, filling meal, whatever the time of day.
Here are our 3 favourite autumn soup recipes to make at home.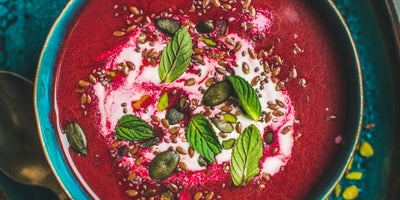 Nutty beetroot and grains
Nutty beets and grains - Vibrant, earthy and rich.
Golden onions or shallots
Crushed cloves of garlic
Small bunch of carrots
Glug of good quality oil
Freshly scrubbed and peeled beetroots
Small bulb of fennel
Hot vegetable stock
Zest and juice of a fresh orange juice
Chopped dill, parsley, mint or thyme
Handful of barley, brown rice or farro
Dollop of Greek yoghurt
Sauté the onions, garlic and carrots with olive oil under tender, then add the diced beets, fennel, vegetable stock, orange juice and herbs. Simmer until the beets are cooked through, then transfer to a blender or blitz in your pan. Return to the heat and season, before throwing in your grains until delicately cooked. Serve with a dollop of Greek yoghurt, toasted seeds, orange zest, chopped herbs and crusty bread.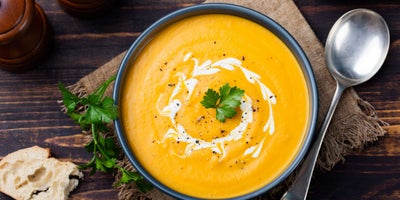 Aromatic ginger and squash
Aromatic ginger and squash - Warm, bold and zesty.
Peeled and chopped shallots
Crushed cloves of garlic
Glug of good quality olive oil
Finely grated thumb of ginger
Diced and deseeded pumpkin
Roughly chopped autumn squash
Torn basil and parsley leaves
Hot vegetable stock
Tin of good quality coconut milk
Shake of hot cayenne pepper
Zest and juice of a lime

Cook the onions and garlic in olive oil over a low heat, then add the ginger, pumpkin, squash and torn basil leaves. Gently sauté until fragrant then add the hot stock, coconut milk, seasoning and cayenne pepper. Bring to the boil then simmer until the squash is knife tender. Transfer to a blender and blitz until smooth. Serve with a swirl of coconut milk, fresh parsley, lime zest, toasted pumpkin seeds and warm sourdough.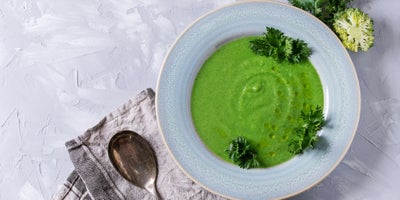 Leafy greens and legumes
Leafy greens and legumes - Light, bright and nutrient rich.
Tin or pouch of chickpeas
Sweet or smoky paprika
Glug of good quality olive oil
Small diced onions or shallots
Crushed garlic cloves
Washed and trimmed leeks
Mixed leafy greens - kale, collard, mustard, chard
Head of broccoli or trimmed tender stem
Handful of chopped parsley
Hot vegetable stock
Bag of washed spinach
Swirl of crème fraiche
Juice of a lemon
Drain the chickpeas and toss in a roasting pan with paprika, seasoning and oil before sliding into a hot oven. In a large pan, sauté the onions, garlic, leeks and seasoning in olive oil until translucent, then add the leafy greens, broccoli, herbs and vegetable stock. Simmer until al-dente then transfer two thirds of the liquid to a blender and blitz to a puree. Return to the pan before throwing in the spinach to wilt. Serve with a squeeze of lemon, a swirl of crème fraiche and the crispy roasted chickpeas.
More inspiration from Wickes