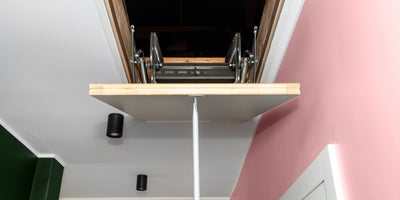 The way you get in and out of your loft depends mostly on how you use the space. If it's non-habitable for storage only, you might be happy with something simple and concealed. However, if your loft is converted to a living space, you might fancy more established access that adds to the aesthetic of the upstairs area. Having a safe and easy way point of entry and exit really helps you to make the most of a valuable space in your home. There are options to suit every style and budget.
Hatches
A vast majority of lofts are accessed through a hatch. A well-designed, properly fitted hatch is essential, not only for easy access, but for effective insulation. Standard hatches are versatile and allow for concealed loft ladders. An insulated hatch makes sure that you're maximising energy efficiency, while fire-rated loft hatches offer extra safety by providing a protective barrier against fires. If you find that the dimensions of the opening don't match the standard sizes, a made-to-measure hatch can be tailored to get a perfect fit. Hinged loft hatches are popular based on their ease of use, making it as safe and simple as possible to get up into your loft.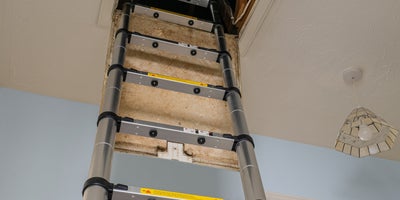 Sliding loft ladders
Loft ladders are the most popular choice when it comes to accessing your loft, but there are a range of options in terms of style. Sliding loft ladders are the easiest variety to fit and use. They're usually attached to the joists inside your loft as opposed to the hatch and pull down from a fixed point in the floor of the loft. That way, it's safe and secured when you climb up and down. They get their name from the fact that they come in either two or three sections, each of which slides down to extend the length of the ladder and save space when it's not in-use.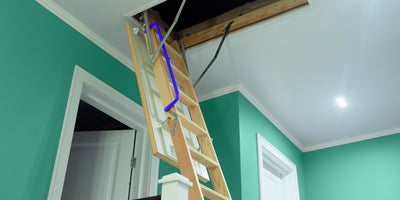 Other loft ladder styles
For lofts or hatches where space is at a premium, telescopic loft ladders are ideal. Their retractable design means they can easily fit in incredibly tight spaces. They essentially fold in on themselves, which preserves space while still giving you easy access. Folding loft ladders are similar to sliding ladders in the sense that it's split into sections that stack on top of each other when folded away. They often come already attached to a hatch and are 'sprung', for easier raising and lowering. Concertina loft ladders, similarly to telescopic ladders, are compact and don't need much vertical clearance. They have a design that compresses down to a much smaller footprint, and they're stored directly above the hatch to save floor space.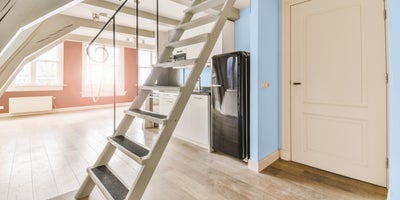 Stairs
If you're converting the loft into a living space and have the room, you could give yourself easier access by using stairs instead of a ladder and hatch. They are an excellent choice for those seeking a stylish and durable option that complements the overall design of their home. An important thing to consider is the regulations- there are plenty of rules around them. Installing a new staircase above your existing one is ideal because it saves space and also looks more cohesive. You also need at least 2m of clear headroom to make sure that they're safe.