Our favourite cold-weather party warmers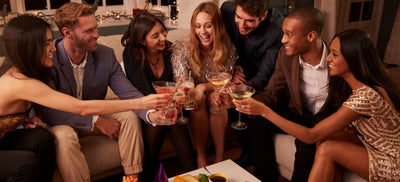 Gather friends and family and celebrate this season with our favourite cold-weather party warmers. Whether you're cosying up for the evening, have friends pop over or party guests to impress, a round of rich, warm and comforting drinks is sure to keep everyone happy. Pair with fresh festive bites for the perfect cold-weather cure.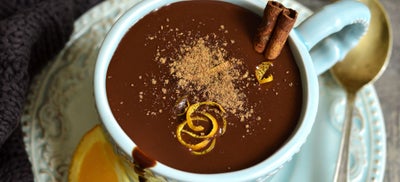 Hot chocolate orange
Luxurious and decadent, this recipe for hot chocolate can be enjoyed by all.

Chopped, good quality dark chocolate
Juice and rind of a large orange
Whole milk
Pinch of salt
Sprinkle of brown sugar

Remove the rind from a large orange with a vegetable peeler then cover and gently simmer in milk for a minimum of 30 minutes. The longer you have to prepare the milk, the more intense the flavour will be. Remove the rind, then whisk in one part chocolate to three parts milk over a medium heat until velvety and smooth. Add a pinch of salt then stir through the freshly squeezed orange juice. Tasting as you go, add more juice or a sprinkle of sugar for sweetness. For a grown-up late evening treat, add a dash of Cointreau or orange liqueur.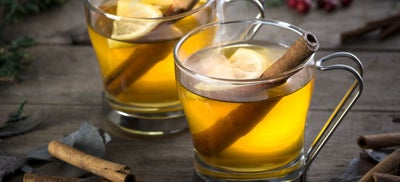 Spiced hot toddy
A classic cocktail to warm your cockles on a cold winters evening, this recipe for a spiced hot toddy takes things to the next level.

Clear runny honey
A squeeze of fresh lemon
A generous glug of brandy, whiskey or bourbonHot water
Splash of spiced syrup (dissolve 1:1 sugar to water, infused with cinnamon, orange and fresh ginger)
Slice of lemon studded with cloves

Mix together equal quantities of honey, lemon juice and spiced syrup with a generous glug of your chosen alcohol. Top up with hot water, stirring until the honey dissolves. Serve with a clove-studded slice of lemon and a cinnamon stick. For a booze-free version, replace the hot water with warmed herbal or white tea.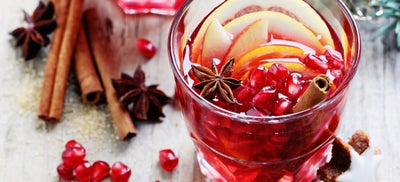 Warm gin punch
This warming Christmas punch is a great alternative to mulled wine.

A bottle of your favourite gin
Ginger beer
Madeira wine
Juice of a few lemons
Sliced apples, oranges and lemons
A couple of cinnamon sticks
Pinch of ground nutmeg
A handful of whole cloves and star anise
Fresh juniper berries or pomegranate seeds

Add the gin with equal quantities of ginger beer and wine to a shallow pan, before adding the lemon juice, spices and sliced fruits. Simmer on a low heat, then ladle into glasses or mugs and serve with juniper berries or pomegranate seeds. For a booze-free version, try warming equal parts of pomegranate juice to ginger beer.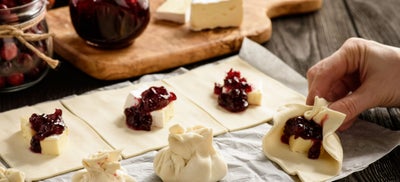 Zesty cranberry and camembert puffs
The taste of Christmas, wrapped in a pastry parcel. We recommend making lots, people love them and they won't last long!

Wheel of camembert
Puff pastry sheets
Melted, salted butter
Rich cranberry sauce
Orange zest
Finely chopped thyme
Pinch of salt and pepper

Begin by mixing a good pinch of orange zest, thyme and seasoning into the cranberry sauce. Cut the pastry sheets into bite-sized squares, then place a wedge of cheese and a dollop of sauce onto each. Gather the corners, pinching to form a parcel then brush with butter and bake until golden.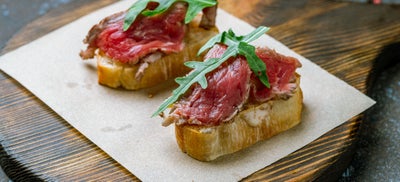 Beef and blue bites
Beat the boxing day blues and use up leftover cheese and beef for this tantilisting taster.

Fresh baguette or crostini
Deli or leftover roast beef
Dollop of sour cream
Crumbled blue cheese
Handful of garlic chives or rocket
Fresh pomegranate seeds
Sprinkle of salt and pepper

Thinly slice a baguette then brush with olive oil and bake until golden, flipping half-way. In a bowl, combine the sour cream, crumbled blue cheese, and seasoning. Top each toast with a dollop of the cheese mixture, a thin slice of beef, pomegranate seeds, chives or rocket.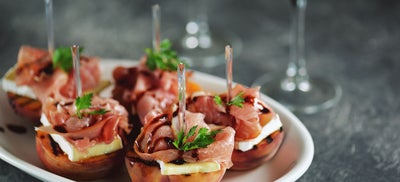 Savoury filled, grilled apricots
Impress the guests with this starter or snack recipe that perfectly blends the sweetness of apricots with cheese and ham.

Halved apricots
Clear runny honey
Soft goat's cheese
Wafer-thin Parma ham
Finely chopped rosemary
Sprinkle of seasoning
Toasted, flaked almonds

Brush the cut side of your apricots with a little honey then lightly sear on a hot griddle pan. Mix together the goat's cheese, herbs, seasoning and honey in a bowl, then spoon in a small scoop to each apricot, topping with the Parma ham and a sprinkle of flaked almonds.
More inspiration from Wickes