How to measure your kitchen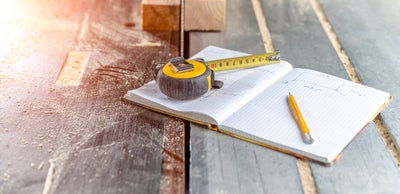 Easy steps on how to measure up your kitchen
Having the right measurements to hand is really crucial when it comes to making sure you get the job done right. They need to be spot on in order for you to get the best possible results, so it's important to know the best ways to measure your kitchen. Once you've got that sorted, you can start planning out your project.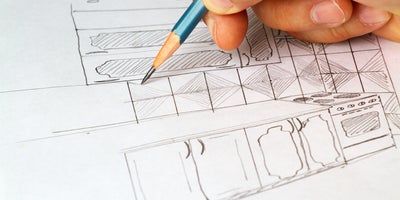 Sketching
Start by getting yourself some blank paper and something to sketch with, ideally a pencil so you can make changes if necessary.
Draw a rough sketch of your kitchen's floorplan and layout, making sure to include the position of any fixtures that will remain.
You also need to show the location of your services for water, electricity and gas.
Also note the position of any doors and the direction in which they open, as well as any other obstacles such as alcoves.
It's also helpful to take photos as a visual reference for anyone working with you during the planning stages.
Then make a sketch of each wall in your kitchen, including any fixed objects that you'll need to work around, such as windows, electrical fittings, gas cooker points, extractor fans, air vents and more.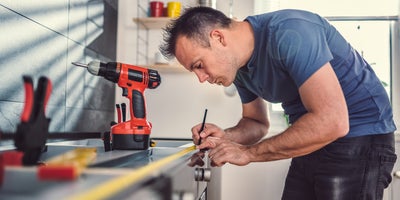 Measuring around
Grab your tape measure and start measuring each fixed point in the room.
Go from the edge of the door frame architrave to the corner of the room. Then from the corner of the room to the window reveals.
It's also important to measure the size as well as the position of all the fixed objects in your kitchen.
Work your way around the room, making sure you don't forget any measurements.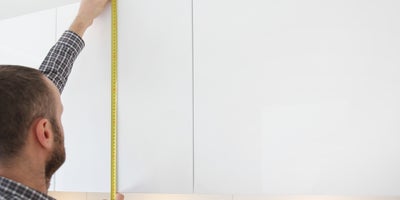 Measuring vertically
You'll then need to measure and record the height of the room itself.
This also includes any other vertical measurements, such as from the floor to the windowsills and more.
You should now have your room mapped out. You're ready to move to the next phase of the planning stage.