Installing your own kitchen
Fitting your own kitchen
Our range of Wickes Lifestyle Kitchens help you keep things simple when installing a new kitchen, but there are steps to follow to make sure you get things done right. Because it's a big project, you'll want to make sure you're doing it in the most effective order. Following these steps will help you make sure that you're properly preparing for the task at hand and doing the best job possible.
Things to consider
There are a few things to think about in the planning phase of your project. Putting in the work to plan things properly ahead of time can really save you hassle when it comes to getting it done.
Sketch out a floorplan of your kitchen and accurately mark important areas, such as your electrical points, water and gas supplies, plug points, radiators and more.
Consider drawer units, full height units and magic corners for storage.
Check what size the worktops come in to determine how many you will need.
Order your hinges.
Think about adding worktop joint bolts and colour fill if you're going for a laminate worktop.
Try and place the cooker, fridge and sink in a triangle for ease of use.
Consider where appliances are going in relation to the sink and check the drainer thickness compared to your worktop.
The kitchen planning guide on the Wickes website is a great way to plan things out.
Further help

This guide will give you an overview of installing your own kitchen. We also have more detailed installation guides if you need step-by-step guidance.
Follow the links as you watch the video or use our Useful Links for further details.
Steps to installing a kitchen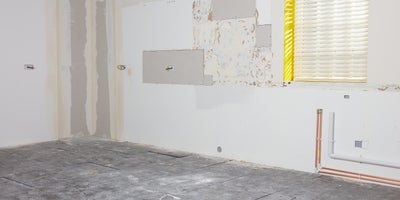 Remove your kitchen appliances and rip out all your old units.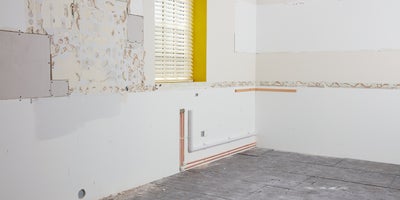 Hire a plumber and electrician to deal with any pipework and fix your electrical points. Do not attempt electrical or plumbing work without extensive knowledge or prior training.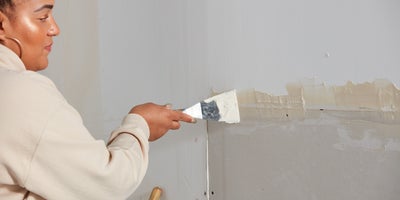 Patch up any holes in the wall or plaster.
Depending on your floor choice, you might need to self-level the floor.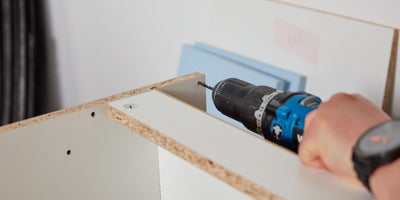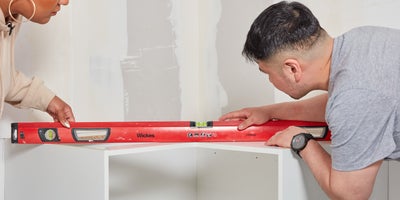 Measure and mark out the points for all your new units and cabinets.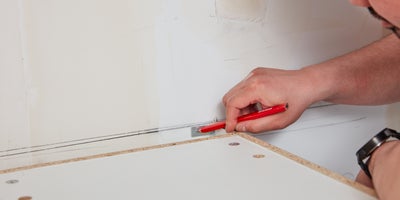 Attach l brackets where needed.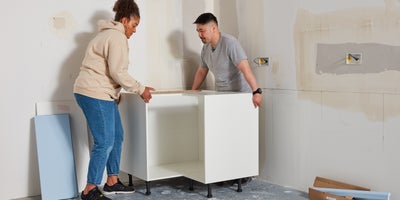 Fit your base units from the corner, working outwards.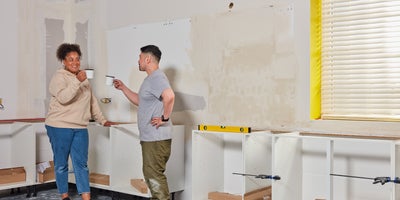 Continue this until all base cabinets are fitted.
Maybe stop and have a cup of tea.
If you are having it, install under-counter lighting before you attach your wall units.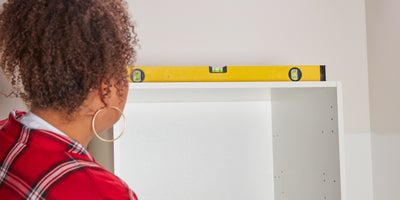 Fit your wall cabinets, making sure that the top of them is aligned with the top of your tower cabinet.
Any built-in appliances should be installed as you go.
Any gas work or plumbing should be carried out by a professional.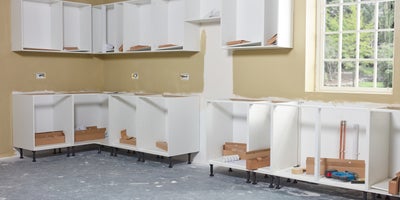 Paint your walls now, before you've fitted your new floors.
Lay your underlay and tape it in place.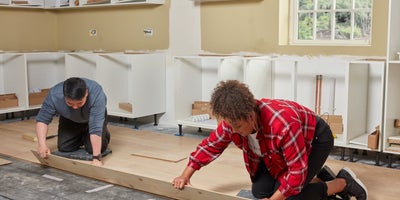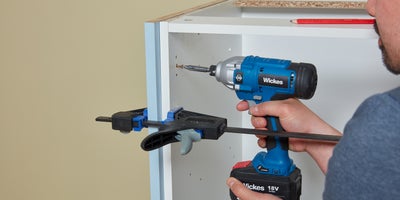 Fit your end panels and cabinet doors, as well as the trim, baseboards on your cabinets. Then attach your cabinet handles as well.
For worktops to be joined properly an installer would be best to hire in for the day, this is the preferred method of fitting.
Alternatively, follow our guide for fitting a worktop carefully!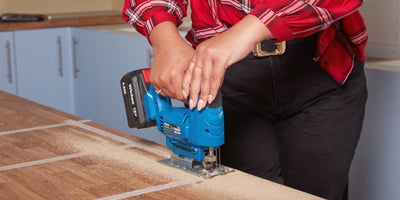 Carefully measure and cut your worktop to size.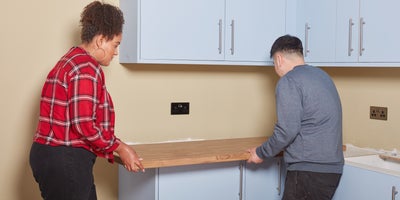 Position the worktop and screw it into place.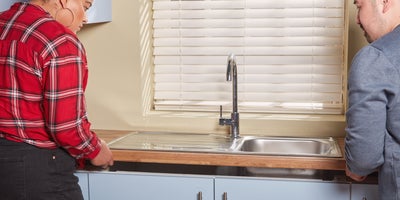 Apply silicone to any exposed edges including the sink edges.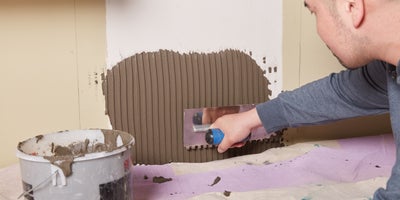 Time for tiles.
Install your tiles, splashback, or upstand.
View our tiling guide for a detailed step-by-step.
An oven splashback should be used if you're opting for an upstand.
If you are having one, now is the time to install your upstand.
Get the electrician and plumber to complete their second fixes.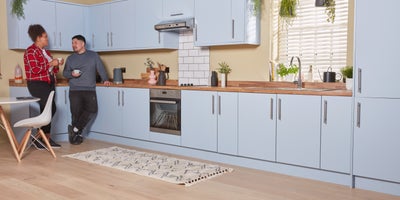 Touch up any paintwork for a finishing touch and treat yourself to another cuppa!
We would love to see your self-installed kitchen projects. Share your hard work with us via our #WithWickes gallery.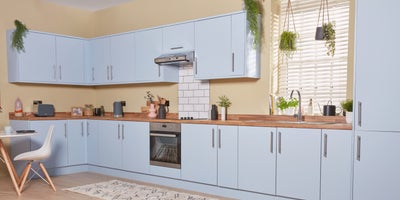 More inspiration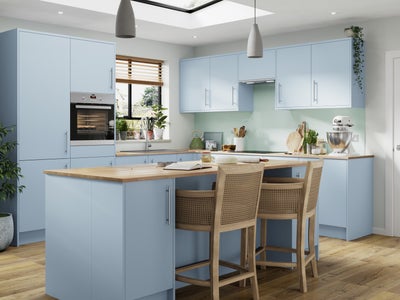 Transform your kitchen with paint