Benefits of a kitchen work triangle
Benefits of a kitchen work triangle
When it comes to designing your kitchen, it's important to find the best possible balance. You might not think the position of your fridge freezer, sink and cooker make much of a difference, but it can really affect the space.
If they're all placed too close together it can make things feel cramped, but cooking becomes a hassle when they're too far apart. Thoughtfully laying out your kitchen according to the kitchen work triangle lets you make the most of your space.
What is the kitchen triangle?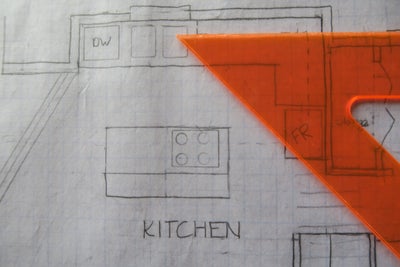 The kitchen work triangle consists of your fridge freezer, sink and cooker- typically your three main points of use when cooking.
By positioning them in the most efficient way possible, you can streamline the way you work in your kitchen with a solution that's both aesthetically pleasing and practical.
Rules of the triangle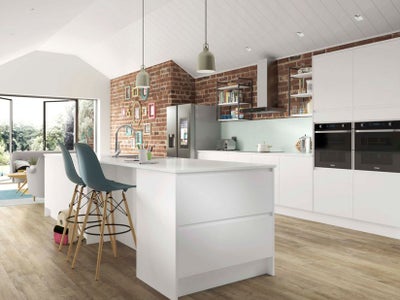 To make it applicable to hugely varying kitchen spaces as possible, the rules are more of a rough guide:
The distance between the three points of your triangle should be no less than 1.2 metres and no more than 2.7 metres.
The sum of all three sides should be between 4 metres and 7.9 metres.
Make sure obstacles such as cabinets don't infringe on any leg of the triangle by more than 30 centimetres.
If it can be avoided, try to make sure there's no major traffic flow through your triangle.
Benefits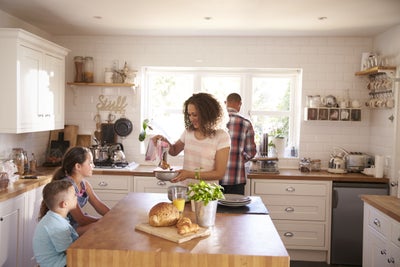 A kitchen work triangle can help you reduce the amount of movement and walking you do when cooking.
It's the most effective way to use the space you have, which comes in really handy for smaller kitchens.
It allows for another cook to come in without the worry of getting in each other's way, which makes it easier to cook large meals with another pair of hands helping out.
If you want a new kitchen with your own kitchen triangle, book a FREE design appointment with Wickes. Our dedicated kitchen designers are experts at kitchen layout, and making the most of the space you have.