Tiling a wall
Installing tiling in your kitchen or bathroom is a wonderful way to make a statement which reflects your individual tastes. Although tiling has traditionally been thought of as a complex DIY task, it's perfectly possible to achieve a professional finish with thorough planning and by carefully working your way through the steps we provide in this guide.
Tiles are durable and easy to clean, meaning that in the long term they're very cost effective to install. Other than regular cleaning and occasional replacement of sealant or grouting, bathroom tiles are also low maintenance.
In this guide, we'll take you through the whole process of fitting wall tiles, from planning, to cutting and laying tiles, and finishing off with sealant and grouting.
How do I prepare a wall for tiling?
Thorough preparation is crucial if you want your tiles to be laid properly and last a long time. Before you start laying tiles your wall needs to be absolutely clean, dry and free of dust and grease.
If you're tiling onto bare plaster, timber or ply then you need to seal the surface before tiling. Use a BAL or SBR primer for the best results – a PVA primer won't be secure enough in the long term, especially on bathroom walls. Without a primer the tile adhesive will lose moisture and your tiles will start to loosen.
If you're tiling on plasterboard, a new skim coat of plaster must be allowed to dry for at least seven days prior to tiling. If you're tiling directly onto a sand or cement render, then the render must be a minimum of two weeks old. It's not advisable to tile directly onto a painted or papered wall.
Natural stone and some porcelain tiles may need to be sealed after application. Follow the manufacturer's recommendations and seal before and after grouting. This helps protect the tiles from staining.
How many wall tiles will I need?
To establish how many packs of tiles you will need, calculate your surface area in m2 (length x width), and check against the coverage of the pack. For irregular shaped rooms, divide the wall area up into segments and add together for a total. Don't forget to add at least 10% for inevitable wastage and offcuts.
Tiles are usually given batch numbers, so to ensure proper colour matching try to buy all your required tiles from the same batch.
What tiling adhesive do I need to use?
When tiling onto walls you need to consider the combined weight of the tiles and adhesive. Different wall surfaces will be able to safely support different weights. Refer to the manufacturer's instructions whilst you're planning so you get the right tiles. Our handy guide below summarises the maximum weights different walls can take: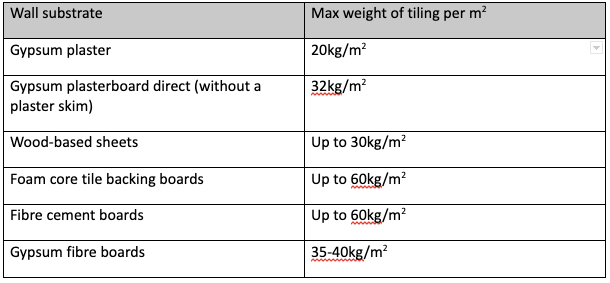 Where do I start when tiling a wall?
Starting at the correct position is crucial when laying your tiles as it determines whether the finished wall looks right. The object of planning your layout is to create a 'central' area to lay down whole tiles, then to lay edge tiles around this area. It usually helps to sketch out a plan beforehand – remember when planning and measuring to allow 3mm for grout gaps.
As with bathroom floor tiles, try to avoid smaller or thinner edge tiles. If each edge has roughly the same sized tiles, your wall will look much better when finished. If you're using patterned tiles you'll have to factor in the design when deciding how to set them out and where your starting point will be.
Step 1
Make a gauge rod by cutting a wooden batten which is just longer than half the width of the wall you are tiling. Place tiles and spacers along its length and mark them onto the gauge.
Step 2
Mark the horizontal midpoint of the wall with a pencil. Line up your gauge rod with this point so one of the tile marks aligns with the centre point.
Step 3
Move the gauge towards the wall, marking off each tile width as you go.
Step 4
Because a thin edge will look untidy once laid, it's important to ensure your edge tile is at least half the width of a whole tile. When you're marking out, if the gap between the last whole tile and the wall is less than half the width of a whole tile, then move your centre point half a tile's width to the right. This ensures a larger and better looking edge tile. Then mark where the first full tile will be laid. This is your horizontal starting point.
Step 5
From this start point mark a vertical line from top to bottom of the wall using a spirit level.
Step 6
Repeat the above process along the vertical line, finding your midpoint and marking out accordingly. Adjust the position of the bottom tile if it's originally less than half a tile height and mark the starting point of the first whole tile.
Step 7
Mark a horizontal line across the wall using a spirit level.
Step 8
You should now have two complete guide lines on the wall – one vertical and one horizontal. Check along both these lines with a pipe detector. If your lines are free from pipes and wires then you can screw your battens to the wall. These not only mark your start point but will also support the tiles once they're laid.
How do I tile a wall?
Now you have planned your layout and fixed your battens, it's time to actually lay down your wall tiles. If you are using adhesive that's left over from another project, only use it if it's still in date. You can choose between ready mixed adhesive, and powder that you'll have to mix yourself.
Step 1
If you're mixing your own adhesive, then following the manufacturer's instructions add the correct amounts of water and powder to a bucket. Use a drill and mixing paddle to mix it thoroughly until you have a thick, lump-free paste.
Step 2
From your starting point, apply adhesive to about 1m2 of the wall using a notched gauging trowel. Spread the tile on the floor using the smooth edge, then draw the trowel back across using the serrated edge. This forms ridges in the adhesive and helps to create an even surface to lay the tiles on. Then press the first tile firmly in position, with a slight twisting action to help secure the adhesive.
Step 3
Lay down your subsequent tiles using the batten as a guide, separating them with tile spacers. Use a spirit level to regularly check that the tiles are flat and level. If a tile is too high or low you can gently lift it out and add or remove adhesive as required.
Step 4
As you go along, remove any adhesive from the tile surface with a damp sponge and clear out any excessive amounts of adhesive from the grout lines. Continue until all the tiles have been laid, then allow to dry completely before removing the battens.
How do I cut wall tiles?
Step 1
Now you have fitted the whole tiles, you'll need to cut and fit the edge tiles. Start by measuring the gap between each whole tile and the wall, allowing for the tile spacers. You should measure each individual tile because walls are often not straight, so don't assume the gap is the same along the whole wall.
Step 2
There are several different methods for cutting tiles, and how you use them depends on the type of tile you have and the cut you need to make. The four main methods are:
Scribe the tile and snap
Use a specialist tile cutting machine
Use a tile nipper
Cut the tile using a tungsten carbide rod
First of all, wear safety goggles and gloves when cutting tiles. Scribing the tile is the simplest method – using a metal ruler and a pencil, mark your measurement onto a tile and draw a cutting line.
Step 3
Firmly hold the metal ruler against the pencil mark and use a tile scriber to score the pencil line several times. Make sure the tile is scored along its full length to guarantee a clean edge.
Step 4
Place your pencil directly underneath the scored line and press down firmly on the tile to split it.
Step 5
Place each cut tile into position along the wall to check that it fits properly, remembering to allow for the spacers. If you're happy with the fit, then apply adhesive to the wall as before and fix the cut tiles. If it's tricky to apply adhesive to the wall then apply to the back of the tile instead. Start at the bottom of the vertical edge and work your way up. Then tile the horizontal edge.
Step 6
Gently wipe away any excess adhesive with a damp sponge. Any excess hardened adhesive can be carefully removed using a window scraper. Once the tiles are laid, leave the adhesive to dry completely before continuing.
How do I grout wall tiles?
Step 1
Once the tile adhesive is dry, make sure the tiles are free from dust and dirt. Mix up the grout and place a small amount onto the tiles. Use a grouting float to work the grout into the tile joints, moving swiftly with diagonal strokes. Grout usually hardens in about 30 minutes, so work quite quickly, covering smaller areas at a time.
Step 2
Once you've grouted several rows, run a grout finishing tool along the joints to give a neat smooth finish. If any grout gets on the tiles, then wipe away with a damp sponge before it starts to harden.
Step 3
Once the grout has dried, wipe down the tile surface with a clean soft cloth to remove any powdery residue. The spray on a grout protector. This will prolong the lifetime of the grouting by protecting it from water, dirt, and grease.