Tiling a wall
Installing tiling in your kitchen or bathroom is a wonderful way to make a statement which reflects your individual tastes. Although tiling has traditionally been thought of as a complex DIY task, it's perfectly possible to achieve a professional finish with thorough planning and by carefully working your way through the steps we provide in this guide.
Tiles are durable and easy to clean, meaning that in the long term they're very cost effective to install. Other than regular cleaning and occasional replacement of sealant or grouting, bathroom tiles are also low maintenance.
In this guide, we'll take you through the whole process of fitting wall tiles, from planning, to cutting and laying tiles, and finishing off with sealant and grouting.
How do I prepare a wall for tiling?
Thorough preparation is crucial if you want your tiles to be laid properly and last a long time. Before you start laying tiles your wall needs to be absolutely clean, dry and free of dust and grease.
If you're tiling onto bare plaster, timber or ply then you need to seal the surface before tiling. Use a BAL or SBR primer for the best results – a PVA primer won't be secure enough in the long term, especially on bathroom walls. Without a primer the tile adhesive will lose moisture and your tiles will start to loosen.
If you're tiling on plasterboard, a new skim coat of plaster must be allowed to dry for at least seven days prior to tiling. If you're tiling directly onto a sand or cement render, then the render must be a minimum of two weeks old. It's not advisable to tile directly onto a painted or papered wall.
Natural stone and some porcelain tiles may need to be sealed after application. Follow the manufacturer's recommendations and seal before and after grouting. This helps protect the tiles from staining.
How many wall tiles will I need?
To establish how many packs of tiles you will need, calculate your surface area in m2 (length x width), and check against the coverage of the pack. For irregular shaped rooms, divide the wall area up into segments and add together for a total. Don't forget to add at least 10% for inevitable wastage and offcuts.
Tiles are usually given batch numbers, so to ensure proper colour matching try to buy all your required tiles from the same batch.
What tiling adhesive do I need to use?
When tiling onto walls you need to consider the combined weight of the tiles and adhesive. Different wall surfaces will be able to safely support different weights. Refer to the manufacturer's instructions whilst you're planning so you get the right tiles. Our handy guide below summarises the maximum weights different walls can take: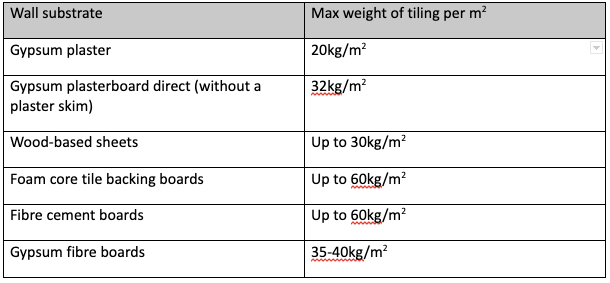 Where do I start when tiling a wall?
How do I tile a wall?
Now you have planned your layout and fixed your battens, it's time to actually lay down your wall tiles. If you are using adhesive that's left over from another project, only use it if it's still in date. You can choose between ready mixed adhesive, and powder that you'll have to mix yourself.
How do I cut wall tiles?
How do I grout wall tiles?