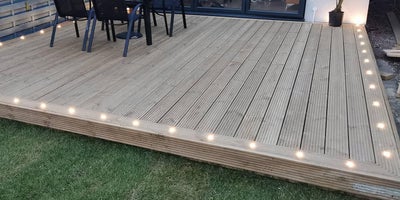 The winter season can be harsh on outdoor home features like decking. After being exposed to the elements it may be in need of some TLC; wood decking bears the brunt of frigid temperatures, rain, and frost, which can lead to rot, cracking, and other damage. With the spring months approaching, you could be facing the challenging task of restoring your deck to a spring and summer-ready state. But with a few simple steps, you can get your decking looking like new again and have it ready for when the warm weather finally returns.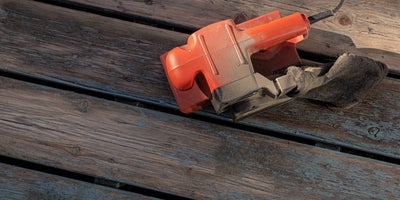 Check it over and make repairs
First things first, you need to give your decking a thorough check over and identify any significant problem areas to understand what you're dealing with. Water damage and wood rot are two of the most common issues faced after a cold and wet winter, but also make sure that the wood isn't warped or twisted. Replace or repair any boards that have suffered from this. It's also ideal to remove any old varnish or paint and use a power sander to sand down the wood. You want to give yourself a blank canvas for your restoration project.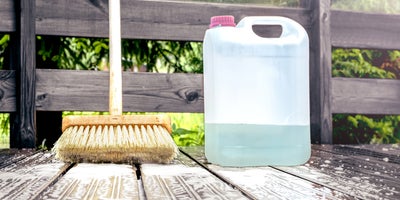 Scrub the surface
You could use decking stripper after sanding to save yourself some time and hassle. It gets rid of any coatings and leaves it ready to be re-finished. To get rid of any leftover dirt and débris, use a broom to sweep the entire deck. Then use a pressure washer on a low setting to rinse any remaining dirt away. Now that all of the débris should be taken care of and your deck has been stripped down, apply some deck cleaner. Follow the instructions of your chosen product - typically it's left to soak for 5-10 minutes.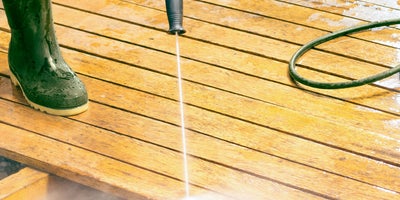 Clean your deck
Once it has soaked into your boards, use a stiff bristle brush to work it in. Focus on the grooves and grains, making sure to remove embedded dirt. If you have a smaller brush, they're really handy for getting into the areas between your boards, as well as the edges and hand rails. Then, with a medium to high setting this time, rinse the cleaning solution off the boards with your pressure washer. Work up and down each board, going one at a time and following the grain of the wood. Give it some time so that it can dry thoroughly.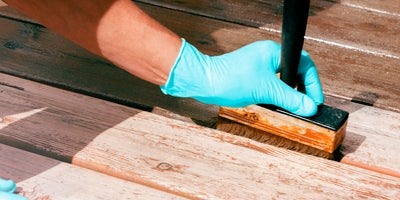 Staining and finishing
You can either give it a new coat of the same colour to restore its former look, or take the opportunity to try something new. Decking stain will give your decking plenty of protection as well as a fresh look. Before you apply your chosen stain, pour some water onto your deck. If the wood absorbs it within ten seconds, it's ready to be stained. Once you've applied your first coat, let it dry and then apply a second. All that scrubbing and cleaning you did to prepare will help to prevent your stain from bubbling or peeling, so you get a nice even finish.