Searches for ways to make small spaces look bigger are super popular. A nursery for a little one on the way, a guest bedroom, or a study to work from home - ways to make small spaces look bigger are on the trend. Here are our expert tips.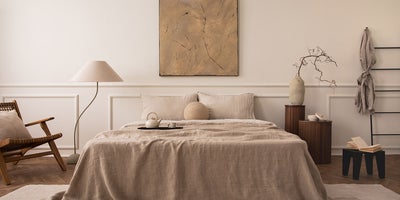 Pick a single, pale colour and use the same colour throughout, on walls and ceilings. This gives your space a flow and blurs the edges, which creates a feeling of calm and spaciousness. This goes for flooring too – think creams, beiges, natural woods. Aim to create a neutral canvas and then you can use toning shades or pops of colour in furnishings and accessories to give character to each room.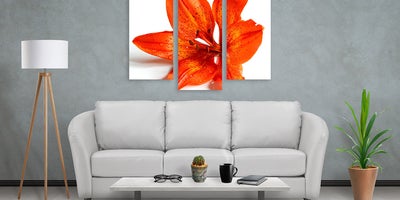 Think big, even in petite spaces! Opt for one large statement piece like a bold bed or sofa to make the room feel expansive. Avoid tiny, cluttering details. Instead, choose a few large, chic accessories. A stunning light fixture or grand mirror can make a substantial impact.
For low ceilings, select low-set furniture to subtly elevate the room's height. Remember, balance is key. Steer clear of contrasting furniture to maintain visual harmony and serenity. Embrace symmetry with matching items and organized accessories for a spacious, calm feel.
Look for the light. Consider adding a skylight or enlarging existing windows. Ensure curtains don't obscure the window and blinds pull up fully. Hang curtain rails at ceiling height for an illusion of taller walls. Utilise mirrors to reflect light and choose mirrored furniture for additional brightness plus storage. Banish shadows by illuminating dark corners and use uplighters to direct focus upwards.
In the bedroom, opt for a bed with integrated storage or utilise under-bed boxes for additional space. Maximise the area behind the headboard with pull-out racks. Hang a laundry bag behind the door to save floor space, and install extra pegs for clothing or jewellery. Set shelves at picture rail height and swap bulky bedside cabinets with sleek, floating shelves. Choose clip-on reading lamps to the bedhead, freeing up bedside space.
In small, open-plan homes, use a large rug under furniture to outline the living area and opt for L-shaped seating to maximise corner spaces. If you need a home office in the living room, consider a fold-down desk or a work surface between bookcases for an efficient workspace. Enhance the area with statement wallpaper or art, and add under-desk storage. For multi-person use, a semi-transparent divider curtain can offer subtle privacy, easily drawn back to maintain a unified living area when not in use.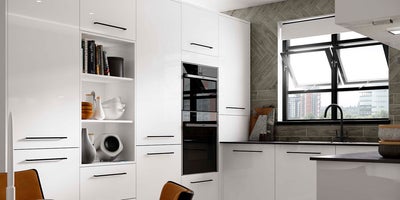 Navigating tiny kitchens demands intelligent and sleek solutions. Opt for designs with concealed handles and drawer pulls, and choose reflective materials like glossy units or mirrored splashbacks to enhance the perception of space. Make use of the top of wall units or opt for installations that extend up to the ceiling. Alternatively, employ open shelves with hooks beneath for utensils, ensuring minimal clutter. Keep only essential items on worktops and contemplate adding a drop-down or roll-away kitchen bar in the doorway for additional work surface. By embracing creative solutions, your small kitchen can prove to be satisfyingly spacious and functional.