How to install and maintain fire safety equipment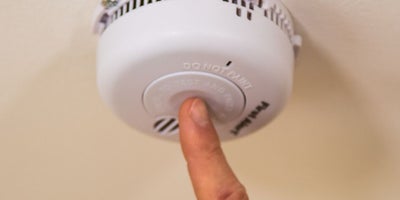 Installing fire safety equipment is crucial in ensuring your home is safe for yourself and your loved ones. Not just a means of reassurance for occupants, smoke and carbon monoxide alarms are now mandatory in rented properties, so landlords must comply with these regulations.
Ensure your home is kitted with all the necessary fire safety equipment by browsing our fire and carbon monoxide alarms range.
This handy guide will cover everything you need to know when installing and maintaining fire safety equipment, including:
Selecting the right alarm for your needs
Installing a CO or fire alarm
Installing and maintaining alarms safely
Fitting a battery-powered smoke or heat detector
Fitting a battery-powered carbon monoxide alarm
How to test and maintain battery-powered alarms
What to do when an alarm sounds unexpectedly
Which alarm do I need?
There are several different types of fire alarms, so be sure to choose the most suitable one for your space:
Optical (photoelectric) alarms detect large smoke particles emitted by smouldering fires and are suitable for hallways, landings, bedrooms and kitchens; they're not suitable for dusty or steamy areas like lofts and bathrooms
Ionisation alarms are sensitive to smaller smoke particles emitted by flaming fires, suitable for living and dining rooms, lofts and near bathrooms; don't place them in or near kitchens, as they're susceptible to false alarms in these areas
Heat (thermal) alarms detect air hotter than 58˚C, suitable for garages and kitchens as they're not affected by exhaust or cooking fumes; if used elsewhere, they generally respond slower than smoke alarms
Combined optical and thermal (multi-sensor) alarms are increasingly available and offer better protection than single-sensor alarms; they suit all rooms except kitchens, bathrooms and lofts
Carbon monoxide (CO) alarms detect a build-up of invisible and odourless CO gas, which can be fatal; a CO alarm should be fitted in every room with a fuel-burning appliance, like a gas fire or boiler, open fire or log burner and should not be positioned above windows or doors or near extractor fans or air vents
Mains-powered alarms can be linked together, so they all sound the alarm when one detects smoke; however, they must be installed by a qualified electrician
Preparing to install a CO or fire alarm
As installation methods vary between designs, it's always best to check the manufacturer's instructions on positioning, installing, testing and maintaining alarms. Here are some points to consider when preparing to install a CO or fire alarm:
Give careful consideration to the position of your fire safety equipment; for example, position a smoke alarm on each floor of your home, in the hallway or landing and close to bedrooms so you can hear them at night
Consider the types of alarms available, choosing one best suited to each specific room; extra devices can then be added to improve your safety further
It's recommended that you also have a fire blanket in the kitchen, at least one ABC-rated powder fire extinguisher, fire doors and an escape ladder. Make sure you know how to use these items and understand the manufacturer's safety guidance
Installing fire safety equipment will help you in the event of a fire, but it's also best to plan an escape route in case of emergency
Installing and maintaining fire safety equipment safely
Here are some tips on keeping safe when installing and maintaining fire equipment:
Wear safety goggles when drilling
Ensure all gas appliances and flues are checked or serviced annually by a Gas Safe Registered engineer per the manufacturer's instructions
If you have an open fire or log burner, remember to have the chimney swept annually
How to install a battery-powered smoke or heat alarm
How to install a battery-powered carbon monoxide alarm
How to test and maintain battery-powered alarms
What to do when an alarm sounds unexpectedly