How to fit and replace door locks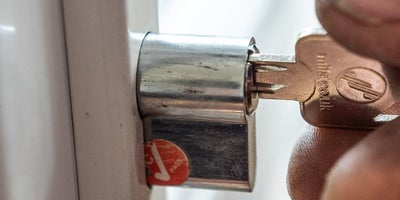 When moving into a new house, changing the door locks is an excellent way of ensuring the property is secure. If all other repair methods have failed, it might be time to replace an old door lock.
Find a replacement lock in our
doors and windows
range. Here, you'll also find a selection of
handles and knobs
, a perfect way to give your door a quick upgrade. If your
door's
seen better days, it might be time for a complete change. Find a replacement that complements your home in our
internal
and
external door
ranges. You can also learn how to change
interior doors
in our handy guide.
In this guide, we'll show you how to change three common types of locks:
Euro profile cylinder lock
Mortice sash lock
Rim cylinder lock
We'll also show you how to fit security door bolts into a wooden door for extra security. Plus, we'll discuss the preparation needed before getting started and tips on staying safe.
What are the different types of locks?
This guide will cover the three types of door locks. Here's a summary of each lock's main characteristics:
Mortice sash locks. Also known as bolt through latches, these locks are commonly found on internal doors; mortice sash locks are pretty large and so a mortice, or hole, needs to be created so they can slot into the door edge
Euro profile cylinder locks. Commonly used on exterior doors, Euro profile cylinder locks offer more security than mortice sash locks; this type is also easier to replace, as the whole mechanism doesn't need to be removed
Rim cylinder lock. This lock is ideal if you have a thin door and can't drill a mortice hole. Rim cylinder locks are attached to the door's surface and are commonly found on external doors

Preparing to fit and replace a door lock
Preparing to change a door lock
How to change a door lock safely
How to change a mortice sash lock:
How to change a mortice sash lock:
How to change a Euro profile cylinder lock:
How to change a rim cylinder lock:
Fit a pair of security door bolts:
Lock installation aftercare