An air source heat pump works by gathering the heat energy in outdoor air, even in cold weather, and bringing it inside to heat your home and hot water. A well designed system can keep your home cosy, with a much lower carbon footprint compared to gas, oil or electric heating systems.
---
How does it work?
The heat from the outside air is gathered and absorbed into a loop with refrigerant fluid and then it passes through a compressor, where the refrigerant is compressed, which causes it to heat up. The hot refrigerant then passes through a heat exchanger, where it transfers heat to the water that flows through your radiators or underfloor heating system.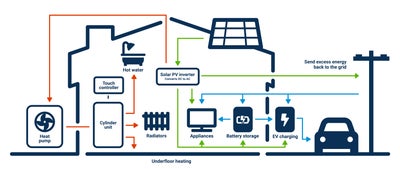 Benefits of air source heat pumps
Can heat your home and hot water
Eligible for boiler upgrade scheme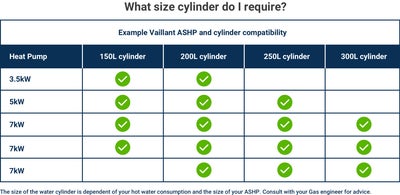 The size of the water cylinder is dependent on your hot water consumption and the size of your air source heat pump. Consult with your professional installer for advice.
---
Accessories
---
Installation Checklist
Heat pumps must be installed by a qualified gas engineer who is MCS certified
Running costs and how much you'll save by installing a heat pump depend on the type of heating you're replacing, the size of your home and radiator upgrades. Your installer will calculate this as part of the design in their quote
See if you are eligible for the Boiler Upgrade Scheme to save money on an air source heat pump installation