Firepits provide the perfect spot to relax and unwind in your outdoor space, whether you want to stay warm in the cooler months or make the most of long summer evenings. They're a great way to level up your garden, and they can be built to completely suit the space you have available.
Build guide
View instructions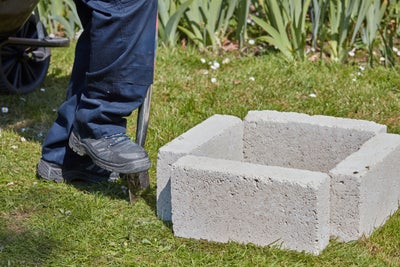 Start by laying down your blocks to space out the area for your firepit. Take your shovel and mark out your area by making an outline around all sides of your blocks. Your line should be roughly 4 inches from them.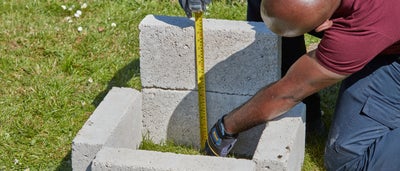 Once you've marked out the area for your firepit, stack one of your blocks on top of another and measure the height of the two combined. This will help you to determine the height of your hole.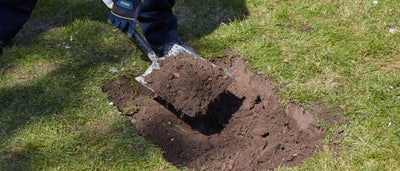 Now you have your measurement for the height, dig the hole for your firepit within the marked out area.
Once you've dug the hole to your desired depth and width, dig a trench for your blocks to sit in while making sure to leave a gap for your sub base.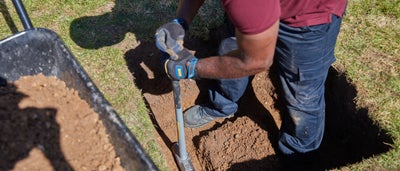 Use a sledgehammer to flatten the soil and create a nice sturdy, level surface. Then double check the height and make sure that your measurements are where they need to be.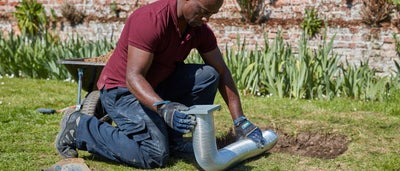 Place the ventilation tube where you're going to put it and mark the location by digging a line in the ground on either side.
Once it's marked, dig out an inclined channel where you can lay the tube for your vent. It needs to go as low as your bottom layer of blocks, as the tube will be fed through one of them.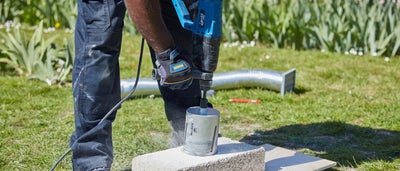 You'll need to drill a hole in one of your blocks, so make sure you get a diamond core drill bit that's large enough for your ventilation tube to go through. Find and mark the centre point on your block, before lining up the centre of your drill bit and drilling a hole clean through.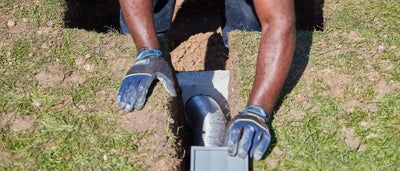 Once you've drilled the hole, check to make sure that your tube fits through it. Then lay the brick in-place in your firepit hole, feed the tube through it and lay your vent in position.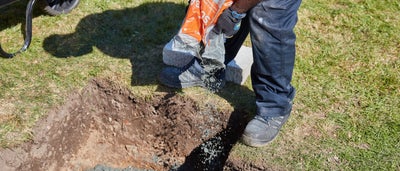 Put down an even layer of sub base around the trench and tamp it down with a sledgehammer, before adding another layer on top. Tamp down the second layer and make sure that the surface is nice and level.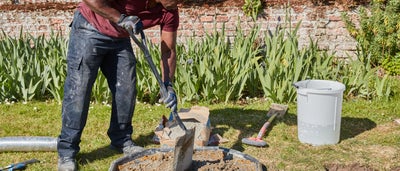 Add four parts of sand to one part cement to your mixing tray and mix them together.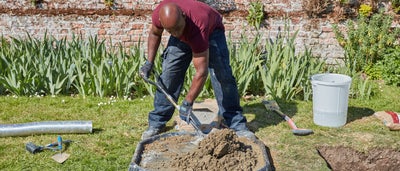 Create a well in the middle and add water, before mixing to create your concrete. Add extra water while mixing if needed.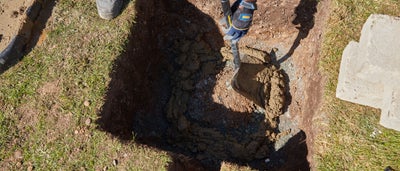 Shovel in a layer of concrete around the entire trench. Lay down the bottom layer of your blocks, placing them corner to corner on top of your concrete. Make sure the block with the hole is facing the ventilation channel.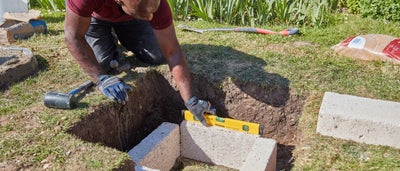 Once they're in position, check that they're level and use a rubber mallet where necessary to make adjustments and secure them in the cement.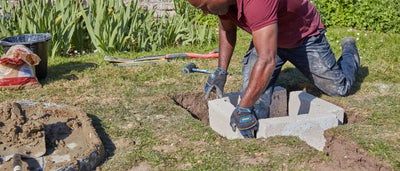 Then add concrete to the top of each block and repeat the process to fit the top layer of blocks. Once all your blocks are secured, use a brick joint trowel to tidy up where necessary. Allow time for your concrete to dry.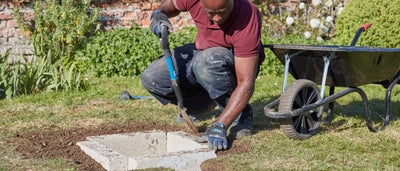 Once it's dried, fill the hole around the outside of your blocks back in with soil, including around the ventilation tunnel.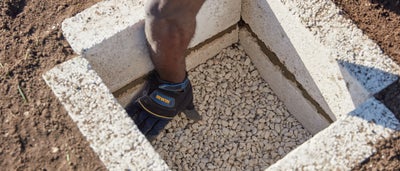 Fill the hole of your fire pit with stone chippings to the bottom of the vent hole, then level them out.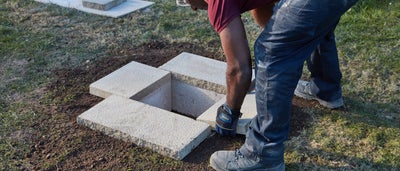 Lay down coping stones on top of the blocks so that the edge is overhanging the firepit by about a centimetre. You might need to cut them down to size in order to make them fit.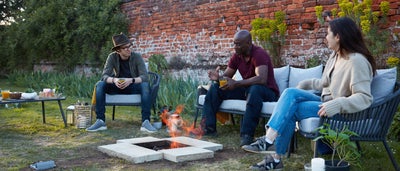 And that's it, your firepit is ready to go. Set up your favourite garden furniture around it, add some kindling, light it and you're ready to relax.