Planning & preparation
We are going to show you how to build fence shelving modular units, step by step.
These modular shelving units are ideal for adding valuable storage space in compact gardens where storage options can often be limited. They're designed to be straightforward and affordable, while offering lots of versatility.
Perfect for rented properties, they can be taken with you when you move and encourage investment in potted plants as opposed to beds.
Make them to be bespoke to your space, so that they fit perfectly in your garden. From planting areas to outdoor cooking setups, they're great for just about anything.
You have complete freedom when it comes to design. You can take inspiration from existing colours in your garden to find your ideal paint colour.
Our step by step instructions and cutting list have been designed as a guideline. If you choose to follow our guide, one fence shelving unit will measure approximately 900mm x 1046mm x 497mm.
If you choose to follow our cutting list, the timber for this project will cost under £60.16 and is available from Wickes.
This project will take a DIYer with moderate experience approximately two hours to build one shelving unit. To ensure you have sufficient time to paint the units and allow them dry before fitting, we recommend setting aside a weekend for this project.
Doing it right
Make sure to measure the available space in your garden. You'll need to make your shelves to size for the perfect bespoke fit.
Choose timber that can stand up to the elements- it's going to be exposed to rain and wind outside during the colder months.
We recommend using sturdy fence posts for the frame and scaffold boards for the shelves.
When working with exterior paint and brushes, work slowly to apply thin and even coats until you have your desired coverage.
Staying safe
Always make sure that your chop saw is unplugged while you're setting it up or changing accessories, to ensure your safety.
Keeping the plug in-sight acts as a visual reminder to prevent accidents and hazards.
For extra safety when using power tools and painting, be sure to wear protective equipment, including your ear defenders, goggles and dust mask.
Deciding on your design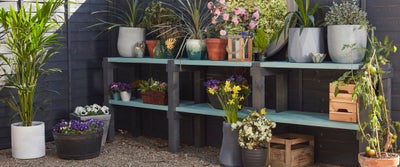 The design of your shelving will come down to how you want it to fit in your garden. A standard modular design is simpler and offers more flexibility, or alternatively you could design your build so that it's bespoke to your space - great for factoring in tricky corners, utilising unused areas and adding storage where space is tight.
This modular build is designed so that scaffold boards sit between frames. The scaffold boards can be as short or as long as needed and reconfigured at any time to suit the size of your available space.
If you decide on a more complex, bespoke design, it might help to sketch out a plan of your shapes and dimensions before you make a start on your project.
Gathering materials and prepping your space
Measure, mark and cut the frame cross lengths
Measure, mark and cut the long frame lengths
Measure, mark and cut the scaffold boards
Mark screw placements
Securing the cross lengths to the long lengths
Painting the units
Fitting the units
Aftercare
Get creative with fence shelving inspiration
For more ideas, advice and DIY how-to guides, visit the inspiration hub; and share your #WithWickes project with us online.

More inspiration from Wickes