Planning & preparation
We are going to show you how to give metal garden furniture a makeover, step by step.
Instead of throwing old pieces away or replacing your set up, a fresh paint job can give tired garden furniture a second life with an impressive transformation. Budget-friendly, fast and custom to your style, spray painting metal furniture is a fun and effective DIY job that anyone can have a go at.
We chose to restore a chipped and rusty metal table and chair set. While our 'make do and mend' project required a fairly minimal amount of preparatory work to remove the flaking paint for the smoothest application, the steps you follow will depend on your project, the condition it's in and your desired finish.
There's lots of room for creativity with this project, providing the perfect opportunity to use leftover materials from other outdoor projects.
If you wish to restore a piece to its former glory or maximise the industrial look with a hint of rust and antique tarnish, you may wish to remove the paint altogether. Likewise, you may need to strip back old layers of paint depending on the condition of your piece for the best finish. It's worth having a look for inspiration online before you begin, so you have a good idea of your project plan.
Not just for metal tables and chairs, you can use these techniques to tackle any number of outdoor metal projects, including garage doors, benches, archways, umbrella stands, sculptures, pipes and much more.
These step by step instructions are intended as a guide to showcase a number of techniques that can be used for metal furniture makeovers. While these techniques require little skill and experience, you should seek further advice or research online if you are unsure.
Depending on what you already have to hand, the materials for this project will cost around £40. The condition of your project will dictate how long it takes complete, however, if it's a fairly simple makeover, you can expect the project to take about 4 hours to complete. To ensure you allow for sufficient drying time, we recommend setting aside a weekend for this project.
Doing it right
For this project and any other furniture restoration project, a degree of planning and patience is required. Whether it's scouring, de-rusting, priming or painting, it's important not to rush, in order to get the best finishes.
The condition of your project will dictate whether any repair work needs to be undertaken. We recommend checking any hinges, bolts, feet and any removable fixtures to see if anything needs replacing or fixing before you begin.
There is no right or wrong when it comes to finishing your project, and you can find great inspiration for colours and trends online. If you're not happy with your finished piece, you can simply brush everything down and give it another go.
We highly recommend using spray primer and spray paints for metal furniture projects, as they're easy to apply with a smooth finish and great for pieces with intricate details and curves. If you would prefer to work with exterior paint and brushes, work slowly to apply thin and even coats until you have your desired coverage.
Spray paint can be messy to work with, so you may wish to protect your floor or surfaces with old sheets, plastic, paper, cardboard or even use a spray paint shelter.
Watch our top tip videos for our Wickes DIY skills, tips and advice.
Staying safe
Always ensure that you wear adequate safety equipment for spray painting and scouring metal. Inhaling paint fumes can be especially dangerous, so this should include a dust mask, goggles and gloves.
If you can't work outdoors, ensure that your working space is well lit and ventilated, especially when working with paint and decorative finishes.
Always check the manufacturer's label before applying any paints, stains or treatments.
Deciding on your design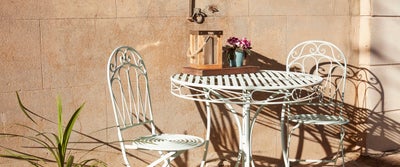 There are many methods and techniques that can be used to transform metal furniture that's in poor condition but full of potential. This guide details how to prepare, prime and spray paint a metal project, however, the design opportunities are endless.
You can choose to work with as many or as few colours as you like, or you may decide to strip the piece back to its unfinished state for an industrial look. If your piece is naturally rusty and tarnished, this can be a good choice to save extensive metal repair works.
When you have decided on your design, it can be worth sketching up your plan if you have an intricate project or complex makeover.
Gathering materials and prepping your space
Preparing the project
Remove rust and paint
Priming the surfaces
Painting your project
Final finishes
Aftercare
Get creative with furniture makeover inspiration
For more ideas, advice and DIY how-to guides, visit the inspiration hub; and share your #WithWickes project with us online

More inspiration from Wickes