Creating an outdoor kitchen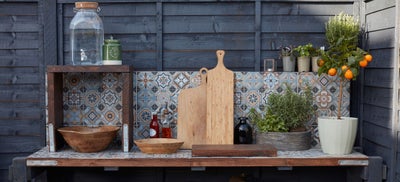 Perfect for dining alfresco on hazy summer evenings or making winter warmers during chilly periods, an outdoor kitchen saves on trips indoors and brings even the most compact gardens to life. It extends the use of your outdoor space, providing a perfect prep station to help you entertain at home and still be present with your guests.
Build it to suit your space, no matter how big or small your garden is, and discover plenty of different ways to add to it and get creative. Whether you're going for something simple or trying something a little more complex, here are some tips on possible features for your outdoor cooking area.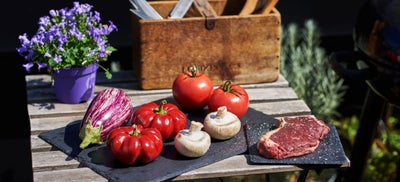 Prep space
The most basic and essential part of an outdoor kitchen as a preparation area; somewhere to dice, cut, chop and slice your ingredients so you're not constantly running back and forth to the kitchen.
Why not use small tiles to create a worktop and backsplash, giving you a smooth surface that's easy to maintain wipe clean after cooking. Plus, you can play around with colours and patterns to see what works best for your setup.
Take design cues from the rest of your garden and choose a worktop material that complements your paving or fence, for a seamless look that helps your outdoor kitchen blend in flawlessly with the surrounding space.
Your prep space is going to be exposed to the elements, so opt for a weatherproof material that you can rely on during the colder and wetter months.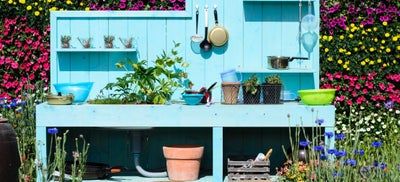 Shelves and storage
Between cleaning and treating your fence is the ideal time to make any necessary repairs.
Keep an eye out for any areas where the wood is rotting or splitting. These can be repaired or replaced depending on the extent of the damage.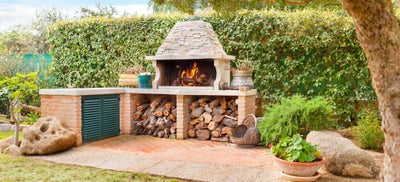 Cooking station
When it comes to cooking, choose something that suits the size of your space and your budget. It can be as simple as a standalone barbecue sat next to your worktop, or as high-end as an integrated grill or pizza oven.
Consider what you like to cook and let it influence the kind of cooking setup you create for yourself.
As well as a functional choice, it's also a stylistic one. Choose between modern grills that offer a sleek, contemporary aesthetic, or a rustic brick oven for something more classic.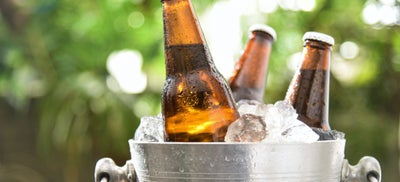 Cooling down
Whether you want an area to prepare drinks or just store them, you can keep your beverages at the ready when you're entertaining guests.
If you have an electrical supply nearby, an outdoor-suitable fridge or wine cooler is a perfect place for your bottles and cans.
For a simpler solution, create a space for an ice bucket and keep your drinks chilled all day and all night.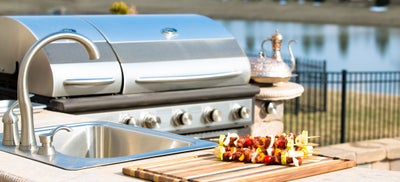 Keep it clean
If you want a station to wash plates and dishes and scrub your fresh veggies clean, installing an outdoor sink is ideal.
A sink basin gives you the full outdoor kitchen experience, allowing you to do it all in your garden.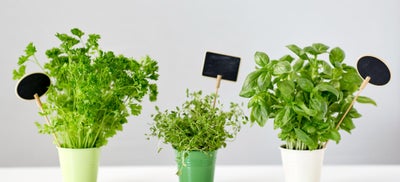 Grow your own herbs
Nothing beats cooking with fresh herbs, and they can be grown from small pots with minimal fuss.
Install a shelf at head-height and use it to store your herb pots. So you can grab a handful of basil, rosemary, sage and more to give your dish the perfect finish.