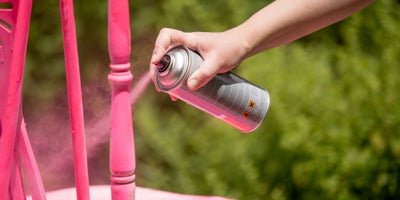 From spray painting to paint pouring and dipping, using leftover materials from other projects is a great way to transform and upcycle your homeware, accessories and ornaments. Raid the craft drawer, attic and shed and get creative with these quick and affordable DIY makeovers.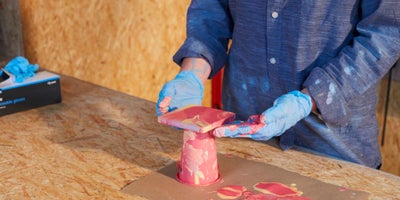 Coasters
Perfect for protecting your woodwork, transform old and tired coasters or use leftover tiles to make your own with these simple ideas.
Add accent colour with paint pouring. A great way to use leftover paints, layer bright colours in a cup and pour over an old coaster for beautiful and bespoke patterns. Tilt to spread then leave to dry for several days before finishing with a clear spray paint sealer.
Personalise your place settings with chalkboard coasters. Great fun for kids and guests alike, give you coasters a couple of coats of specialist chalkboard paint and allow to dry for 24 hours. Season with a layer of chalk, wipe away and you're ready to get creative!
Repurpose old tiles and leftover wallpaper. A fun evening project to coordinate your décor, trace around old tiles onto leftover wallpaper or wrapping paper and cut out. Glue the paper to the tile with PVA or decoupage glue, then apply three of four coats to the top and allow to dry. Seal with several coats of clear spray paint sealer and add felt pads to the underside to prevent scratching.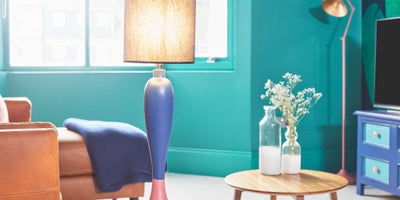 Lamps
Rather than buying a new shade or throwing an old base away, have a go at revamping your unloved lamps with fun, quick and easy makeovers.
Transform with bold and bright colour. Whether you have a plastic, metal or wooden base in need of some TLC, a couple of coats of spray paint will completely refresh your lamps. Protect any cables, switches and fittings with masking tape then apply several coats of a bold, bright or pastel colour for an instant revamp.
Makeover a simple fabric shade. Spray paints are a great way to quickly transform a lampshade, covering textured fabric or patterned prints with an opaque finish. Use masking tape to line the edges and start from the inside out. Try spraying the inside in a metallic or clashing colour to the outside, for a luxe look.
Decoupage a lamp to seamlessly blend with your mural or wallpaper. Cut leftover wallpaper into thin strips, allowing a little extra to fold over the edges of your shade. Using PVA or decoupage glue, secure each strip so they are slightly overlapping. Coat the strips with another layer of glue, then fold or trim the excess and conceal with the edges with ribbon. Seal the shade with a couple of coats of clear spray paint sealer for added durability.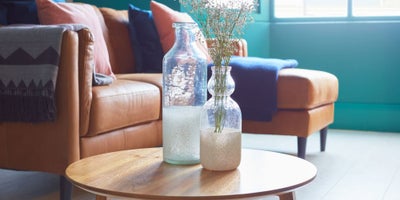 Vases
The perfect blank canvas for a bespoke customisation, upcycle vases, glass bottles, jars and even tins to display your blooms.
Add textured spray paint to glass and ceramic for an expensive-looking makeover. Make sure your vases are thoroughly clean and then mask around the opening, halfway point or at the widest part to create an hourglass shape. Apply several coats before allowing to dry then remove the tape for a crisp line.
A great way to use up leftover paint, dip your vases in bright and bold colours. Give you paint a good stir then decant a small amount into a container or plunge straight into your tin. Lightly roll your vase for good coverage, then allow the paint to run off before transferring to a flat surface to dry.
Experiment with metallics for high-end transformations. Whether you go for block colour, two-tone designs or geometric patterns, metallic spray paint adds a reflective high shine to your ornaments. Make sure your vases are clean and dry, then use tape to mask your design before applying several thin coats. Allow each coat to dry, before removing the tape and arranging your cut or fresh flowers.
More inspiration from Wickes