3 Ways To Make A Statement With 2020 Paint Trends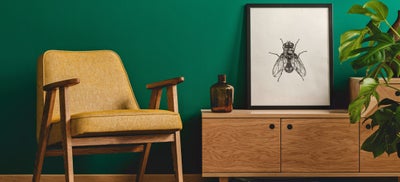 Revive a room, refresh an unloved space and bring your décor into the next decade with new and trendy colours. 2020's interior paint trends bring harmony to our walls with colours inspired by nature including the Dulux Colour of the year, tranquil dawn.
Find a palette of sumptuous green, inky brown and maroon moving through earthy terracotta, apricot and spicy ochre; to blush, fawn grey, neo mint and porcelain blue. Each colour is daring enough to work alone or combined with its counterparts, make for a powerful scheme.
A fast and effective way to transform your spaces, we recommend using tester pots to swatch a wall opposite a window when introducing new colours. This will give you a good idea of how daylight can change the mood of the colour and feel of the room. Once you're happy with your scheme, why not incorporate some of our favourite decorative trends to make a bold statement.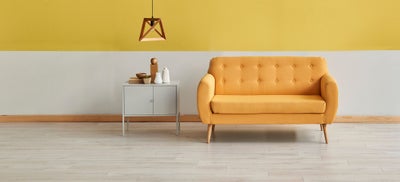 Two-tone walls
A fun and contemporary way to experiment with colour, a two-tone accent wall can be as subtle or as loud as you like. Boldly contrast colours, play with shape or experiment with finishes and shades. A wipeable half gloss wall can make a great addition to a busy entrance hall while combining bold tones can help create a zoned area.

Decide where your colours will meet. This is a great way to play with space and the height of a room. Go for a 50/50 or 60/40 divide or try aligning to a feature, such as a window frame or panelling.
Use a tape measure and chalk to mark your wall. To save splashes and drips, start by applying the colour that will sit above the divide, extending slightly beyond the marked line.
Once dry, line your divide with masking tape. Apply your second colour to the lower area, then remove the tape while still slightly wet for a crisp edge.
To make your space feel as large as possible, use your lightest tone up top and the darkest hue closest to the floor.
For a guide on how to paint a room, find more guidance and advice in our ideas and advice hub.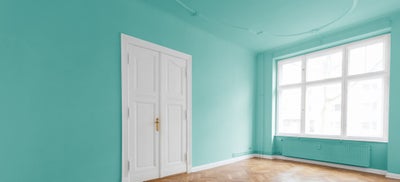 Painting the ceiling
An emerging trend that's making a big impact, switch up your colour palette and give your neglected ceiling a new lease of life. Move away from bright white and experiment with colour, adding character and unexpected drama to your space.
Consider your room. A lighter ceiling in smaller rooms helps the space to feel open and light, while large and bright rooms can handle rich and dark colours. For spaces with asymmetrical and angled ceilings, experimenting with bold colours can help create a high ceiling effect
Experiment with shade. If you go for a dark ceiling, try taking your walls 2 or 3 shades lighter in a warmer tone, or contrast to off white or pastel walls. For a perfect finish, make sure to thoroughly prepare walls and ceilings for decorating before you begin
Darker colours can help accent decorative finishes such as architrave, crown mouldings and picture rails. A timeless look if you live in a period property
Extend your ceiling colour down to the picture rail for a cosy and intimate effect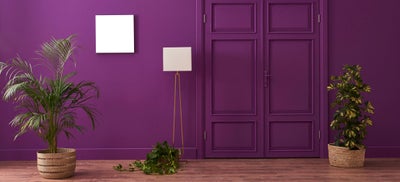 Bold woodwork
Give your interior scheme a contemporary twist by extending your paint from the walls through to the woodwork. Try incorporating big colours for a huge impact.
Seamlessly blend your skirting boards and picture rails into the wall with daring colour. This streamlining effect helps to focus the colour, drawing your eye up to bright and high ceilings.
For great contrast and longer wear, use the same colour in different finishes when painting interior woodwork. Pick eggshell for a matt finish or add interesting contrast with gloss and satin finishes.
Blend doors into the background by extending the wall colour through the framework and onto the door. This helps to create the illusion of more space, especially where the walls contrast to the ceiling and floor.
Dark colours and glossy finishes can highlight imperfections in your woodwork. For a seamless finish, find our advice on how to prepare interior woodwork for painting
More inspiration from Wickes