How to keep your decking looking new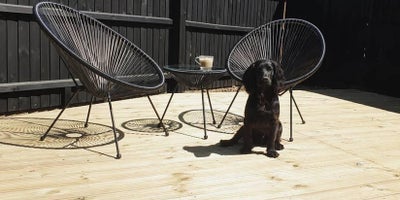 While decking is a great way to upgrade the look of your outdoor spaces, it needs some love and care to keep it looking its best. Being exposed to the elements all year round is bound to leave it in need of a good clean, especially during the Autumn and Winter months- thankfully it can be maintained without any major hassle.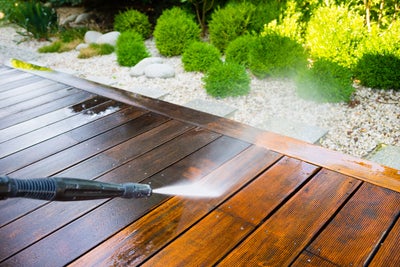 Best times to clean
You only really needed to fully clean your decking around twice a year.
Cleaning it in the spring is the perfect way to prepare it for summer when it'll see the most use.
Prepare your deck for the Winter ahead by caring for it in the autumn.
Try to make sure the deck is not wet and that it's not likely to rain before your product has had ample time to dry.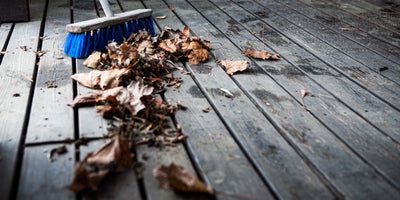 Clear the deck
Start by clearing your deck of any garden furniture and any other items, so that you have full access.
Use a stiff brush to sweep the surface and get rid of any loose dirt and debris, leaves and more.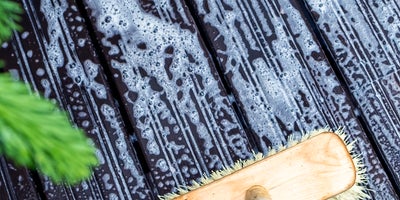 Start cleaning
Before you start, it's a good idea to protect any nearby plants by covering them. If your surrounding plants or grass do come into contact with your cleaner, give them a thorough rinse.
Apply your decking cleaner directly to your deck or follow the instructions for your chosen product.
Clean by working in small, manageable areas so that you're not trying to clean too many boards at once.
Once applied, use a scrubbing brush to scrub your cleaner. Once you've done the whole deck, give it 15 to 20 minutes to get to work.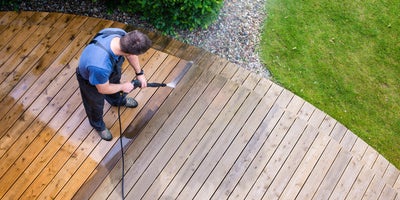 Rinse off
When it comes to rinsing, a pressure washer or hose with a jet spray setting will get the best results.
If you are using a pressure washer, try to evenly distribute the water pressure or set it to the lowest setting, in order to avoid the risk of damaging your decking.
Using clean water, rinse off your decking by working from end to end and going with the grain of the wood.
For particularly stubborn boards, trying scrubbing again with a wire brush.
Give it at least 24 hours to thoroughly dry out if you're planning to paint or stain the wood after cleaning.
More inspiration from Wickes