5 ways to treat exterior wood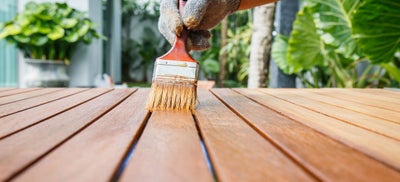 As we begin to venture outside into the milder weather, the changing seasons offer the ideal time to draw up a list and tackle your garden maintenance jobs including timber care. Not just concerning your shed, decking and fencing, it's likely that after several months of intense weather, exterior woods including your window frames, doors, garage door and porch will also need some TLC.
Whether you want to protect your timber against the elements for a longer life against rot, wear and decay, or spruce up a tired surface to have it looking its best all year round; there are many different ways to treat your timber.
From exterior coatings to penetrative treatments, we've rounded up 5 great ways to treat outdoor wood.