10 ways to use sleepers in your garden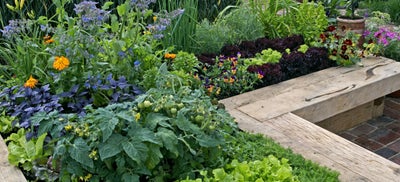 Versatile, sturdy and budget-friendly, timber sleepers are a fantastic choice for garden landscaping projects. Ideal for contemporary builds or adding natural design elements to your garden, sleepers can be used for anything from planting to construction.
Once you have mastered the basics of working with sleepers the creative options, projects and finishes are endless. If you're looking for inspiration or ready to take on your next project, find our 10 favourite ways to use sleepers in your garden.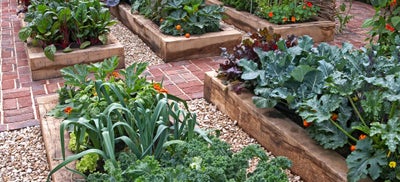 Raised sleeper beds
One of the most popular uses for garden landscaping, raised sleeper beds are a contemporary and stylish choice for zoned planting. Helping to reduce weeds and keep away slugs, raised beds can help to reduce compaction, increasing soil drainage for improved conditions and a longer growing season.

With easier access for reduced mobility, boxed beds can be built to any shape to suit your space. Not just limited to the traditional square and rectangular designs, go for fun triangular or hexagonal builds, or fit bespoke tiered beds to an unloved corner of the garden for your plants, seeds and trees.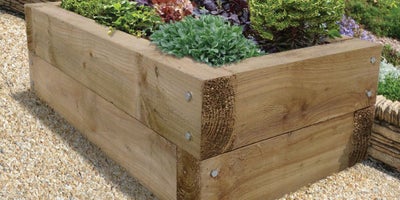 Sleeper planters
The little sister of raised beds, sleeper planters tend to be smaller in size with a fixed base for easier transportation. Try adding castor wheels or chunky feet for large shrubs, small trees or portable vegetable beds, that like to be moved with the changing seasons.

For a longer life, planters perform best when lined with good quality landscaping fabric. Secure with a staple gun before filling with soil and bedding in your shrubs.
Sleeper steps
An attractive alternative to brick, concrete and paving slabs, sleeper steps are a great choice for rustic landscaping with a contemporary nod. Great for segmenting areas of your garden with easier access to raised spaces such as decking, patios and grass, the design options are entirely bespoke to your space.

Whether you're adding a couple of gentle steps up to grass or planning an ambitious incline; sleeper steps should be laid on a concrete bed and secured with wooden stakes, timber brackets and heavy-duty exterior screws for the best results.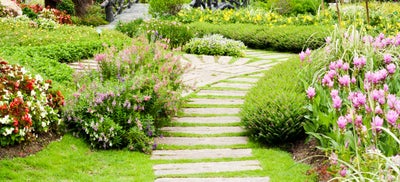 Sleeper pathways
Whether a winding walkway or a diverted route through your turfed area, sleeper paths are a great way to break up your garden while introducing a more rustic and natural look to your outdoor areas.

Best tampered down on a bed of sand, lay your sleeper path sections so they are almost fully submerged. They will naturally sink a little over time to be perfectly level with your lawn, or you can choose to fill between the sections with decorative stone and gravel for a more landscaped look.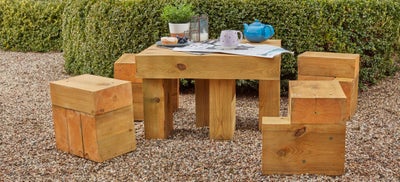 Sleeper garden furniture
A functional and handsome addition to any garden, create your own sleeper garden furniture to suit your unique spaces. Versatile, durable and sturdy by nature, when treated and maintained with suitable exterior treatments, sleepers will weather well for many years to come.

From a country-style timber bench to an industrial-inspired patio dining set, the design options are endless. Finish with a couple of coats of good quality UV oil for a natural sheen or paint in garden shades to match your shed and fence.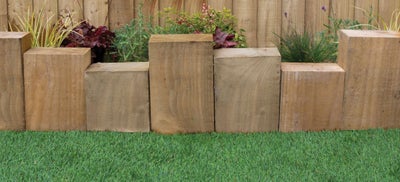 Sleeper border edging
An effective way to add natural textures and layers to your outdoor spaces, sleepers can be used for edging and borders in many ways. Lay long horizontal lengths for perfectly straight bedding lines or submerge vertical lengths slightly into the ground to create a traditional edging roll.

With lots of space for creativity when it comes to using sleepers for borders, try edging your beds, zoning your relaxation areas or lining your driveway. Available in a range of style and sizes, go for finished sleepers with a chamfered edge or shaped profile for softer lines.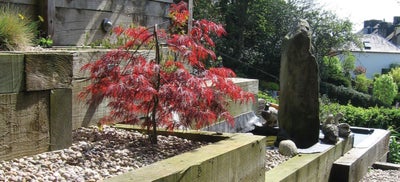 Retaining sleeper walls
A practical, affordable and beautiful alternative to traditional landscaping materials, sleepers make fantastic retaining walls.

Go for a traditional low-level horizontal wall, stacking the sleepers on their narrowest or broadest side with overlapped butt joints. Or build your wall with vertical sleeper lengths secured with hardware and metalwork. Great for sloped gardens and adding curved designs to break up straight lines.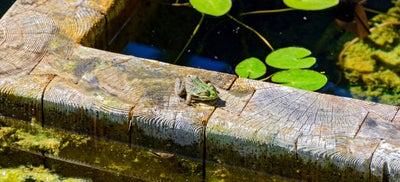 Sleeper pond
Enhance any outdoor space with a DIY water feature to enjoy resident wildlife, aquatics and pond plants. Simple to construct, build and fasten stacked sleeper frames with supporting angled brackets, then seal with a good quality pond liner for filling up.

Using the same framing principles, try creating a children's garden sandpit or contained play area filled with chipped bark.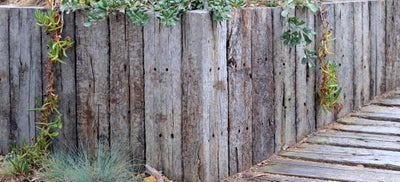 Decorative sleepers
A fun way to use offcut lengths or add some decorative landscaping, use vertical lengths for screening and zoning a seating area, or add height to your flowerbeds and top with planters and pots.

Create an al-fresco relaxation area with a sleeper pergola. A great way to add shade over a lawn, patio or decked area, add climbing plants for winding greenery and hanging blooms.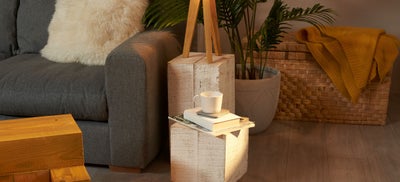 Indoor sleepers
Not just for outdoor use, with a little imagination you can easily bring sleepers indoors for a stylish aesthetic. Fantastic when sealed with finishes to enhance their natural beauty such as interior varnish, they can add considerable contemporary styling to any space.

Go for a chunky sleeper beam above a log burner or add a rustic mantle to your living room for a quintessential focal point. Suspend with ceiling light fixtures for a contemporary lighting solution or add castor wheels to sanded back offcuts for handy end table lamps.