How to plant bulbs, trees and shrubs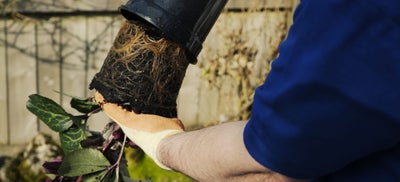 Planting out in beds and borders
Planting your new bulbs and shrubs is pretty straightforward, but there's a little more to it than just digging a hole. To ensure plants establish quickly, grow properly and live a long time, you need to follow a few simple guidelines.
Most plants that you buy from garden retailers have been grown in rich potting compost, not soil. So your planting hole needs to match these conditions to encourage the roots to spread out into the soil. This ensures your plant will get off to the best possible start and establish itself quickly.
Different plants or bulbs need to be planted out at different times, so it definitely helps to plan in advance. This means you can maximise the flowering season in your garden so it looks as good as possible for as long as possible.
Establishing new plants
Watering new plants is absolutely vital but it can be influenced by the type of soil you have. Heavy clay soil is more prone to waterlogging, so water infrequently and thoroughly. Lighter sandy or chalk soils are more porous and dry out quickly, so water lightly but frequently.
Mulching the area around your new plants and bulbs preserves soil moisture and helps regulate soil temperature. Mulch is also an effective natural weed control.
It's best not to fertilise newly planted trees and shrubs for at least a year, preferably two. Excess fertilisation at this stage could actually reduce root growth but encourage top growth. Your tree then risks becoming top heavy and more likely to uproot and tip over.
For hints and tips on the huge variety of flowers, bulbs, trees and shrubs you can put in your garden, and the best time of year to plant them, read our Gardening Calendar guide.
How to plant bulbs
Planting a pot grown plant
Planting a bare root tree or shrub