Planning & preparation
Carefully plan your lawn before starting, as this will limit wastage and will help you to be accurate when ordering the materials you need. However, it is best to order 5% extra turf, to allow for cutting and shaping.
Like most plants, turf relies on the water and nutrients that are taken up from the soil, so purchasing excellent quality turf is not necessarily enough to ensure a healthy lawn. In order to give your lawn the best start, it is essential that you have thoroughly prepared your soil.
Adding a lawn establishment fertiliser and water to your soil prior to laying the turf will help to encourage rooting and establishment. If you are concerned about the quality of your soil, then a high quality and certified turf and lawn seeding topsoil is the perfect base on which to lay turf. Alternatively, you can use a soil improver to enhance your existing soil.
Whilst turf can be laid all year round, it's best to avoid frosty or very warm conditions, as these will require extra care and attention.
Ensure your preparation is completed prior to your turf arriving as it must be unrolled on arrival in Spring and Summer and within 24hrs in Autumn and Winter.
Do it right
Be sure to carefully follow manufacturer's instructions when applying lawn establishment fertiliser, soil improver, or turf and lawn seeding topsoil.
Newly laid lawns will need additional watering, so be water wise and install butts to collect rainwater for use during dry periods.
Staying safe
Wear safety goggles, protective gloves, ear defenders and boots when operating a turf cutter, rotavator or mower.
Wear protective gloves when raking, removing debris, applying fertiliser and laying or cutting the turf.
Rolls of turf can be heavy so ask for a helping hand when moving them into position.
Aftercare
Watering is the most important step to ensuring a healthy lawn and should begin as soon as the turf has been laid. Ensure the lawn is never short of water by lifting the corners to check the soil below. Water regularly until the lawn is well established.
Mowing will encourage your lawn to establish but can't be done until the turf has begun to root. However, allowing a lawn to grow too long before mowing can damage the lawn by 'scalping' it. In ideal weather conditions your new lawn may need mowing as soon as 2-3 days after it has been laid, but in colder weather it is not unusual for it to take a few weeks.
If you are using a rotary mower then you will need to ensure the turf is well rooted before mowing, as the updraft can cause the turf to lift. If you are using a cylinder mower then you should mow your new lawn as soon as you see it starting to grow. Try and mow your lawn whenever it is over 30mm long.
To avoid damaging the turf, ensure the mower's blades have been sharpened within 12 months and are set high, to ensure that no more than 1/3 of the grass blade length is removed.
In order to be healthy, a lawn needs a good balance of nutrients, water, light and air, so it's a good idea to develop a treatment programme that will help to keep your lawn looking its best all year round.
Preparing the area
Step 1
If you are replacing an existing lawn, then you'll need to start by removing the old turf; use a turf cutter or spade to do this.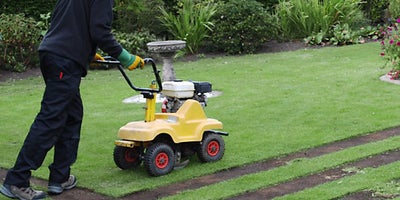 Step 2
Dig or rotavate the area you plan to turf to a depth of between 100-150mm. Add a soil improver if required.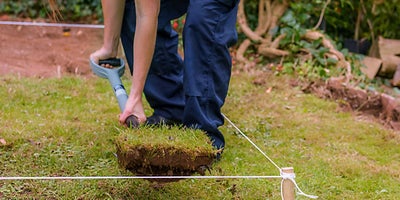 Step 3
Use a rake to remove any clods of earth and dispose of any weeds, stones or debris as you go.
Step 4
Walk up and down the lawn with your weight on your heels; this will firm up the soil and remove air pockets. Check levels before continuing and try and ensure the soil is as level as possible.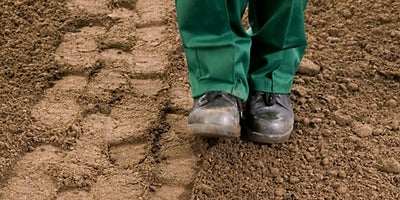 Step 5
Being sure to follow manufacturer's instructions; apply lawn establishment fertiliser evenly across the area.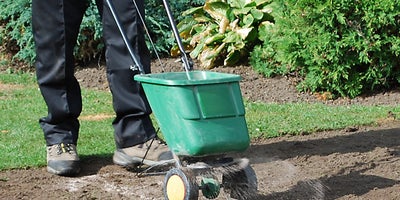 Step 6
Being sure to follow manufacturer's instructions; apply lawn establishment fertiliser evenly across the area.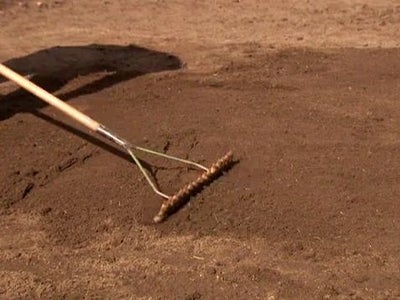 Laying the turf
Step 1
It's best to unroll your turves along a straight edge, if you don't have one, use a scaffold board as a guide for the first row. If you are turfing a circular lawn, start in the middle and work your way out.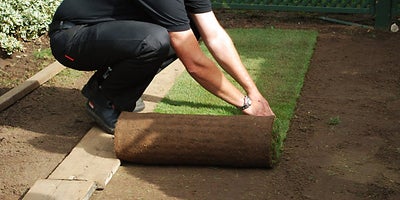 Step 2
When joining turves, ensure they are closely butted together to avoid having any gaps. Push the turf into a joint and take care not to stretch it.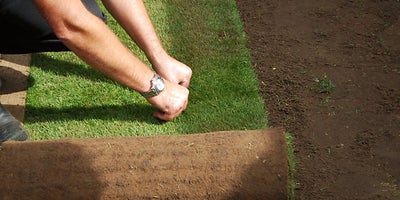 Step 3
Lay in an offset brickwork fashion so that the joints are staggered; this reduces the risk of the turf drying out.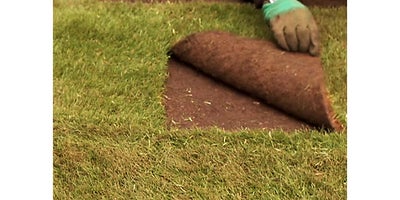 Step 4
When working, use a scaffold board to walk or kneel upon, as it is important not to put pressure directly onto the freshly laid turf.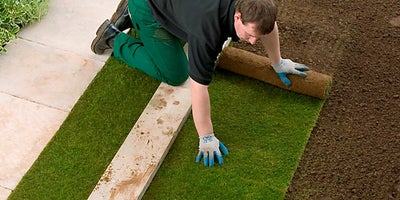 Step 5
Fill in any small gaps as you go with a light sandy topsoil.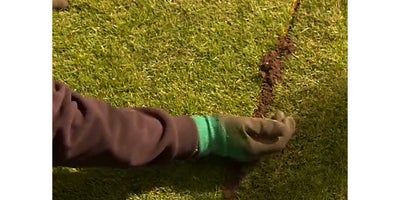 Step 6
To ensure contact between the turves and the soil, tamp down with a piece of wood or the head of a rake.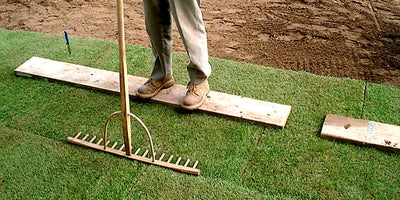 Step 7
If you come across any obstacles such as a path, flower bed or tree, roll out the turf, then use a long knife or handsaw to carefully cut the turf to fit around the obstacle. Use the edge of the obstacle as a guide when cutting or create a guideline using chalk or spray paint.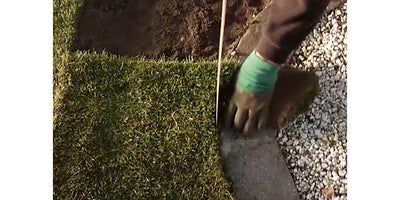 Step 8
Once the turf is laid, put soil onto any exposed edges to prevent them from drying out. Remove the soil after a few weeks, using a brush for large areas, or a trowel for small areas.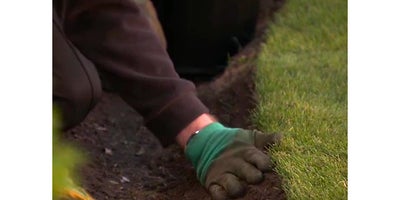 Step 9
Begin watering your turf as soon as it is laid, as regular watering is the most important step to creating a healthy lawn.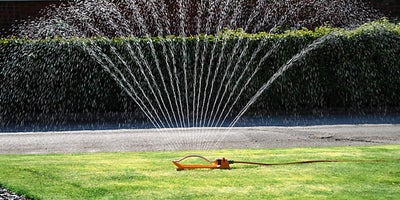 Step 10
To ensure your lawn is never short of water, check by carefully lifting a corner to see whether the water has percolated through to the soil below. Continue watering and checking your turf until it is well established.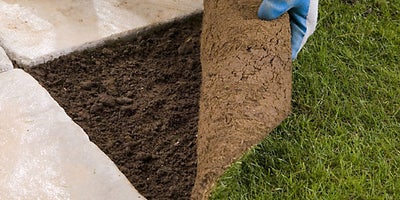 Step 11
Your new lawn may need mowing as soon as 2-3 days after it has been laid. This should also be the only time you walk on the turf in the first few weeks.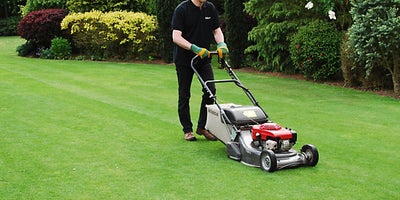 Maintaining your lawn
Step 1
Apply a lawn fertiliser in Spring and Autumn, spread the fertiliser uniformly either by hand or with a rotary spreader.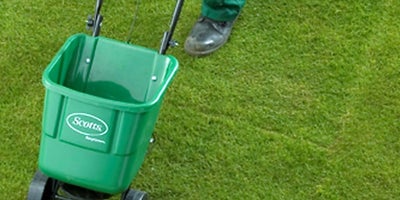 Step 2
Alleviate soil compaction by aerating the soil twice a year, first in May and then later in September. This will help roots to grow deeper and will create a healthier lawn as air, water and nutrients can reach the roots more easily.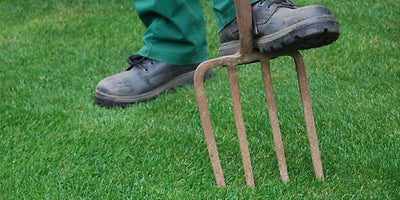 Step 3
Once the lawn is over 12 months old, you can begin scarifying it with a rake to remove moss and dead vegetation. It's best to scarify in March and September.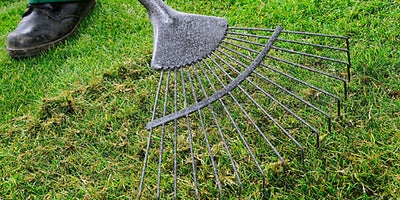 Step 4
Overseeding is a great way to make your turf denser, fill in any patchy areas and reduce the risk of weed and moss invasions. Overseeding should take place in early Spring but is only needed once your lawn is more than 12 months old.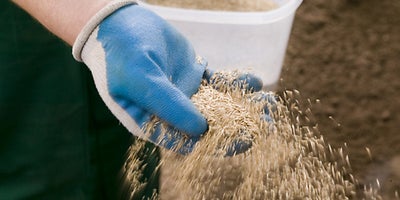 Step 5
Topdressing will help to promote growth, aid drainage and repair patchy areas. It should take place when the grass is relatively dry and can be done anytime when the grass is actively growing but it's best to apply topdressing twice a year.