Planning & preparation
Carefully measure out and plan your new lawn before starting, as this will limit wastage and will help you to be accurate when ordering the materials you need.
When deciding which edging to go for, bear in mind that artificial grass is available in pile heights from 10mm – 45mm, so lay the height of your edge accordingly.
If you are planning to replace a large area of turf, then it may be best to hire a turf cutter to speed up preparation.
These instructions are a guideline only; ground conditions and soil types do vary which in turn can alter the way in which artificial grass should be installed. If you would like further advice, please feel free to call Namgrass on 01425 627832.
Do it right
Spend time preparing the area thoroughly, as achieving a level surface is key to getting the best results.
If you are a pet owner we'd suggest not infilling with block paving sand as this will help to keep your lawn smelling fresher for longer.
Staying safe
Wear safety goggles, protective gloves, ear defenders and boots when operating a turf cutter or compacter.
Wear protective gloves when raking, removing debris or cutting the turf.
Wear safety goggles when operating a mechanical brush or sand spreader.
Aftercare
Remove leaves or fallen debris from the grass using a stiff brush or plastic rake.
Give your grass a clean with an artificial grass cleaner every now and again, especially if you are a pet owner.
If need be, you can perk up the grass pile by going over it with a stiff brush or plastic rake.
If any stains develop, you can remove them by using warm water, washing up liquid and a brush.
Step by step
Step 1
Start by using a spade or turf cutter to remove all the old turf that you are planning to replace. Dig to a depth of between 75-100mm depending on ground conditions.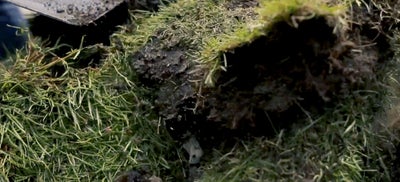 Step 2
Artificial grass should have a durable edge to butt up to, so if you haven't already got one around the area you are planning to turf, then install a timber, concrete, brick or metal edging and ensure it is level.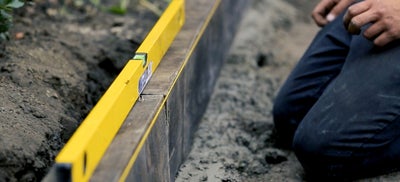 Step 3
If your area needs building up more than 50mm because the ground has a lot of clay in it, or is particularly soft, start by adding a layer of aggregate such as MOT Type 1. Use a rake to level as best you can before using a compactor to create a firm base.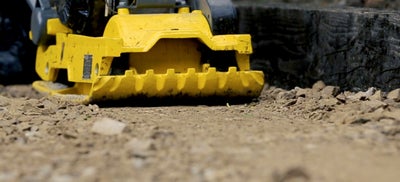 Step 4
Next, add a 40 – 60mm layer of fine aggregate such as Sharp sand. Rake and then compact until the base layer is at the level recommended in the pack instructions, as this will be determined by the Namgrass you have chosen. It's best to form a slight camber so that the base slopes towards the edges.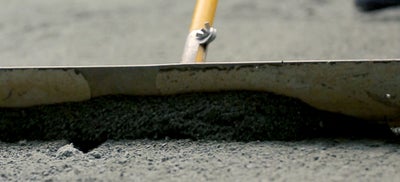 Step 5
Once the base is in place, spray with water to help the materials bind.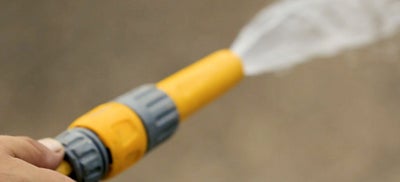 Step 6
Install a layer of permeable landscaping fabric, making sure it covers the whole of the base layer, and secure with galvanised nails.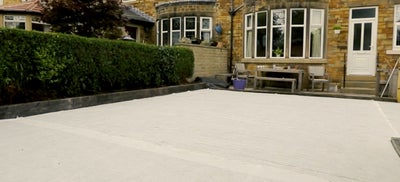 Step 7
Roll out the grass and make sure that all sides overlap and the entire area is covered. It's likely that you will need to join sections together, so when rolling, make sure that the pile of both sections is running in the same direction. If possible, lay your grass with the pile facing the house.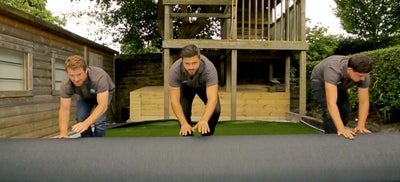 Step 8
Leave the grass for around an hour or so to allow it to acclimatise.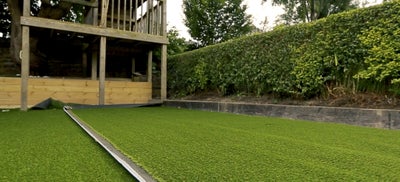 Step 9
To join sections together, line them up with an overlap and check that the pile is running in the same direction. Then, fold back one of the sections, count four stitches in and carefully cut through the latex with a retractable trimming knife.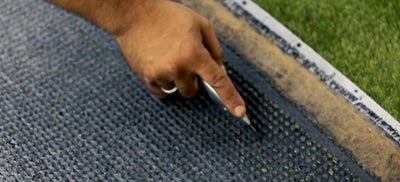 Step 10
Once you've cut all the way along, bring the two pieces together and test the joint. There should be a consistent 1-2mm gap between the sections and the join shouldn't be visible when viewed from afar.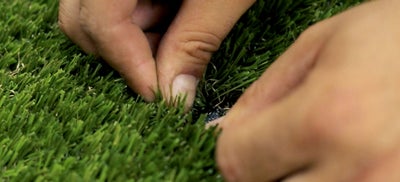 Step 11
If you are happy with the join, fold back the edges all the way along the length of the grass.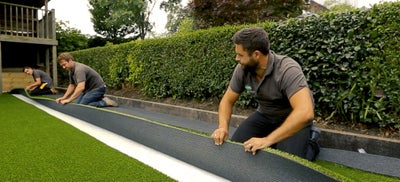 Step 12
Roll out the joining tape between the two lengths of grass with the shiny side of the tape facing downwards.
Step 13
Use a cartridge gun to apply Namgrass Lawn Fix Adhesive along the length of the joint.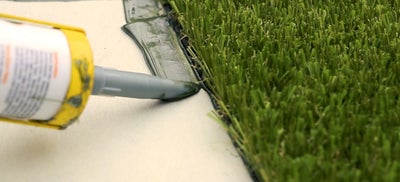 Step 14
Carefully work your way along and join the two sections by sticking the grass down and onto the tape.
Step 15
Once the sections are joined, walk along the joint to firmly secure the grass in place.
Step 16
Use a retractable trimming knife to cut in around edges and obstacles to ensure a tight fit. Leave for a couple of hours to allow the adhesive to set and the grass to settle.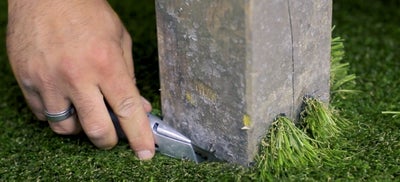 Step 17
Whilst not essential, spreading an even layer of block paving sand at a rate of approx. 5 kilos/m2, will provide additional stability to the artificial grass. We've hired a sand spreader to do this.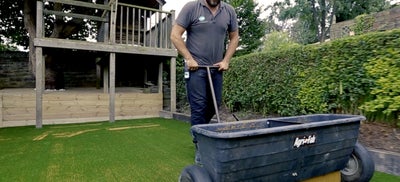 Step 18
Finally, spread the sand to stimulate the pile. We've hired a mechanical brush to do this, but a stiff broom would also do the job.