---
A modern drill is perhaps the most versatile of all power tools. There is a wide range of drills available, from those most suited to the occasional home DIYer to very powerful and robust tools that are packed with features demanded by professional tradespeople. This guide will help you decide which is the most appropriate style of drill for your needs, so you end up with a drill that is fit for purpose and good value for money.
What drill do I need?
The type of drill you need will be dependent on many factors, such as how often you intend to use it, the type of jobs you want it to perform, and the materials you tend to work with. When choosing a drill, it's best to consider the following product features to help you make the right decision.
Drill drivers
Perfect for smaller household jobs. It can be used as a drill and a screwdriver, and will cope with wood and thin metal, but it is not designed to be used with masonry. If you only need a drill for light use, this is a very reasonably priced option to consider.
Shop drill drivers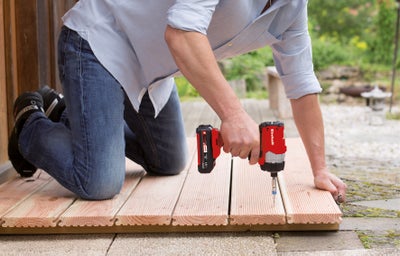 Impact drivers
Specifically designed to do one job – to drive in screws. Its features include both rotational and downward force, making it efficient when removing over-tightened or 'frozen' screws or when carrying out a project that involves volumes of screws, such as building a deck.
Shop impact drivers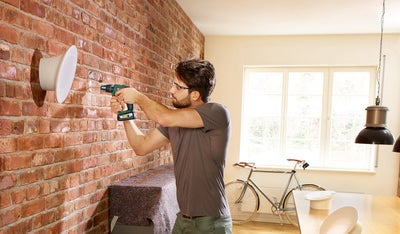 Combi drills
Very versatile and a great all-rounder. It's suitable for wood, brick, concrete and steel, and with a combination of driver, hammer and impact settings, it can tackle most jobs. A cordless combi is one of the most popular choices for carrying out home DIY projects.
Shop combi drills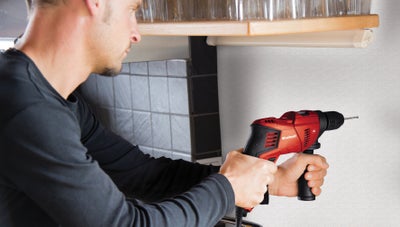 Hammer drills
A heavyweight that is specifically designed to drill into stone, masonry and concrete. The drill's hammering action produces quicker drilling with remarkably little effort, so it's the perfect drill for really heavy work.
Shop hammer drills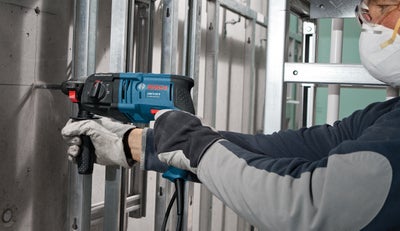 SDS rotary hammer drills
Highly specialised, and more expensive, drills that are more powerful than standard hammer drills. Used for really heavy duty jobs, an SDS (Special Drive System) drill has the option of turning off the rotary action so the tool can chisel through stone and concrete.
Shop SDS rotary hammer drills
Cordless or corded?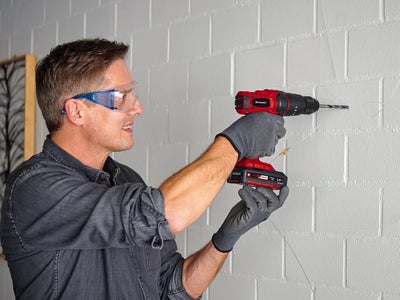 Cordless
Cordless drills are a very popular choice for good reason. Powered by efficient, rechargeable Lithium-ion batteries, these compact drills can work wherever they are needed, and as they are lightweight, they're comfortable to use over a long period of time.
A cordless drill can't quite match the power of a corded drill, but it can still tackle most jobs. Be aware though that the more power a job requires, the quicker the battery will be drained. However, most Li-ion batteries can be fully recharged in 60 minutes or less, and you can always buy additional batteries if you need to work for long periods at a time.
Advantages
Highly portable
Very convenient
Lightweight, so comfortable to use for longer periods
Disadvantages
Not as powerful as corded drills
Battery life can impact on productivity
More expensive than a similar corded drill
Shop cordless drills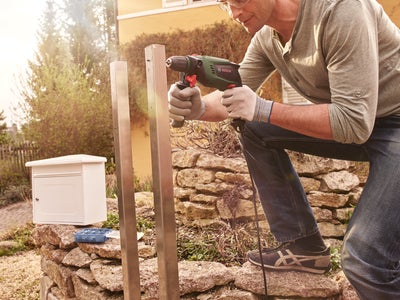 Corded
Corded drills must be plugged into a power source, so you'll need access either to a plug socket or an extension lead. They can be used for long periods of time and, with the right drill bits, can tackle metal, stone, and drill large holes with ease.
Most corded drills have a double handle, so the drill can be safely and effectively used for heavy duty tasks, but that does mean it's heavier to hold than a cordless drill.
Compared to a similarly priced cordless model, corded drills have greater torque and higher speed, making them more precise.
Advantages
More powerful than a cordless equivalent drill
Cheaper than a comparable cordless model
If a power source is available, it's always ready
Disadvantages
Not as portable
Bigger and heavier to handle and hold
Shop corded drills
Drill features explained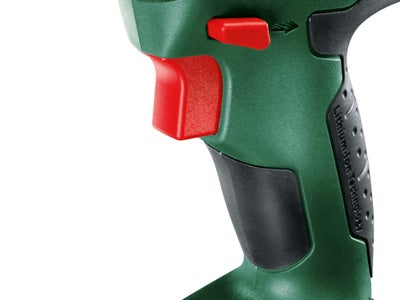 Drill speed settings
The speed of a drill is shown as revolutions per minute or RPM. You'll see this information referred to as no-load speed, which is the maximum speed of a drill when it is not drilling or screwing.
Single speed drills are not the most versatile, whereas drills that offer variable speed features are useful for working with a range of materials.
Tip A lower speed is better and more precise for screwing small screws into softer material, such as wood, whereas a higher speed is more appropriate for harder materials such as stone or metal.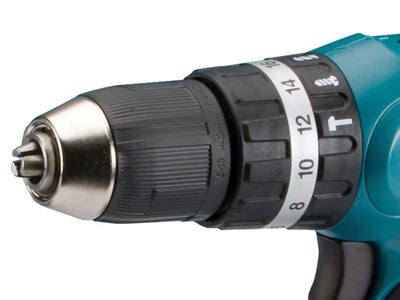 Torque
Measured in Newton metres (Nm), torque is the twisting force to turn an object. Torque control, sometimes referred to as variable clutch setting, allows you to adjust the torque.
The level you should set the torque to depends on the material you are using, as excess power can sometimes reduce accuracy or cause damage.
Tip When working with softer materials, or when carrying out more delicate work, (i.e. small screws into soft wood), a lower torque is more appropriate as it gives you a greater level of control.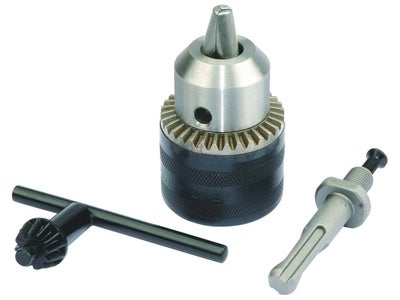 Chuck types
The chuck is the part of the drill that holds the drill bit in place. They usually have 3 jaws which are self-centering. Often referred to as chuck capacity, the chuck determines what size of drill bit shaft the drill can accommodate. The two most common chuck sizes are 10mm, which is sufficient for most home DIY use, or 13mm for more heavy duty jobs.
Tip A keyless chuck means you can change the drill bit without the need for a chuck key or tool, which is quick and convenient.
Power types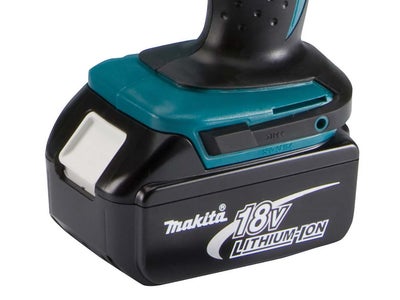 Cordless power types
When it comes to cordless drills, the power output is given in volts (V) and can vary from 10.8V to 18V or more. Generally, the greater the power, the heavier the jobs it can tackle. However, a higher voltage often means a bigger and heavier battery, so check the weight of any model you're considering.
The specification of any cordless drill will also give the battery charge capacity, expressed in Ah (Amp-hours) ranging from 1Ah to around 4Ah. In general, the higher the Ah, the longer the battery will last before needing to be re-charged.
Tip If you see a drill that is referred to as 'bare', it means it is being sold without the necessary batteries and charger, so you're buying the body only. If you intend to buy a number of different cordless power tools, it can be a good idea to stick to one manufacturer, so the batteries and chargers can work across several different tools.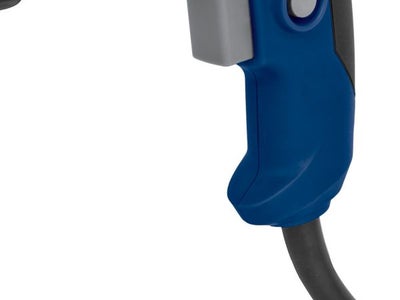 Corded power types
The power of corded drills is measured in watts and, typically, can range from 700W to 1500W. 700W tends to be more than enough power for DIY use, but if you need to drill large holes in hard materials, then consider models with a higher wattage.
Tackling heavy jobs with a lower powered drill means it will work closer to its maximum power, resulting in more wear and tear, so bear this in mind when choosing a drill.
Drill bits explained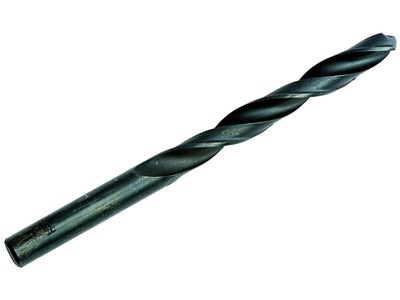 HSS drill bits
HSS (or high speed steel) drill bits are a very practical and versatile choice as they can deal with multiple materials, such as steel and hardwood.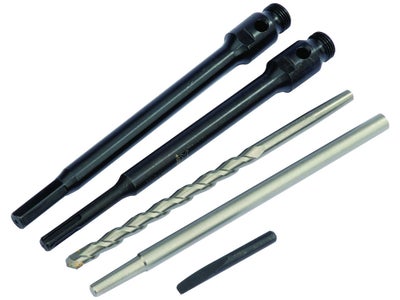 TCT drill bits
TCT (or tungsten carbon tip) are high performance bits specially designed for drilling into masonry, concrete and stainless steel.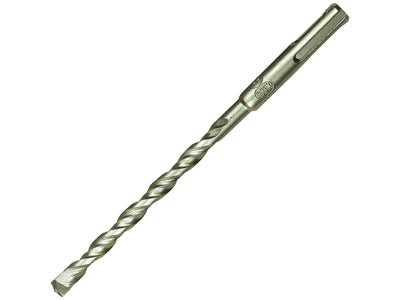 SDS drill bits
SDS (special drive system) bits are specialised masonry bits that are designed for SDS drills and hammer drills. SDS refers to the shank which can be loaded in the chuck without the need for tightening.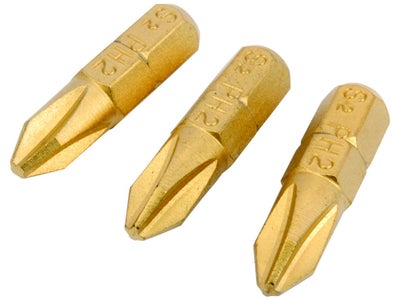 Screwdriver bits
Used to make light work of driving or removing screws. You can also get magnetic bit holders, that make attaching screws, even in awkward or hard to reach places, a very simple process.