Bring your home and garden to life with unbeatable Bosch technology. Whether you are planning extensive home improvements, upcycling your furniture, or completing smaller decorative projects, Bosch power tools deliver unmatched solutions for your home. The same goes for your garden; whether you are carrying out simple garden maintenance or intend to overhaul the entire garden, Bosch has you covered from start to finish. Bosch tools are comfortable to hold, use and manoeuvre, enabling you to complete the task at hand with greater ease.
Bosch Power for ALL System
No matter the task, the Bosch "Power for ALL" System gives you the power and cordless flexibility to complete the project at hand. The 18 Volt "Power for ALL" system is the new cordless system with Lithium-ion technology for an entire family of Bosch tools in the house and garden. The system is simple. Purchase one tool, including the battery and charger. Then buy any additional tools needed as bare tools (without battery) and swap the previously purchased battery between tools as and when you wish to use each tool. One single 18 Volt battery and charger fits all the tools in the system, so owning many different batteries for many different tools is a thing of the past. Bosch batteries are also compatible across the garden and DIY range making for a seamless transition from indoor to outdoor projects.


All-rounders for cordless drilling and screwdriving
Cordless drills from Bosch are powerful, compact and lightweight tools. Innnovative battery technology allows for optimum working in any situation.
Bosch PSB 1800 LI-2 18V Li-Ion 2 X 1.5Ah Cordless Combi Drill
Powerful lithium-ion battery and 60-minute charger
Keyless chuck with Bosch Auto-Lock for the fastest and easiest bit changes
Bosch Electronic Cell Protection (ECP) protects the battery against overload and discharge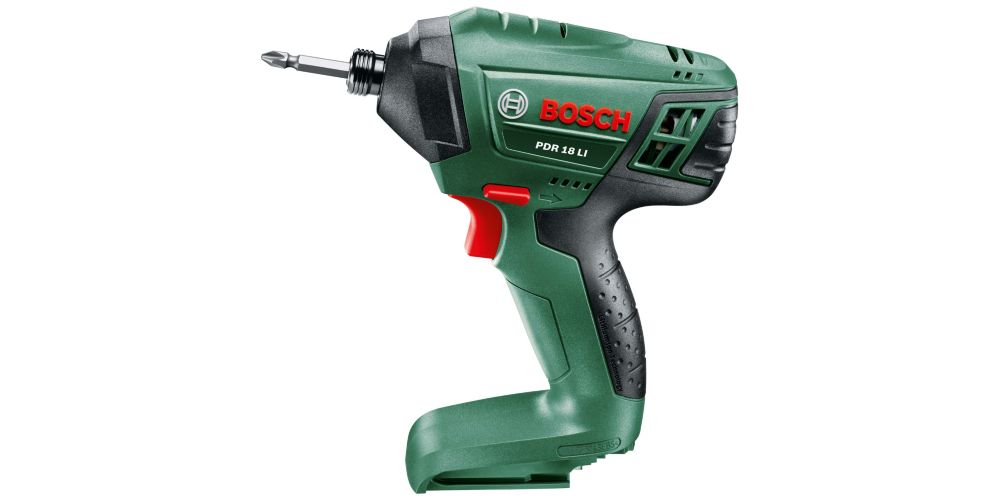 Bosch 18V PDR Impact Driver
Variable speed trigger to allow you full control of the tool
The ergonomic Softgrip minimises vibration making the tool comfortable and easy to handle
Just as powerful as a corded tool with the added benefit of being able to move around the house with ease


Impact force. Easy to control
Whether wood, metal, masonry or soft concrete, these compact power packs impress with their powerful drilling performance and best handling.
Bosch Universal Impact 700 Corded Impact Drill - 700W
Screwdriving/drilling/impact drilling function switch for material-specific work
Easy to change tools with the Press & Lock keyless chuck system
Forward/reverse rotation, ideal for screwdriving
Bosch PBH 2100 RE Rotary Corded Hammer Drill - 550W
Effortless hammering in concrete and masonry, chiselling, drilling and screwdriving with power of 550W
High-impact pneumatic Bosch hammer mechanism with an impact energy of 1.7 joules for high impact force in hard materials
Ergonomic low working weight of 2.2kg and compact slimline design with softgrip for low user fatigue


Sanders
Bosch multi-sanders enable you to sand and polish effortlessly, whether it be shelves, chests of drawers, windows or door frames.
Bosch PSM 100 A Multi Sander - 100W
Lightweight and compact, ideal for sanding in hard-to-reach areas and for sanding smaller and medium-sized surfaces
Clean working: the built-in dust extraction element sucks the dust directly into the Microfilter Box which comes with the tool
Micro Velcro-type fastening system for quick sanding paper changes
Bosch PEX 220 A Random Orbital Sander - 220W
Compact and powerful 220W solution for sanding and polishing work
Clean working: the built-in dust extraction element sucks the dust directly into the Microfilter Box which comes with the tool
Velcro-type fastening for fast and convenient sanding sheet changes


Simple, precise cutting tools
From precise, compact jigsaws to quick and accurate circular saws, Bosch saws cut through materials quick and effortlessly.
Bosch PKS 55 Corded Circular Saw 240V - 1200W
Ergonomic handles and large controls for comfortable working
Robust aluminium protective guard for maximum safety
Durable saw blade for precise cuts
Bosch 18V AdvancedCut 18 Brushless Cordless Saw With Nano Blade - Bare
Powerful 18V motor with brushless technology
Saw effortlessly through a multitude of materials such as woods and plastics
NanoBlade technology makes sawing precise and vibration-free


Uncompromisingly powerful
Cutting, grinding, roughing or rust removal: angle grinders from Bosch deliver maximum power, safety and convenience.
Bosch PWS 700-115 115mm Angle Grinder - 700W
Compact design and low weight for safe and controlled handling at all times
Versatile to use for cutting off, cutting to length, grinding and brushing metal, tiles and concrete blocks
Flexible and safe thanks to tool-free protective guard adjustment and coding of the protective guard to prevent incorrect fitting
Bosch 125mm AdvancedGrind 18V Cordless Angle Grinder
Ergonomic design which optimises grip for convenient and easy handling with a full softgrip circumference
Bosch superior cordless technology, cordless Lithium-ion power source for increased mobility and convenience
Easy to use - the disc changes using a tool free quick clamping nut
More from Bosch
Bosch PTD 1 Thermal Detector
Bosch PST 18 Li Cordless Jigsaw - Bare
Bosch PBS 75 A Belt Sander - 710W