Your belongings should (hopefully) be waiting in their boxes, in the correct rooms, ready for you to unpack. Now what? Here's what to do in the first few days when you've just moved into a new home.
Do a deep clean. There's going to be no better time than when the house is empty, so dig out the cleaning materials and get going!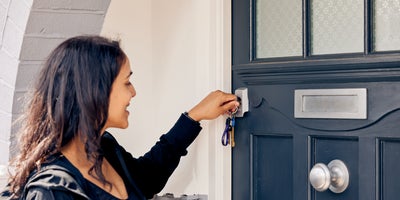 Change the locks. Ideally, get this done on moving day but if not, get in a locksmith to change the security on your doors and windows as soon as possible.
Don't forget to sort your utilities quickly. Take meter readings as soon as you move in and notify the current suppliers to avoid paying for someone else's energy.
Top tip: Pop onto a comparison site to find the best energy deals for your new place.
If you haven't already, it's time to sort out your insurances. You should have building insurance from when you exchanged contracts. Now, make sure you've got contents cover, and consider central heating and boiler cover for your new home too.
Consider your new area. While you're getting things sorted, find your local GP and dentist surgery and register the family with them. Don't to forget but make sure you, and anyone else over eighteen who lives with you, are also registered on the electoral roll at your new address.
And finally, go for a walk! There's no better way to start to get to know your surroundings. Try and track down the local park, bus stop, convenience store, café and pub. Pretty soon, it will all start to feel like home.
More information