Putting up Shelves

Hanging shelves on a wall is often the finishing touch that a room needs, and it's a great space saving solution too. Whether you prefer floating shelves or traditional bracket shelves, there are styles and materials available to suit all tastes, from contemporary to traditional or rustic. Mounting a shelf to a wall is a simple DIY task which can be easily achieved with the right preparation.
How do I ensure a secure fixing?
Before you choose your shelf you need to check the type of wall it will be fixed to – a masonry wall, or a stud and plasterboard wall. This will determine the type of shelf you choose, where you'll have to place it, and how much weight it will bear. A masonry wall is by far the best wall for supporting shelves with heavy loads.
What material should the shelving be?
Shelves are available in a variety of materials to suit your needs, from MDF to high quality hardwoods. Solid wood shelves such as pine, oak or beech can be painted, varnished or treated to increase longevity. MDF or composite wood shelves are often wrapped in hard wearing melamine, or a wood effect laminate layer. Glass shelves benefit from a truly modern look – safety glass with rounded edges is most suitable for the home.
What is the right bracket spacing to use?
For maximum stability and weight-bearing capacity, the type of brackets you choose and how far apart you fix them will depend on the shelf material, and what you intend to put on the shelf.
Have a look at our handy guide below to help you select the right shelving and brackets.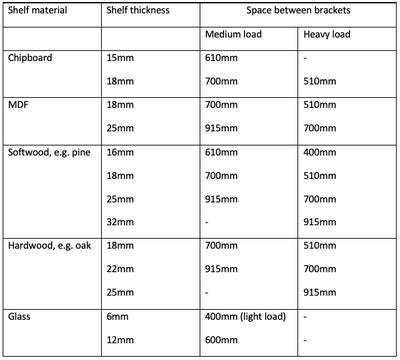 How do I put up a floating shelf?
Floating shelves have hidden fixings, which makes for a thicker looking shelf, but also gives them a stylish minimal look when hung up. They are most suitable for light to medium loads such as small ornaments or paperback books.
How do I put up a bracket shelf?
A fixed bracket shelf can make a striking feature in a room, as it can bear heavier loads and a wider variety of objects than a floating shelf. You should fit the bracket with the longer arm against the wall and the shorter arm under the shelf.