How to fit composite decking
What is composite decking?
Composite decking is made from a mix of wood fibres, plastics and bonding agents. The resulting boards last longer than traditional timber decking, and they are very low maintenance.
Composite decking is very durable, and resistant to rot and damp. The boards don't have to be sealed, stained or painted and even in direct sunlight they won't fade, warp or crack. The boards also absorb minimal amounts of water, which means they are highly slip resistant. They are an increasingly popular alternative to timber decking.

Where should I lay my composite decking?
Important factors to think about when planning your decking include how dry and level the ground is, how much sun it will get, and how much privacy you will have.
Start by planning your deck to scale on paper and try to be as accurate as possible with measurements and expansion gaps. Carefully plan your decking layout and try to limit cutting and wastage. Try to plan your deck to fit only whole boards, to avoid having to awkwardly cut a board lengthways to fill a gap.
If you are going to build your decking next to a house then make sure it's 150mm below the damp-proof course and that you don't cover any air bricks. You also need to ensure that the necessary fall of the decking is 1:100, with the slope running away from the house.
This guide outlines the method for building a single level composite deck with a timber frame and horizontal deck board positioning. You can be very flexible with composite decking layouts, but bear in mind that they may require slightly different techniques and joist positioning.
Here are a few examples of different decking designs you can install: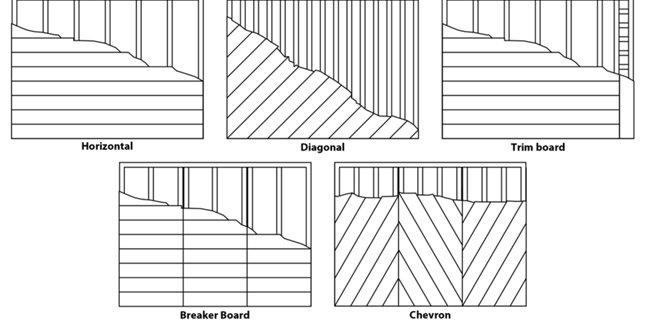 Is composite decking easy to install?
Composite decking is relatively easy to install if you have planned your layout accurately and have a solid timber frame as a base. The deck boards fit to the frame using specific fasteners and screws.
You will need to acclimatise your boards on site for at least 72 hours prior to installation. When the boards arrive, lay them on a ground sheet and keep them covered up.
As with all decking there are a few safety measures which you will need to follow.
Building a deck does involve a lot of moving, lifting and cutting heavy timber. Because of the size and weight of the timbers and the frame, it's always easier and safer if you can get somebody to help you.
Always use structural treated timber and screws specifically designed for the job, and treat all cut surfaces with two coats of preservative. This will ensure a hard wearing, long lasting deck.
When sawing, use the 90-degree guide marker on your saw, or a set square, to make accurate cuts, and sand the cut ends to remove splinters. When drilling, mark out all pilot holes to ensure your fixings are as accurate as possible.
Make sure that you wear appropriate protective clothing, such as gloves, a face mask, or safety goggles, when cutting or sawing timber, and applying preservatives or other timber treatments.
Offcuts of treated timber should never be burned as they will release toxins into the air. Always dispose of them safely at your local recycling or waste disposal centre.
How do I prepare the ground for a composite deck?
How to build the frame for composite decking
Assembling the internal joists
Fixing the noggins in place
How to lay composite decking
Butt joins