Choosing the right wood panelling design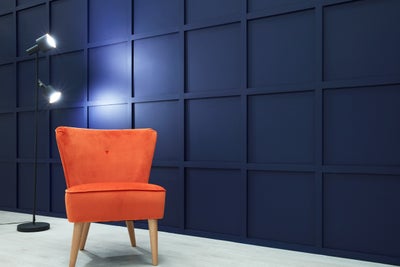 When it comes to decorating, you can go the extra mile by adding some extra design features to your wall with wooden panelling. This addition of texture and aesthetic enhances your interior design way beyond a new coat of paint, plus it can be practical as well as decorative, so it's important to think about what kind of style and panelling is the best choice for your space.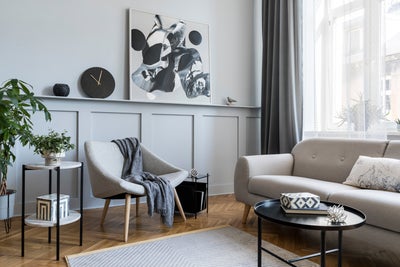 Select your style
There is a wide range of options to choose from, so try and do as much research as possible, as well as thinking about your own design ideas.
While they're often associated with a country house aesthetic and traditional charm, the right style can still be a great fit for more contemporary settings.
Keep it simple with Shaker panelling that uses standard rectangles formed from timber or MDF boards butted up to each other. They're pinned to the wall and painted for a timeless, understated look.
For something a bit more period, a Jacobean-style grid is super impactful with its historic aesthetic, while still maintaining enough simplicity to suit modern sensibilities too.
For something more extravagant, combine horizontal and vertical rows for a basket-weave effect or herringbone pattern.
Materials & finishes
The go-to combination is usually MDF or interior timber and a painted finish over the top, which gives you complete control over your colour choices and makes it easy to transform the look of your room.
Mouldings and skirting boards offer a more decorative option, bringing some subtly stylish flare with their detailing.
For a more natural look, natural wood panelling is a great option. You get a classic woodgrain finish and a variety of light or dark options to choose from.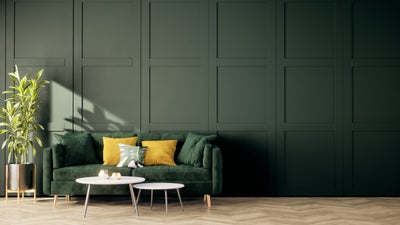 Height
Opting for partial panelling that stops at dado height helps to protect your walls by giving you more durability in high-traffic areas.
It gives you style that doesn't dominate the room, and can be seamlessly blended with the same colour or painted a different colour for some contrast.
For something bolder and more dramatic, a floor-to-ceiling design really becomes the stand-out centrepiece of any room you put it in.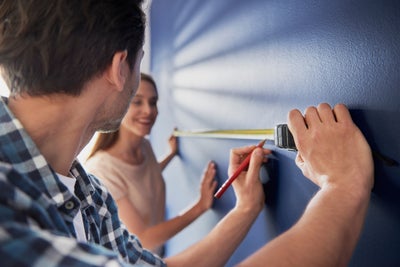 Think about your room
Measure your wall or walls thoroughly and sketch and plan out your design fully to make sure you choose the right panelling.
Think about how it might affect your space - if you have a small room and you're worried about making it feel closed in, thinner panelling might be a better solution to prevent this.
If you want to put panelling in your bathroom or even kitchen, make sure you're using a material that has waterproof properties.
More inspiration from Wickes