How to create an ombré effect feature wall
Planning and preparation
As with any other paint project, the right preparation is absolutely essential to getting the best results.
Think about your colours beforehand. Complementary colours will blend easier and create a more seamless look.
Doing it right
It's completely up to you how many sections you want to do. We opted to do three but blending two colours works just as well.
It's a good idea to paint on top of a neutral base colour, to avoid any issues with your new colours.
Staying safe
Make sure your stepladder is standing on flat ground if you need to use one to reach high up areas.
Preparing to paint
Painting your sections
Blending the sections
Getting creative
This is just a loose guide; it's entirely down to you how you want to apply this painting style.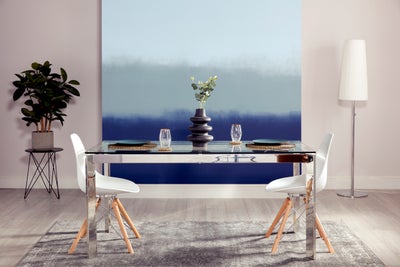 Turn any wall into a feature wall with this impactful look, which provides an ideal background for your dining table or TV.
Pick your perfect colours to best capture the mood you're trying to achieve.