Tips for painting your ceiling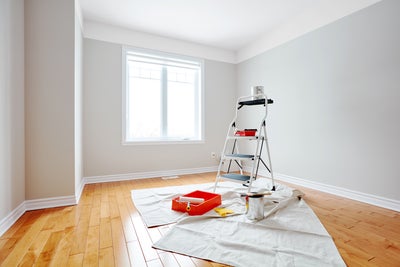 Painting your ceiling isn't quite as simple as painting your walls, so you'll want to make sure that you get the job done right. Even though it's a bit trickier than your typical painting project, it has a huge pay off and gives you plenty of room for creativity so you can create a bold and impactful look.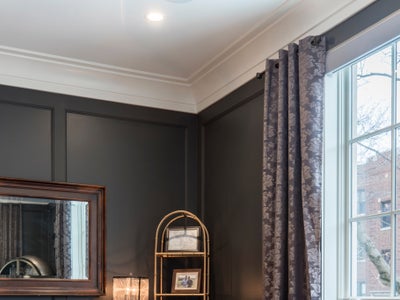 Consider carefully
Give some serious thought to the colour and finish you want. Think about the effect certain colours can have on how you perceive the space.
Think about the style of your interior design and how your chosen colour will play off of your aesthetic.
Even just going a shade lighter or darker than your walls can make an impact, so don't feel obliged to use a bold colour.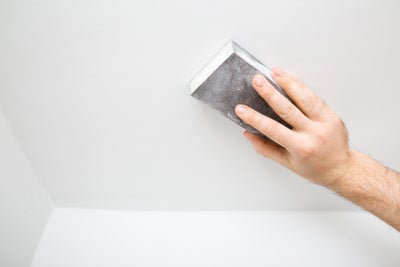 Prep correctly
There are always going to be drips, so make sure you put down plenty of dust sheets to protect your floor.
Wearing a pair of safety glasses and a hat is also a good idea, when it comes to protecting yourself from any paint splatters.
Sand any rough spots on your ceiling and go over it with a vacuum using a soft brush attachment, to remove any dust before you apply your basecoat without marking the walls.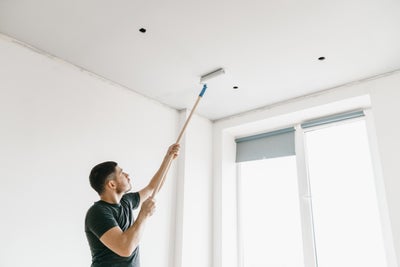 Paint your ceiling first
If you're doing the entire room, start with your ceiling before you do your walls.
This way, it won't matter if you get any splashes or overspray on your walls, because you'll be going over it anyway.
Paint in grids
Take it step by step, painting in small sections at a time so you can keep track of what you've already painted.
If you're applying white paint on top of white, it can be tough to see where you've painted. There are paints that go on pink and dry white, so you can follow your progress and get your desired finish.
Overlap the wet edges of the previously painted section each time you start a new one. This will help you to avoid roller marks and blend the grids for a seamless finish.
More inspiration from Wickes