If you're itching to make a big change to your new home, the kitchen is often the best place to start. It's seen as the heart of the home by many. Most of us dream of a kitchen that perfectly combines practicality and style, allowing you to cook comfortably and entertain with flair. If your kitchen isn't quite hitting the mark, we're here to help you revamp your space.
Remember, kitchens demand a bit more thought and planning compared to other rooms. One of the first things to ponder is whether you can expand the space. This idea brings a bundle of considerations like new layouts, storage, and dining and living options. Maybe an extension is within your budget. Or perhaps knocking down some internal walls can expand the kitchen area without the hefty price tag and upheaval of significant building work. But keep in mind, any structural changes – whether extending or knocking through – will almost certainly need a structural engineer or building professional's insight. These aren't the sort of projects to embark on alone.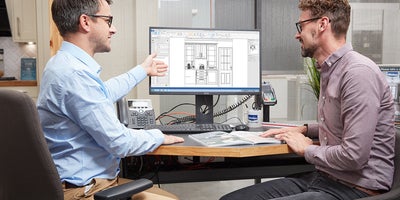 Once you've got a grip on the available space, the fun part begins - the designing! Your Wickes design consultant is here to sketch out design schemes for your new room. Get a glimpse of your future kitchen with an online, 3D, walk-through mock-up of each design, helping you envision the final look. Kitchen styles range from sleek and modern to a laid-back country vibe. Start your journey by visiting your local Wickes showroom or take a peek online. And don't forget to chat about what's included in the price and what's not.
Designing a kitchen is a team effort. Before starting, ponder the features that matter most to you. Your design consultant will surely bring fresh and creative ideas, but knowing your must-haves gives them a great kickoff point. Consider aspects of your current kitchen you'd love to keep or replicate. Think about your storage needs. Fancy a space for dining and entertaining? Ponder over the number of people you'd like to host. How about an island or a breakfast bar? And don't forget about the size and style of your essential appliances.
It's not just about the kitchen furniture. After sorting the layout, plan your lighting. It's crucial, so take your time. Most kitchens thrive with a mix of bright light for food prep and adjustable mood lighting for entertaining. Ensure a blend of both for functionality and ambiance.
Flooring is another often overlooked aspect of kitchen design. It needs to stand up to the spills and splashes that every kitchen floor encounters but have the style that complements your look. And don't forget to think about heating. Especially if you're creating a larger space, you may find the heating needs a boost with an extra radiator or underfloor heating.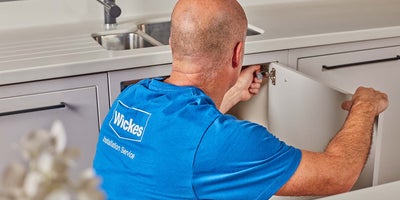 With everything mapped out, it's time to dive in. If you're hiring builders or kitchen fitters, they can assist in removing your old kitchen, saving you heaps of work. But first, scan for items to reuse, recycle, or sell. Given that new kitchens often need substantial electrical work, loop in your electrician early and share your kitchen plans. It's the time to mull over little details like the spots for your toaster and kettle to ensure ample plug sockets. Always a smart move to have more than you think you'll need! It avoids any future frustration or need for adjustments. Also, a plumber will be crucial to adjust the pipework for relocating appliances. Opting for a Wickes installation? Sit back; they've got all this covered for you.
Feeling a bit overwhelmed? Well, yes, there is a lot to consider so Wickes and Move iQ have put together a handy order to tackle.
Wall units, worktops and base units removed

Flooring removed

Initial electrical work completed

Plumbing rerouting carried out

New flooring laid

Wall units installed

Base units installed

Secondary electrical work completed

New worktops installed

Installation of sink and taps plus any further plumbing work

New appliances installed, including extractor fan

Tiling done
More inspiration