Planning & preparation
We are going to show you how to make a wall mounted peg board. Constructed from timberboard with perforated holes that fit wooden dowels to hang items on, we'll also show you how to make supported shelving for larger goods.
The materials for this project will cost under £80 and will take a DIYer with moderate skill, approximately 4 hours to build.
The assembled peg board will measure 18 x 600 x 1100mm and hold 50 wooden dowels.
Peg boards can be made in any shape or size. For the best results and most efficient use of space, we recommend measuring your wall and adapting the instructions to custom fit your home. Simply calculate the distance between each hole and the edge of the board to create your preferred grid layout.
Ensure your workbench and power tools are close by for ease of construction.
Doing it right
Our step by step instructions have been designed as a guideline to build a peg board from one sheet of 18 x 600 x 1150mm timber. These dimensions can be changed depending on how much space you have to hang your peg board.
We are using timberboard but you could also use hardwood ply or chipboard for a different look.
A chop saw or circular saw will ensure that your timber is cut accurately with precision speed. If you don't have access to power tools, this project can also be completed with a universal saw. Ensure your timber is securely clamped, then slowly cut along your scored line with a clean and sharp saw blade.
Depending on where you mount your peg board, make sure you use the right screws for your wall and wall plugs where extra support is required.
We have made wooden jigs for this construction to aid drilling speed, accuracy and repetition. If you prefer, you can measure and mark your timberboard as you work, using a tape measure or metal ruler.
Watch our top tip videos for our Wickes DIY skills, tips and advice.
Staying safe
For safety, we recommend wearing protective goggles and heavy-duty gloves when using a chop saw or drill.
Check that your materials are securely clamped to your workbench surface before you begin making any cuts.
Inspect the cables and blade of the chop saw and circular saw before they are plugged in, to ensure they are in good condition. If any of the elements need to be replaced, make sure this is done before construction begins.
Ensure your construction area is well lit and ventilated.
Always check the manufacturer's label for recommendations before applying any stains, paints or treatments.
Preparing and cutting the timberboard
View instructions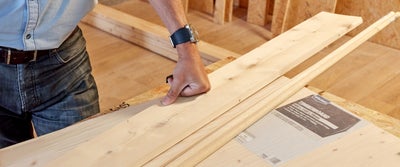 To begin, gather your tools and materials and set up your chop saw close to your workbench.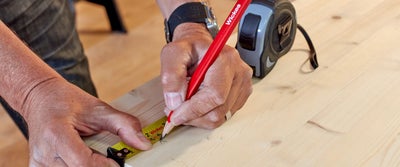 Position your general purpose timberboard so it overhangs the workbench by about 70mm, then using a spirit level or metal ruler, measure and mark 50mm in from the overhanging edge.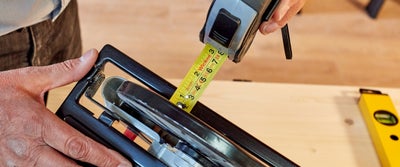 Measure from the blade to the edge of the plate on your circular saw. Add this measurement to your timberboard, measuring from the 50mm line. Mark and then draw a line through.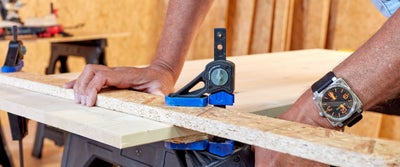 Align an offcut or straight length of timber to the edge of the second marked line and clamp in place. This length of clamped timber will act as a guide rail.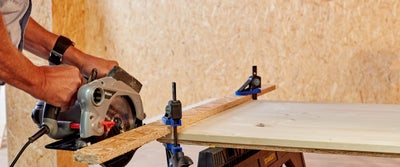 Starting at one end and holding the chop saw firmly against the edge of the guide rail, cut along the first drawn line. Keep the timberboard offcut as this will be used later as a peg jig.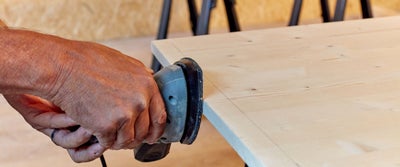 Unclamp the guide rail from the timberboard and using a palm sander and 120 grit sandpaper, remove any frayed timber edges.
Marking the timberboard and making a drill jig
View instructions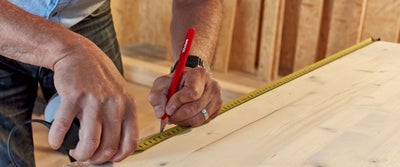 Starting at one end of your cut timberboard, measure and mark 100 cm intervals along the length.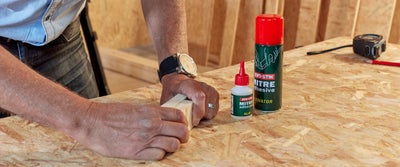 To ensure your drilled holes are straight and at a 90 degree angle, make a drill jig with two small pieces of overlapped offcut timber. Bond the offcuts with mitre adhesive allowing them to set firmly and flush to one another. This jig will act as a 90 degree angle to help guide your drill into the timber.
Making a guide jig
View instructions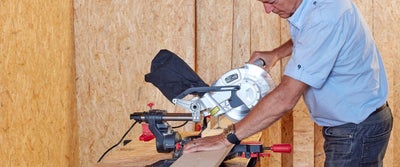 Taking a new piece of whitewood PSE timber or an offcut scrap, mark and cut the length so it is the same width as your timberboard. This will act as a guide jig to drill through for even peg holes.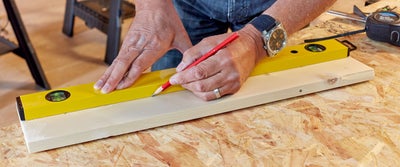 Mark the centre point at each end of your guide jig and scribe a central line along the length, extending down the depth of each end. Using your measuring tape and beginning at one end, mark along the centre line at 100mm intervals to create your hole guides.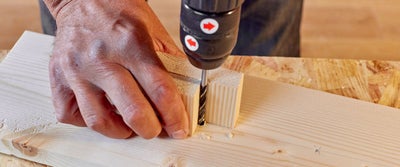 Use a bradawl or pointed implement and make a small hole into each mark. Place your drill bit into the hole butting it up against your drill jig, then drill down into the hole at 90 degrees repeating along the length of timber.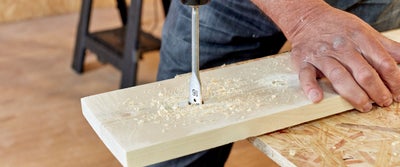 Remove your timber drill bit and replace it with your 16mm flat wood (spade) bit. Drill down into the pilot holes repeating along the length of timber, then give the holes a quick sand to remove any rough surfaces.
Making a wooden peg jig
View instructions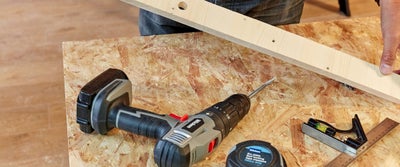 Once you have completed the guide jig, take the 50mm general purpose timberboard offcut from earlier and drill a couple of holes through with the 16mm flat wood spade bit. This will form a handy tool to be used later when shaping the dowel to size without loosening your peg board holes.
Drilling the timberboard with the guide jig
View instructions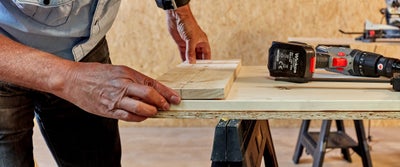 Ensure your workbench is covered with a material that you do not mind marking, then put your timberboard back on the workbench. Place down your drilling jig so the central line aligns with the first 100mm marks and clamp in place.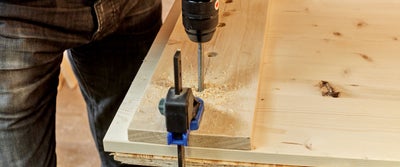 Taking your drill and 16mm flat wood (spade) bit, drill through each jig hole and into the timberboard until you hit your workbench.
Unclamp your jig and move on to the next 100mm mark, ensuring your jig is clamped to the timberboard and your workbench. Repeat for the length of your timberboard until you have the desired number of holes.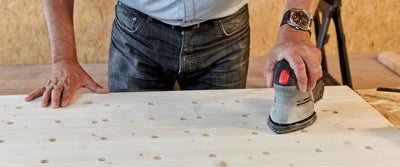 Using your palm sander, give the board a quick and gentle sand to remove any rough edges or frayed holes, including any leftover pencil marks as these are no longer needed.
Cutting and shaping the dowels
View instructions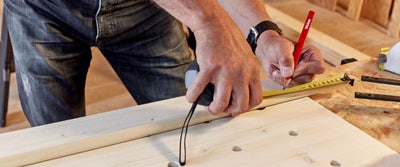 Taking your light hardwood dowel moulding, measure and mark the desired peg length making sure to include the depth of your timberboard. We cut our pegs to 135mm but this can be easily tweaked for your bespoke project. Using your chop saw, cut the first length from your dowel.
Placing your first cut length back on your chop saw, butt up a scrap piece of timber to the cut dowel and saw fence and clamp in place. This will act as a saw stop block, ensuring that each length of cut timber is identical. Use the stop block to cut your desired number of dowel pegs to fill the peg board holes.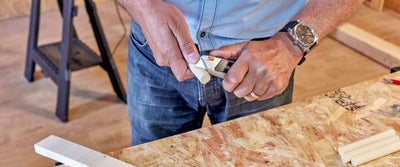 Next, shave away a small amount of timber from the end of each dowel, cutting away from yourself, using a retractable trimming knife. Cut no higher than the thickness of the timberboard, to ensure that the pegs fit snuggly into the holes.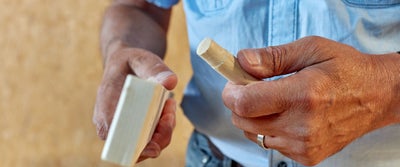 Using the wooden peg jig prepared earlier, push a dowel peg into a hole to check the tapered fit, shaving away a little more timber where necessary. Repeat for each of the dowels.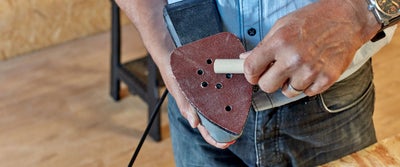 Taking your palm sander, create a small bezel on the opposite end of each dowel to remove the harsh edges.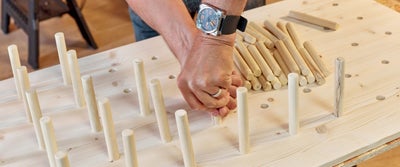 Once complete, push each dowel down into your timberboard for a tight fit.
Making bespoke shelving
View instructions
To make the bespoke shelves that sit on top of the pegs to maximise your storage, gather a small selection of PSE timber offcuts and pine glass bead mouldings.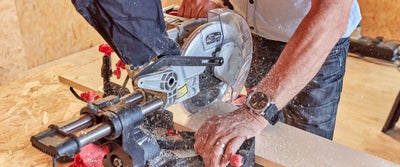 Decide on your preferred shelf lengths, then using your measuring tape and combination square, measure, mark and cut each offcut to length with your chop saw.
Repeat with the trim, ensuring that you cut 2 lengths to the width of each shelf.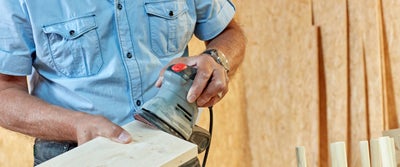 Once you have cut the shelves, take your palm sander and gently sand each piece of timber and trim to remove any frayed edges.
Adding strip bead moulding to the shelves
View instructions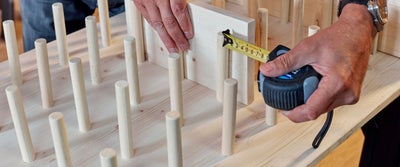 With the peg board flat on the workbench, offer up your first shelf to the board and then using your measuring tape, position it so the pegs sit at an equal distance underneath. Place a piece of moulding trim on the inside of the 2 outer pegs and make a small mark. This strip moulding trim will prevent your shelf from sliding once secured to the wall.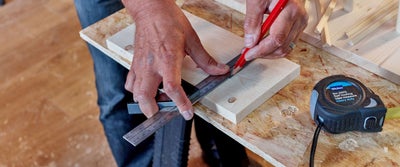 Laying the shelf flat, take your combination square and scribe a line at each end of the timber to mark the moulding trim position.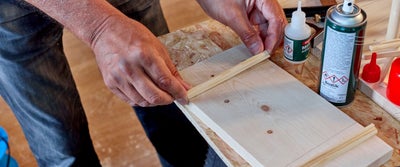 Using mitre bond, apply a thin layer of adhesive to the small lengths of trim. Spray the activator directly to the board, then align the trim to the scribed line, holding it securely to firm up. This will adhere quickly, so ensure your application is fast and precise, then spray another small amount of activator over the secured piece.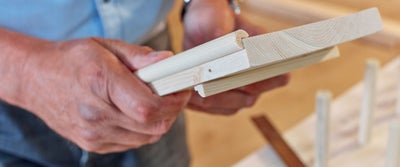 Repeat this process so each shelf has 2 pieces of secured moulding trim. You can also add trim in the same way to the edges of your shelves, to help prevent items from falling off.
Screwing your peg board to the wall
View instructions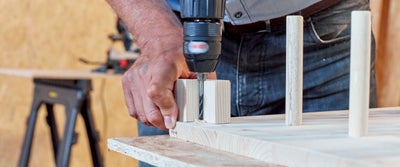 Using your combination square, tidily mark each corner of the peg board with a cross. Use a bradawl or sharp implement to make a small hole, then use your drill and 90 degree jig, to drill a pilot hole through to the workbench.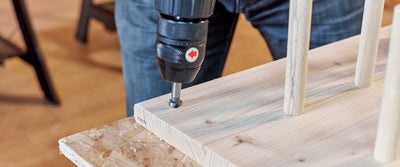 For tidiness, finish the hole with a countersink drill bit, so the tightened screws will sit flush to the surface of the board. Repeat for each corner, then give each a quick sand to remove any rough edges.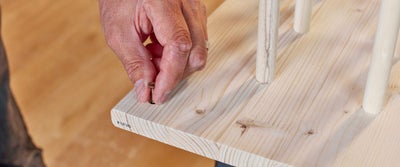 Once you have selected the wall where you peg board will go, put a wood screw into each corner of the peg board, twisting a way in with your fingers.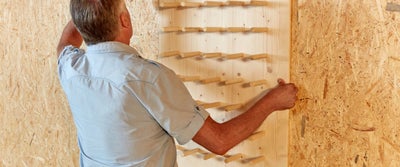 Using a spirit level, scribe a vertical line on the wall where the edge of the board will sit, then holding the board in place against the vertical line, drill the first screw into place.
Wall plugs will be required if you're drilling into a brick or plasterboard wall. Simply mark and drill a pilot hole where each corner will be, then insert a wall plug before securing the peg board.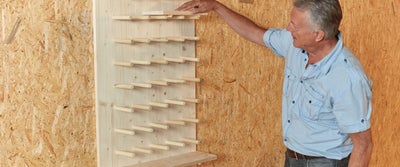 And that's it, your peg board is complete!
Aftercare
View instructions
For a perfect finish, give your peg board a good sand down between stages to remove any rough or frayed timber edges. If you don't have access to an electric sander, hand sanding will work too.
If you are planning on using your peg board in a bathroom, we recommend using a wood primer then oil-based bathroom paint for a tough and durable finish.
For use in kitchens, prime and paint your peg board with kitchen paint to ensure the surface is greaseproof, washable and stain-resistant.
Get creative with your peg board
View instructions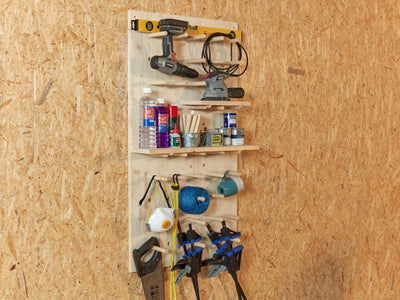 Simply configure your pegs and shelves to accommodate your tools and equipment. Reconfigure the pegs at any time to suit larger tools, materials, equipment and additional shelves.
Get creative with decoration before fixing the peg board to the wall to utilise the board in other rooms of your home. Go natural or paint your peg board for a different look. We love denim blues and salmon pinks for an on-trend nod.
Try dipping or painting the dowels in a contrast or complementary colour, or colour code the pegs for ultimate organisation.
Experiment with different types of decorative trim to give your peg board shelves a different look.
Whether you choose to hang the board portrait or landscape, the customisation opportunities are endless. Tweak the sizing to create a full wall of pegs in the garage, or utilise empty wall space above a radiator to create a family hub that everyone can use.
Peg board inspiration
View instructions
Repurpose your peg board in different rooms for alternative storage solutions. Just make sure you treat the wood or paint the board with suitable water-resistant or washable interior paint.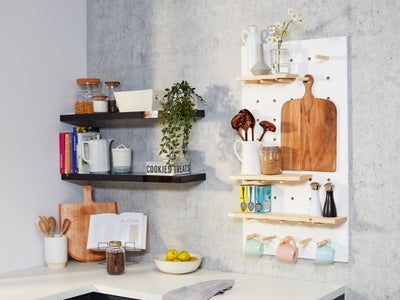 Get organised in the kitchen, unclutter the cupboards and free up your worktops with a moveable and customisable peg board larder.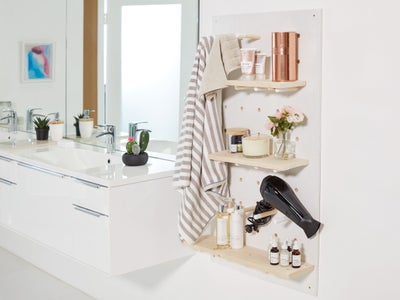 Declutter the bathroom and maximise limited space with storage for your relaxation and pampering essentials.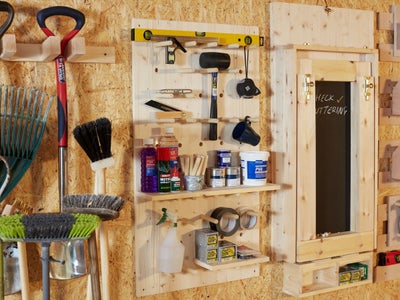 Organise your workshop or shed and utilise unused wall space. Hang your tools, house your leftover paint and display your woodwork and gardening essentials.
Add much-needed storage to your hallway for the car keys, coats, scarves and the dog lead. You could even add additional shelves to house the Wi-Fi hub or home phone.
Tidy up your desk or the homework station organising your stationery, papers and spare cables on additional shelves.
Find our favourite ways to use and decorate your peg board and more inspiration for your home, in our ideas and advice hub.