5 Ways To Use Peg Board Storage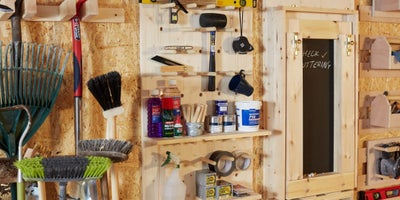 Ideal wherever you need flexible storage, pegboards have long been considered a studio and workshop staple. Constructed from a timber sheet with holes that fit wooden dowels, you can hang, stack, peg and even shelve tools and materials.
With their simple, stylish and customisable design, pegboards are finding their way into the home and they've never looked better.
Follow our simple how to guide to learn how to build your own peg board.
Here are our top 3 ways to utilise pegboard storage in your home, from the kitchen to the bathroom.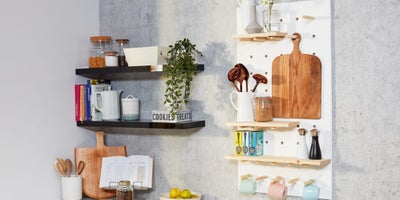 Organise the kitchen pantry
Unclutter the cupboards and free up your worktops with a moveable and totally customisable peg board pantry.
Mounted above your worktop, add shelves and fill with your most used spices, herbs, oils and condiments. If your kettle is close by, you could even add jars of tea and coffee, displaying your favourite mugs from the dowel pegs.
Create a cooking station, hanging your apron and tea towels, your favourite cookery books, shopping list and kitchen essentials.
Clear down the decks and hang your chopping boards, grater, wooden spoons and ladles on twine loops. Secure magnets to a row of peg holes with glue, for a homemade mounted knife rack.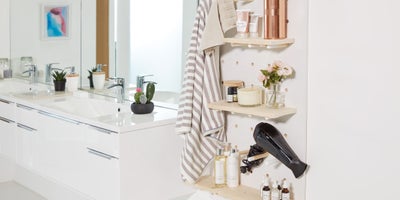 House your lotions and potions
Declutter windowsills and the sides of the bath, maximising limited bathroom space with storage for your relaxation and pamper essentials.
Rehome your favourite thirsty succulents and cacti, add candles and diffusers and hang guest towels and robes.
Position next to your bathroom mirror for a one stop pamper station. Hang your hair dryer and brushes and display your lotions, potions, cosmetics and jars of cotton buds and wool.
Paint with bathroom paint to protect from moisture and position at the end of the bath or in reach of the shower to free up the basin. Line the shelves with your bottles and soaps and hang the family towels and dressing gowns on pegs to dry.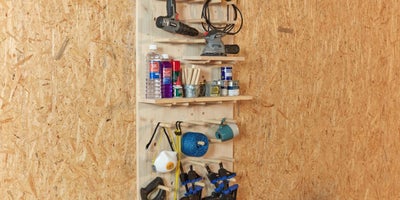 The ultimate tool storage system
A classic, and for good reason. Fill dead space in your workshop, studio or garage with a masterpiece in tool organisation.
Hang your hand tools and kits by size, sequence, pattern or group for easy access.
Display your woodworking essentials, materials and light power tools, so your tape measure and spirit level are never misplaced again.
Gather leftover paint tester pots, glues, twine and string together for future projects.
Wrap bungee cords around the pegs and add metal hooks and crocodile clips to hold your DIY magazines, gloves, dust mask and rags.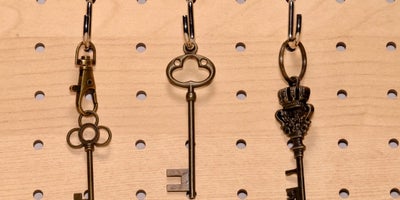 Further uses
Or why add some much-needed storage to a hallway to store your keys, letters, trinkets, gloves and scarfs. Try making a long and narrow coat peg style board to hang coats, scarves and the dog lead.
If you need additional storage in a child's bedroom or playroom, paint the pegboard in bright colours and add additional shelves to store books and toys. You could even add deeper brackets, a sanded offcut as a low-level colouring desk, and magnets to the chalkboard for magnetic numbers and letters.
Perhaps you need to organise the office or craft box. Fill with stationary, jars of pens and pencils, ribbons, twine, tape and scissors. Add framed art to the top shelf or rehome the wall clock for a desk centrepiece.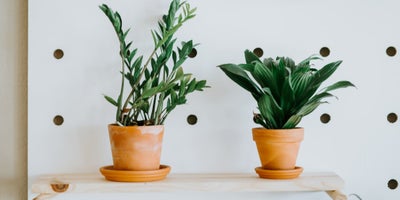 Get creative
Pegboards can be made in any shape, size and style with endless decorative possibilities.
Try different types of wood to suit your home. Use offcuts, timber board, plywood or chip board depending on your style and the room.
Experiment with the hanging orientation to suit your space best.
Use decorative mouldings or ornate beading to frame the board for a statement feature.
Switch up the dimensions with pin board sizing for hallway trinkets or go bold with a full peg wall to hang frames, shelve books and display potted plants.
Be bold with interior wood paint. Get trendy with this season's denim blues and salmon pinks or try painting, dipping or spray painting the dowels for a contrasting look.