Planning & preparation
We're going to show you how to build an entertainment wall unit, step by step.
It gives you the perfect centrepiece for your front room, combining everything you need in one handy unit on which you can mount your tech.
It's designed to be custom made, so you can make sure it fits your space perfectly. Enjoy the opportunity to get creative.
All of the materials used are available from Wickes.
It should take a DIYer with moderate skill approximately a day to build.
Doing it right
It's designed to be custom made, so you can make sure it fits your space perfectly. Enjoy the opportunity to get creative.
Work out which side of your scaffold boards is more aesthetically pleasing. This is the side you want forward-facing.
If you want to paint, stain or varnish your wood, make sure to do this before you start constructing the unit.
Staying safe
Always make sure that your chop saw is unplugged while you're setting it up or changing accessories, to ensure your safety.
Keeping the plug in sight acts as a visual reminder to prevent accidents and hazards.
For extra safety when using power tools and painting, be sure to wear protective equipment, including your ear defenders, goggles and dust mask.
Deciding on your design
View instructions
Gather all of the tech you plan to mount on your entertainment wall unit.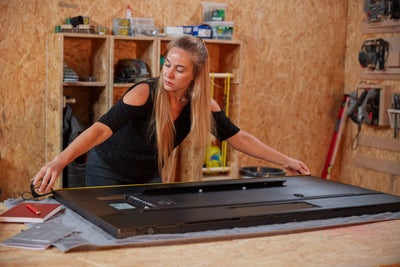 Measure all of your tech. You'll need to use these measurements as reference points when deciding on how big to make your unit.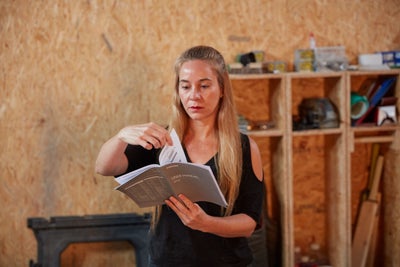 Consult the product manuals for your tech to find out the kind of all mounts you'll need.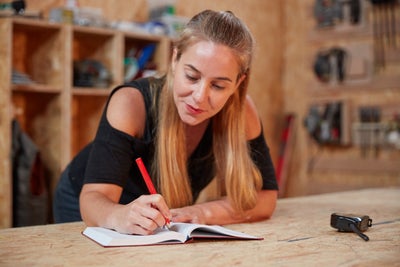 Think about the area of your home where you're planning to install your unit so you can make sure it fits perfectly. Sketch out your ideas to help visualise them and decide on a design.
Getting set up
View instructions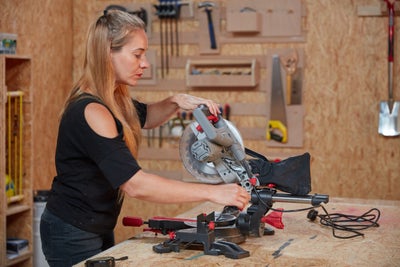 Safely set up your chop saw on your workbench.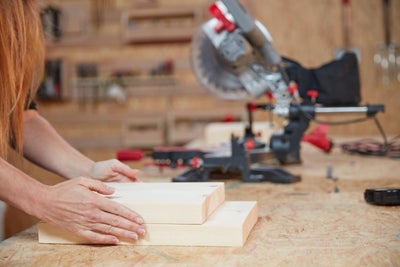 Stack timber on either end of your bench at the same height as the bed of your saw.
Cutting your lengths
View instructions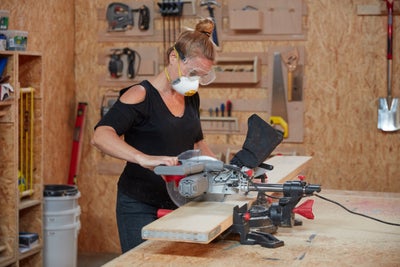 Cut your scaffold boards to size.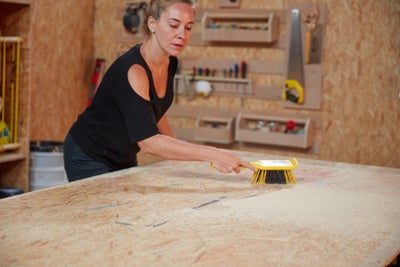 Tidy up your workspace before moving on to the next step.
Sanding your scaffold boards
View instructions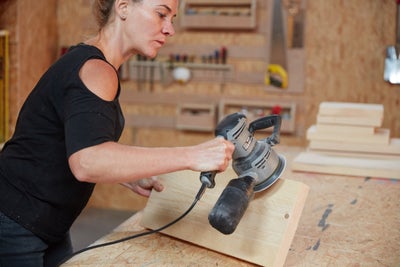 Go over your cut lengths with an orbital sander to make sure the surfaces are smoothed and the edges are chamfered.
Constructing your shelves
View instructions
We recommend completing the rest of the project in situ, where you plan to fit your entertainment wall unit.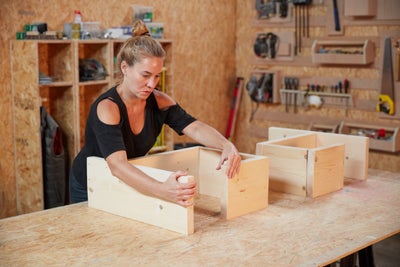 Working from your design, dry lay your shelving on your workbench.
If you plan on painting, staining or varnishing, it's better to do so now before you start building.
To avoid the need to measure when dry laying, we've made it so that the top of the shelf lines up with the side section, which allows you to easily find the positioning of the bottom shelf.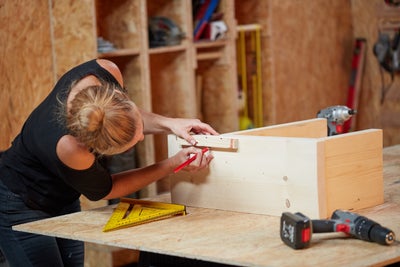 Use a timber offcut to find the position for your screws and mark the locations.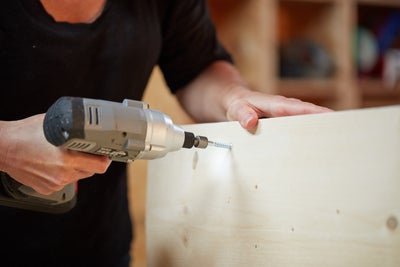 Drill your pilot holes before driving in your screws to construct your shelves.
Constructing the back panel
View instructions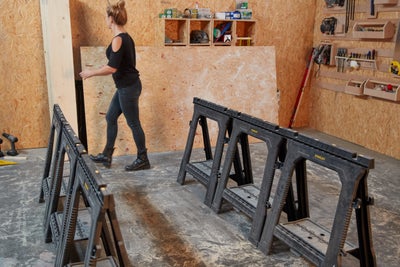 Reconfigure your workbench so that your sawhorses are positioned in parallel lines with three on each side.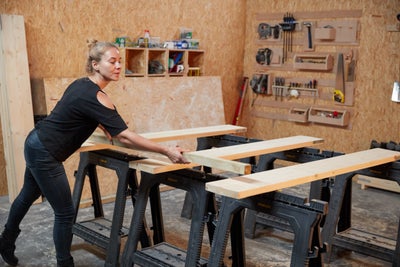 Lay down three of your scaffold boards and lay your batons along either end to check the measurement for the support frame.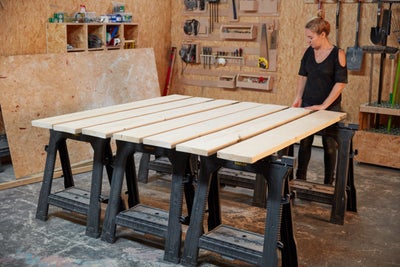 Add the rest of your scaffold boards with their metal ends all aligned.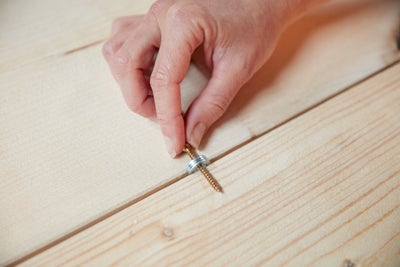 Place three washers and a screw between each one to create even spacing.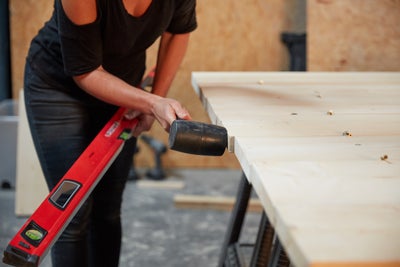 Use a straight edge and rubber mallet to ensure that all the boards are lined up evenly.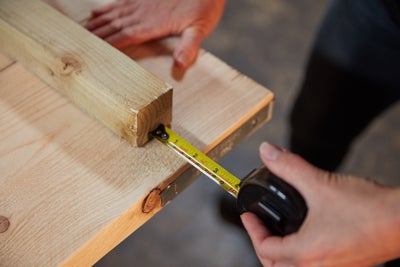 Place the first baton in position and clamp it in place.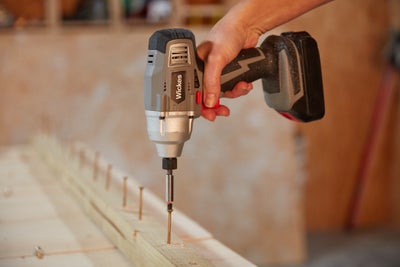 Fix it to the scaffold boards with two screws in each board.
Do the same for the second baton on the opposite side.
Affixing the shelves
View instructions
Turn over the back panel so that the batons are now facing the floor. It's worth asking for help with this, as it can be difficult for one person.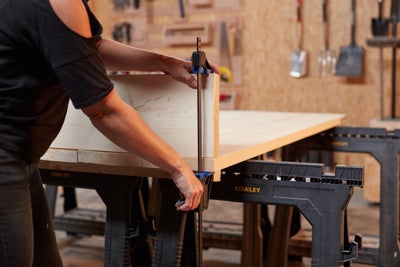 Clamp your bottom shelf into position on the panel.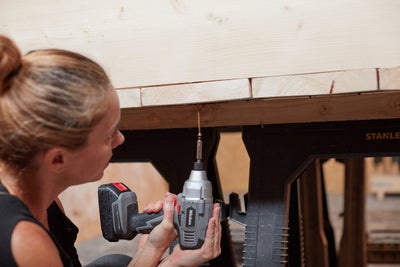 Drill your pilot holes and screw it into place up through the underside.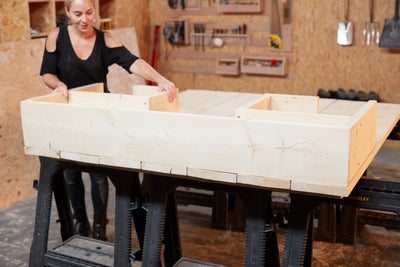 Dry lay the rest of your shelves in position, making sure that your joints are sitting square and flush.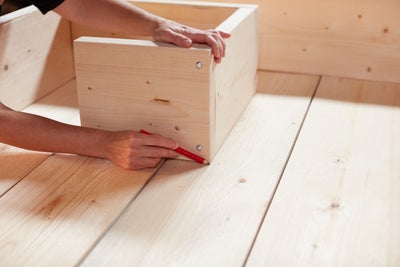 Trace the outlines of your shelves onto your back panel.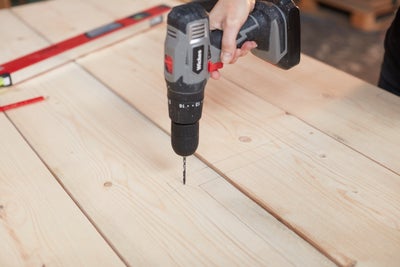 Remove the shelves temporarily and drill your pilot holes.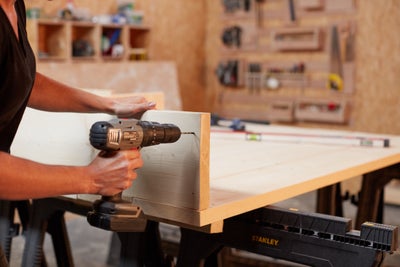 Drill pilot holes for your butt joints where the bottom shelf meets the two others.
.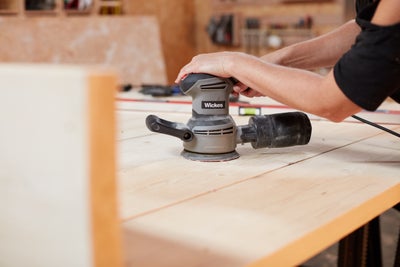 Remove any pencil marks with your sander.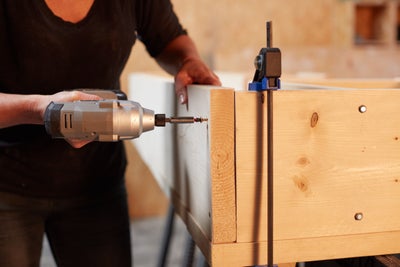 Clamp your shelves back in place and fix them to the panel as well as the bottom shelf.
Mounting your tech
View instructions
What you install on your unit is completely up to you. As an example, we mounted a TV and a sound bar.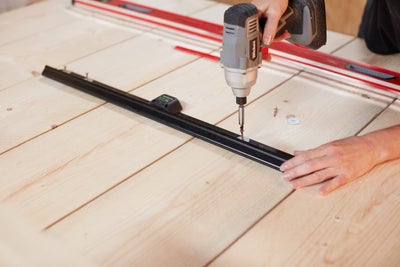 Follow the instructions to fit your brackets in your desired positions.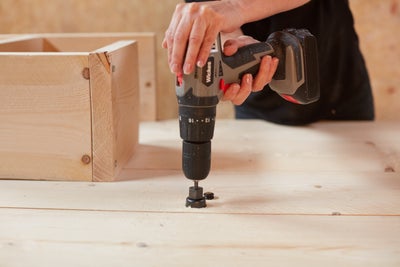 Use a holesaw to create holes through which your cables can pass through.
Stand up your wall unit, with the help of a second person if required.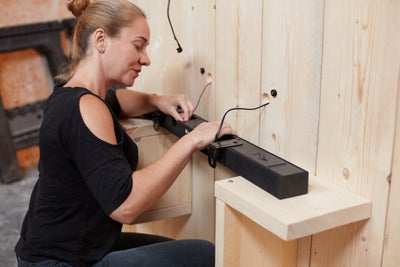 Pass the cables through the holes and plug in your tech.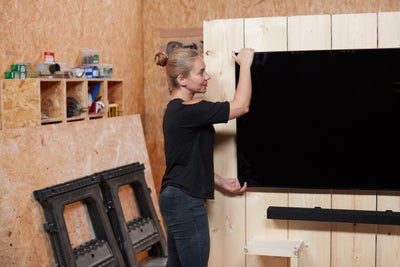 Mount them on the brackets you've fitted.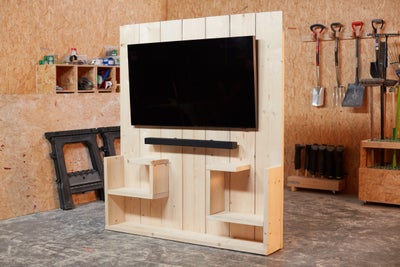 Now your entertainment wall unit is ready to go.