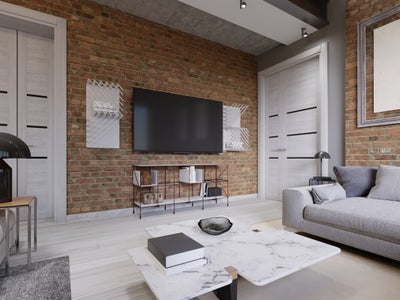 Wall-mounting your TV not only looks great, but it helps you save space by removing the need for a TV unit or stand. Ideal for living rooms and bedrooms alike, it allows you to sit your TV at eye-level while maintaining a seamless look that helps it blend in with its surroundings.
There are a number of ways to wall-mount your TV, depending on a range of factors including the size of your TV, your wall and what you want out of your wall bracket. That's why it's important to make the right choice for your needs.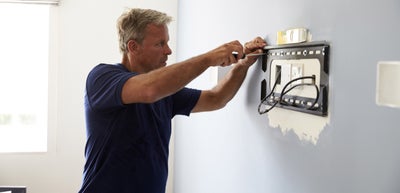 Fixed TV wall mount
The simplest option, fixed mounts are sturdy and reliable but don't offer much in terms of movement. They're straightforward to fit and help your flat-screen TV sit comfortably in position.
They're also the most affordable, and a great choice if you plan to lay or sit straight-on from the TV when you're watching.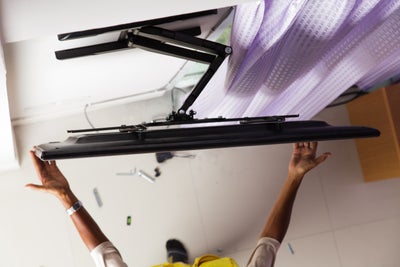 Full motion TV wall mount
There are a number of options that are much more dynamic, with full motion that allows the TV to sit flush against the wall when not in use, and then lets you adjust the position for the best viewing angle.
They give you plenty of flexibility with where you fit your TV, allowing you to enjoy the picture no matter where you're sat with a screen that's easy to move to suit your needs.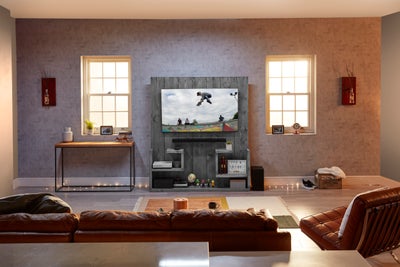 Entertainment wall unit
Although it requires a lot more work, building a bespoke wall unit for your home entertainment has plenty of benefits. They're completely customisable and designed to suit your space and tech specifically.
Because you mount to the unit, there's no need to drill holes in your walls. Plus, it's easier to hide your cables and avoid a clutter of wires coming down from your TV.
More inspiration from Wickes