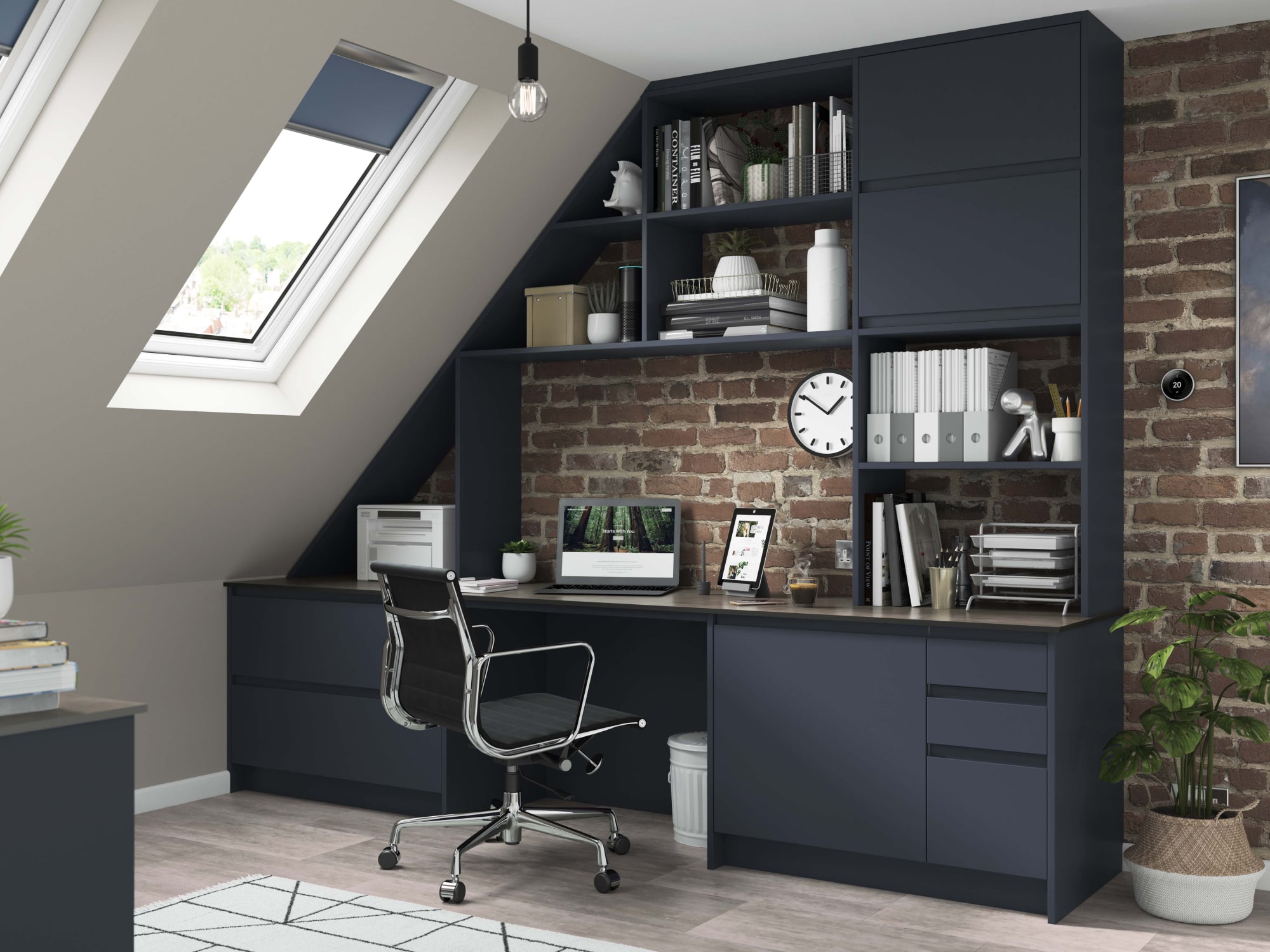 Fitted Home Office
We can create your workspace in even the trickiest of spaces; or within another room.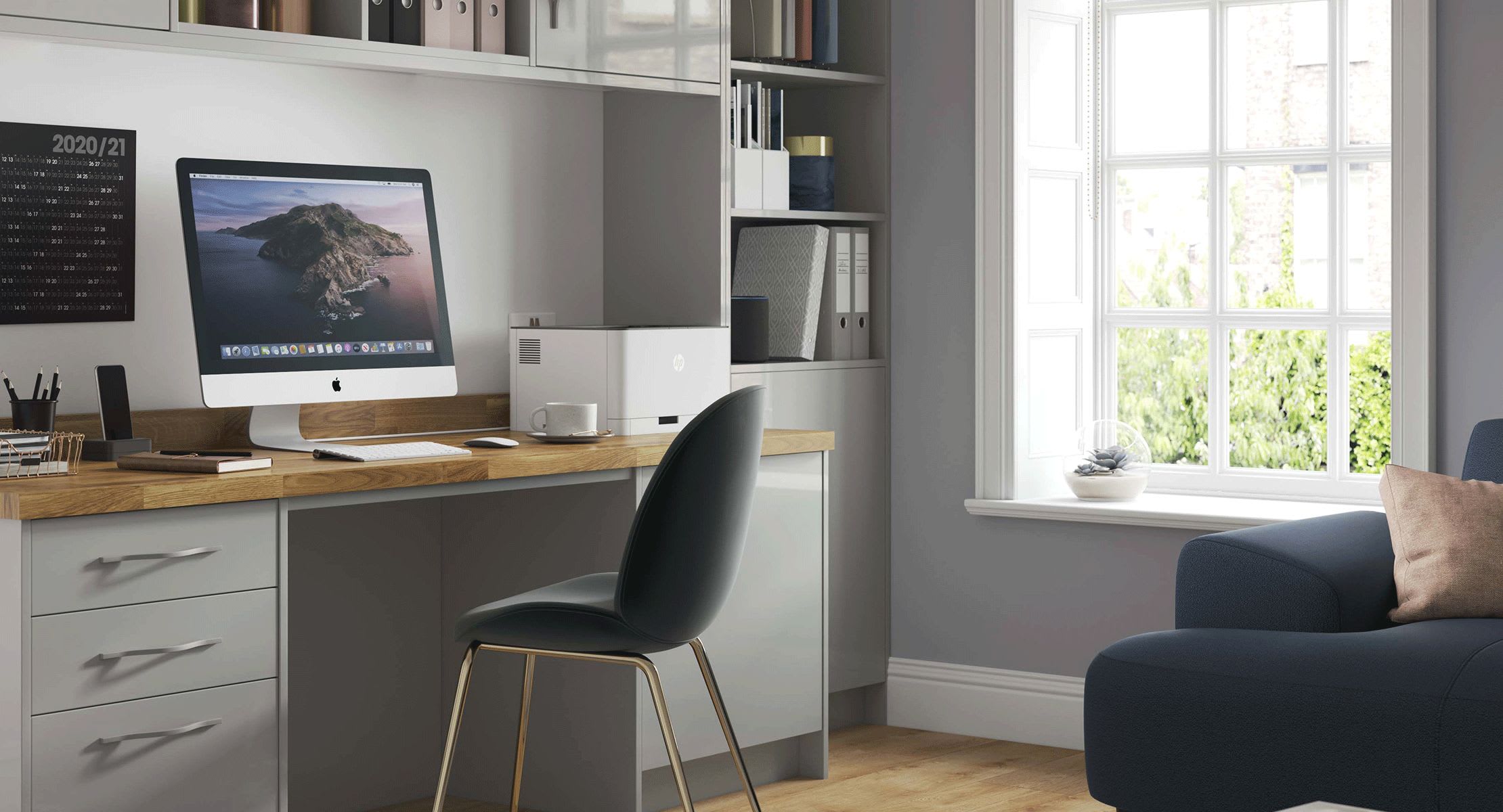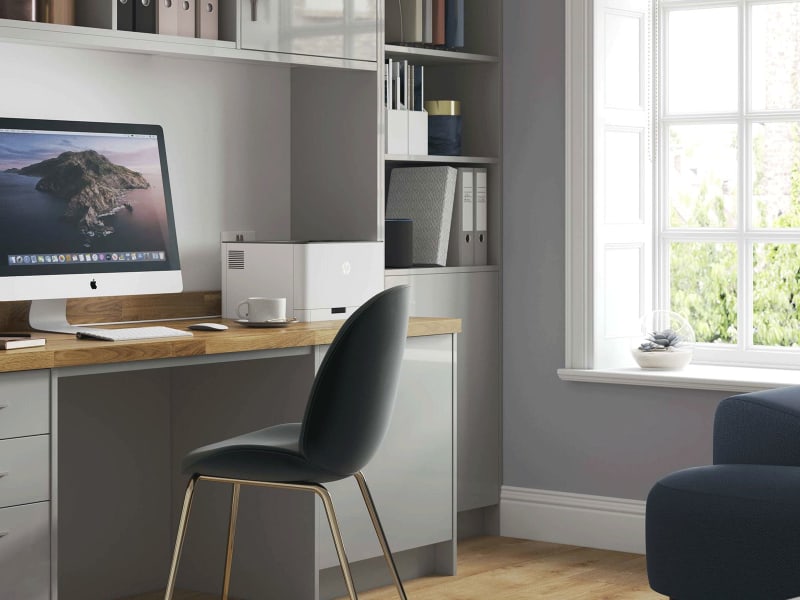 The benefits of a
home office
With a dedicated home office space you can boost your productivity and focus on the job in hand, without the distractions of working at the kitchen table or at a makeshift desk in your spare room.
Open plan or integrated, we'll ensure your office design works for you and your home, whatever the size and space you have available.
Choose your dream home office style from our range of trends and colour finishes, then customise with our selection of lighting, handles, storage and flooring.
What our customers say about us
---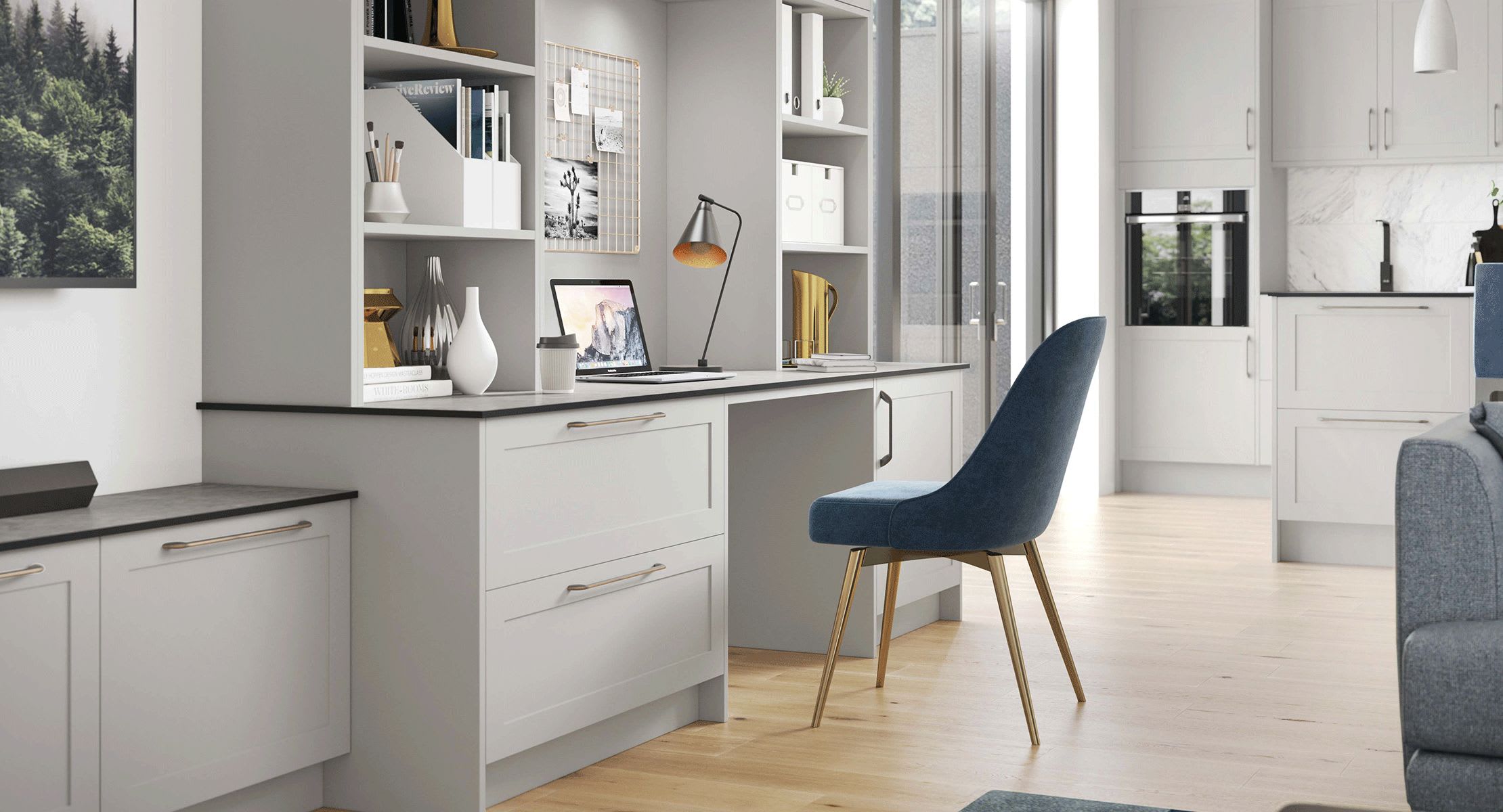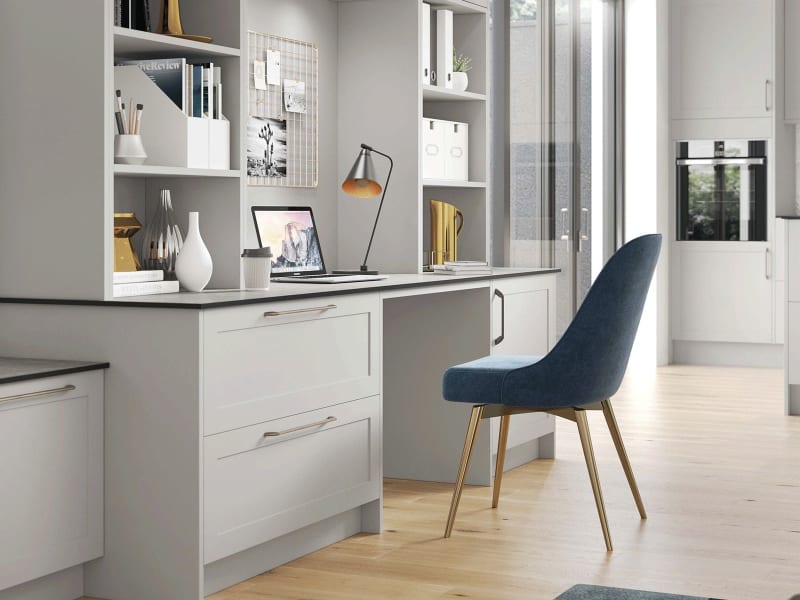 Things to consider
When thinking about your home office, it's a good idea to consider how you will use your space and what's most important to you and your needs, to work effectively.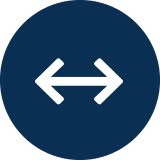 What space do you have?
Are you integrating a workspace into an existing area such as your kitchen, or converting a spare room? Will it be a dedicated area or a space for the whole family? Will it be used daily?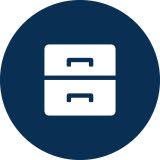 What type of storage do you need?
Do you want to keep everything packed away in our array of cupboard and drawer options? Or maybe you would prefer to have things on display or within easy reach - if this is the case then open shelving is a great option and allows you to personalise your space.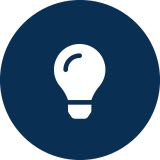 Lighting options
Think about the kind of environment you want to create: something soft and relaxing, or a space that needs to be brightly lit all year round? With our LED and pendant lighting ranges, you can ensure you get exactly what you want.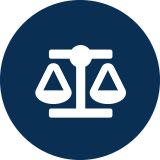 Work-life balance
Although working at home is becoming more typical,that doesn't mean it has to overtake home life. Well-designed spaces with plenty of storage can allow you to leave work at the 'office', and if it's a multi-functional space it can revert back to being a social space.
Ergonomics
It is important to ensure that your workspace is comfortable to use, particularly if it will be used for long periods of time. We have designed our office unit heights at 735mm to help you optimise posture and create a comfortable work area.
Your dream. Our experts.
From design to installation plus all the finishing touches, we have everything you need to create your new office furniture.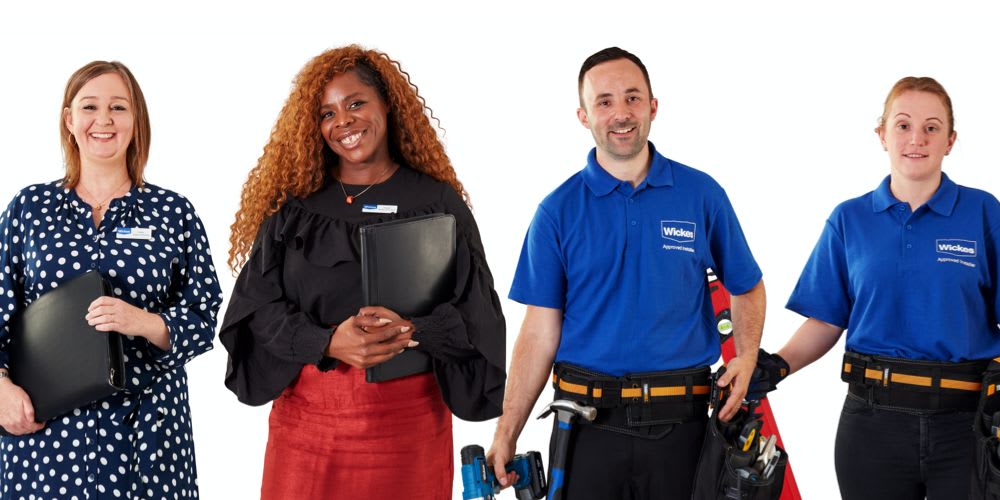 Design & Installation Services
From design to installation, we have everything you need to complete your next home project.
Find out more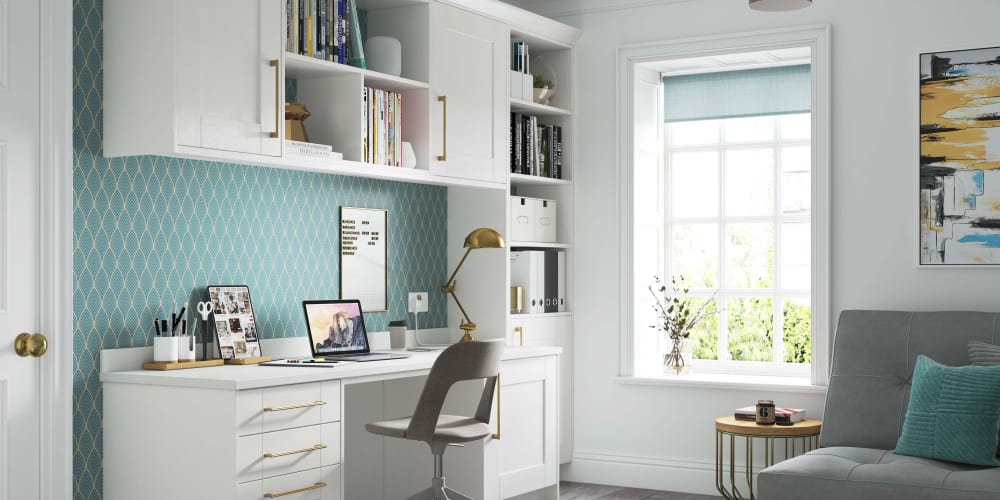 Discover our Home Office brochure
Working from home is here to stay and our Fitted Home Office brochure will help you find the right one for you, whether it's part of a kitchen or hallway or converting a spare room.
Find out more
Terms & conditions
^FREE Fitted Home Office installation: Free installation offer applies to Wickes 'Dry Fit' installation of fitted home offices only. show more
Minimum £1,500 spend on fitted home office products required to qualify for free installation. This installation discount does not apply to the Kendal ranges. Kendal home offices qualify for 15% off "Dry Fit" installation when a minimum of £1,500 is spent on a Kendal home office (qualifying spend can include other products from the Home Office Collection). Product and installation must be purchased in a single order. Dry Fit installation does not include specialist installation services, Wickes tiling and flooring services, made-to-order worktop installation or Wickes internal door installation service. This discount is not available when a home office is ordered as part of a kitchen project. Speak to a Design Consultant for more information about Wickes 'Dry Fit' installation, exclusions, terms and conditions. This offer only applies to products featured in the Fitted Home Office Collection brochure and does not apply to non-Showroom products or garden buildings. Offer ends 13th June 2022. show less