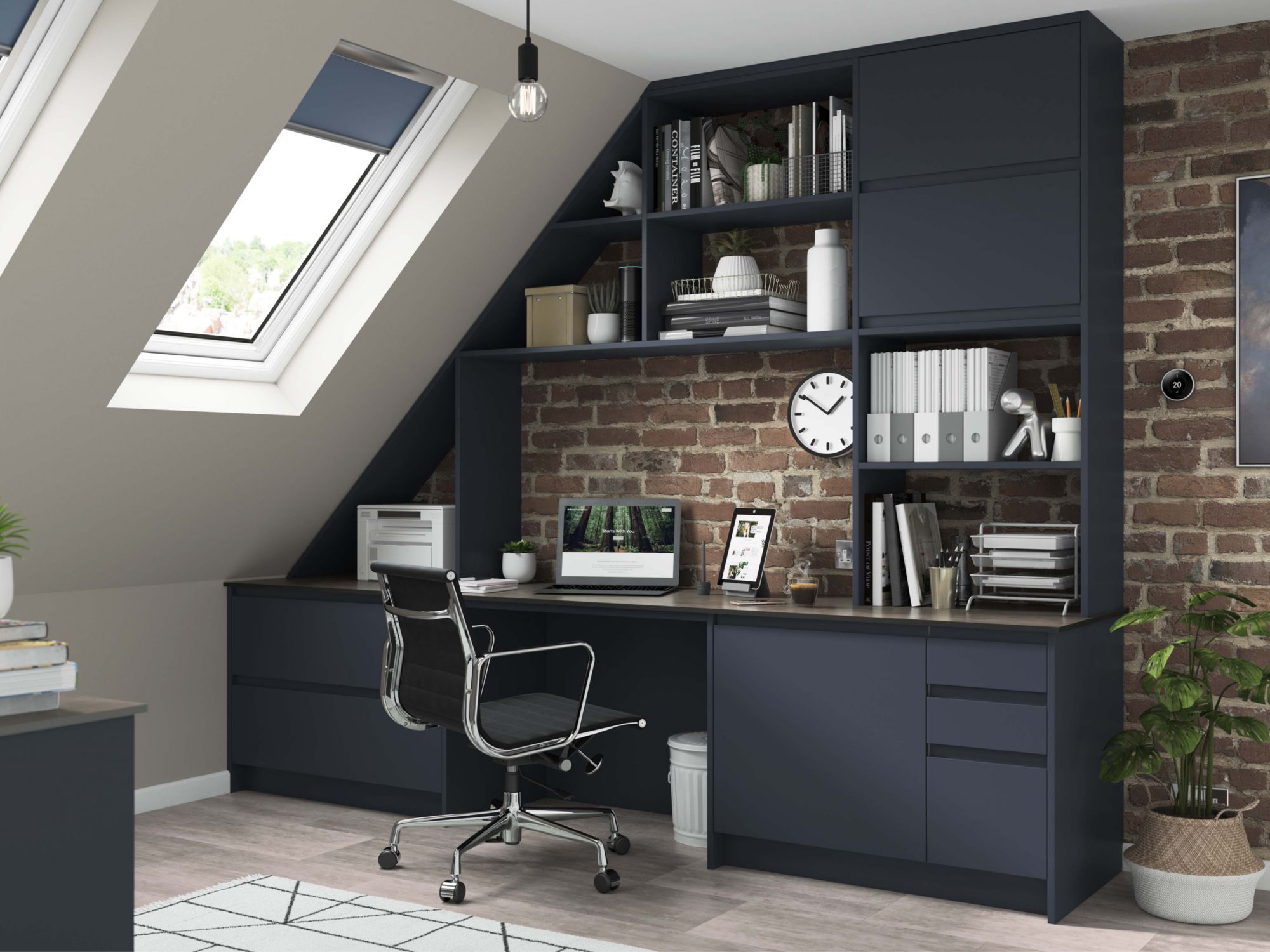 Fitted Home Office
We can create your workspace in even the trickiest of spaces; or within another room.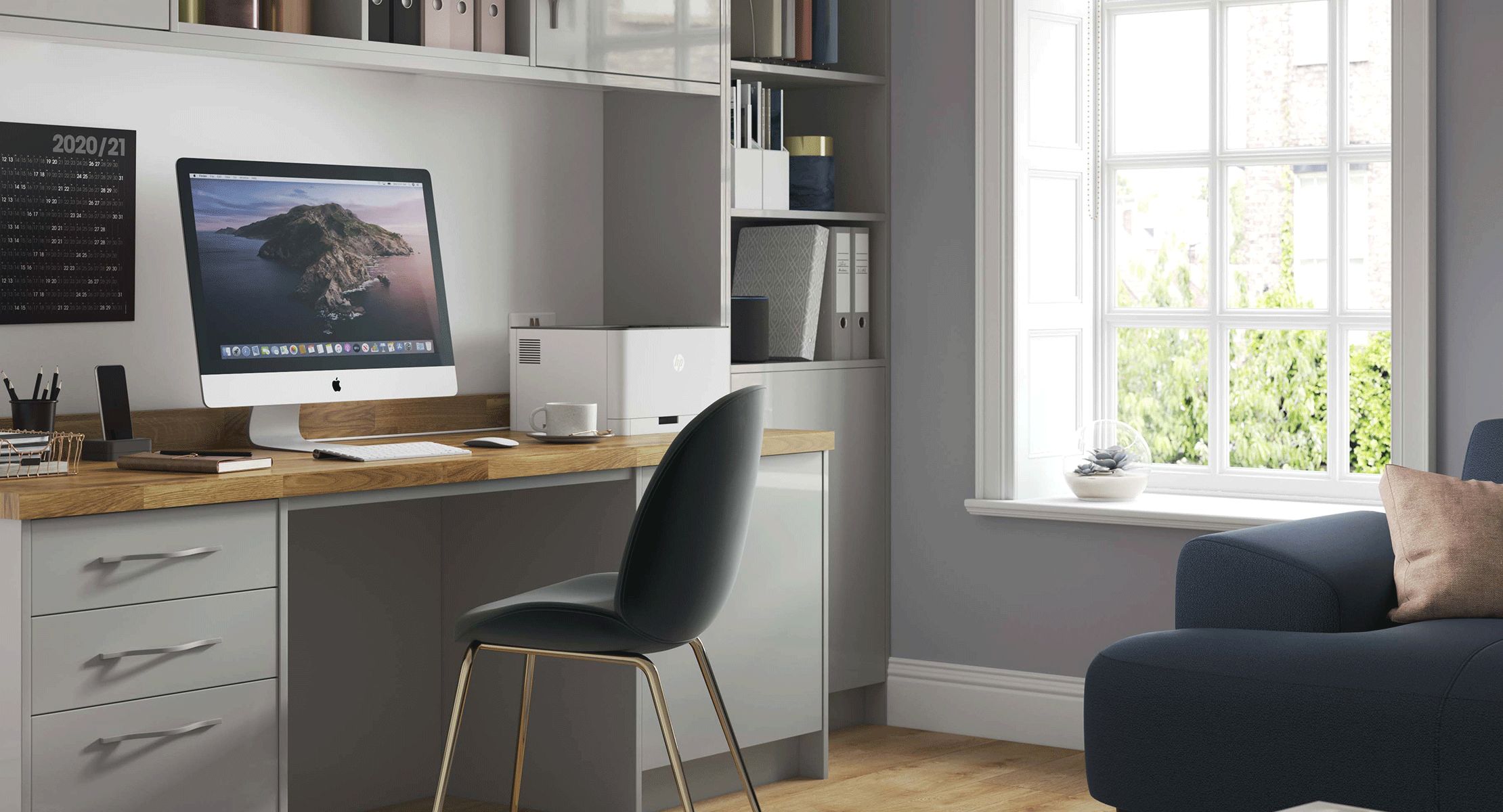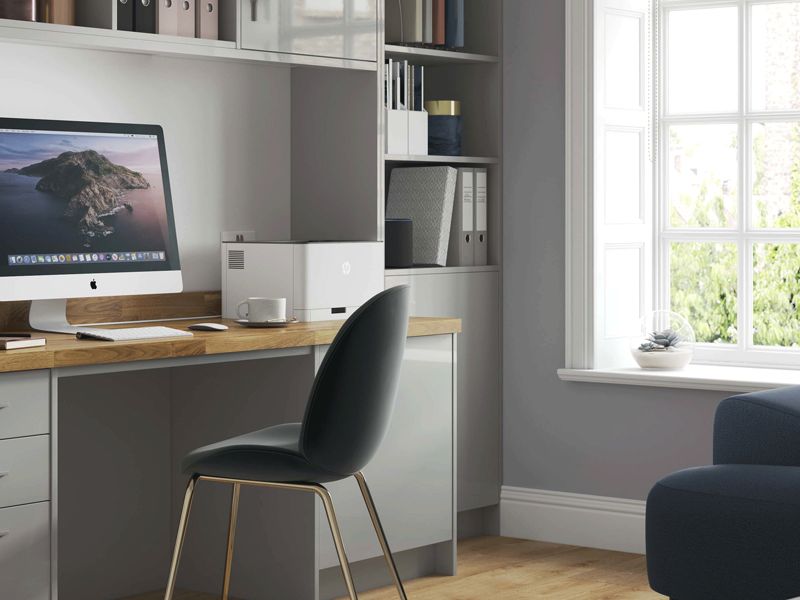 The benefits of a
home office
With a dedicated home office space you can boost your productivity and focus on the job in hand, without the distractions of working at the kitchen table or at a makeshift desk in your spare room.
Open plan or integrated, we'll ensure your office design works for you and your home, whatever the size and space you have available.
Choose your dream home office style from our range of trends and colour finishes, then customise with our selection of lighting, handles, storage and flooring.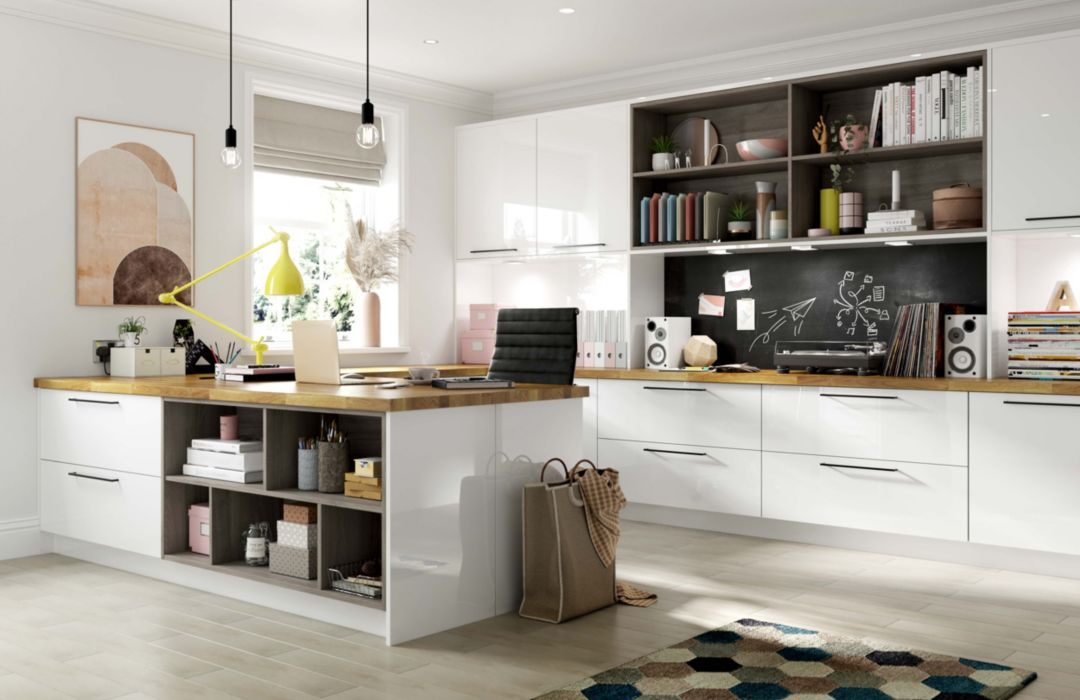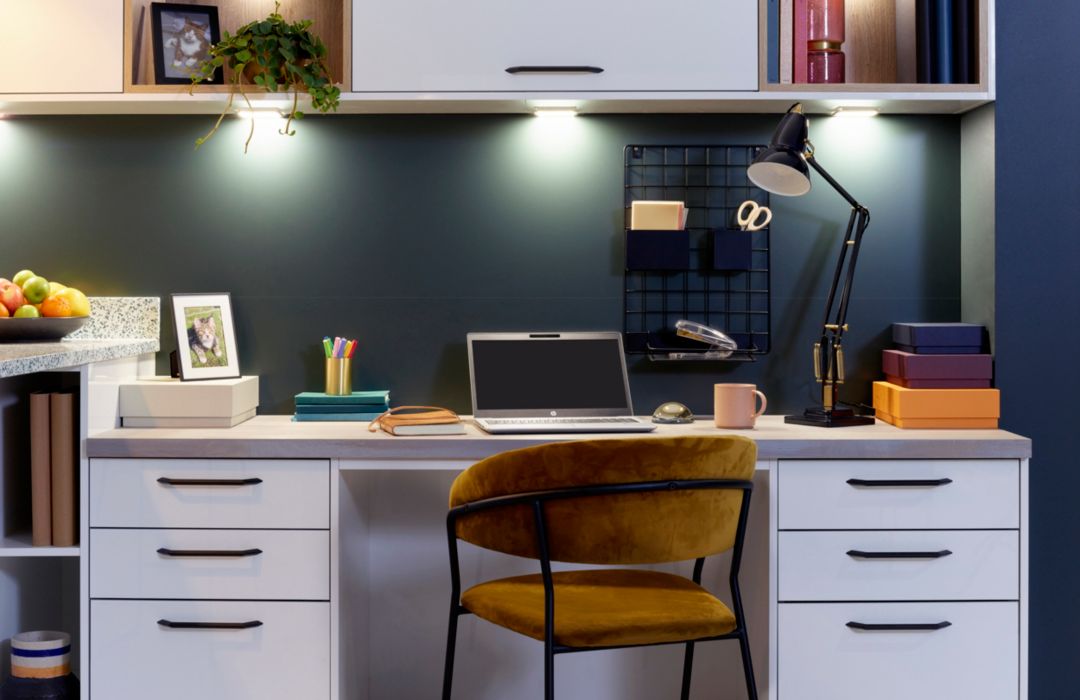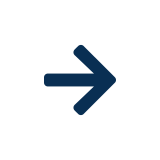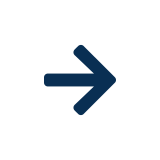 Esker Range
Transform your kitchen with high gloss fascias. Each unit has a smooth acrylic finish, reflecting the light and giving a sense of space.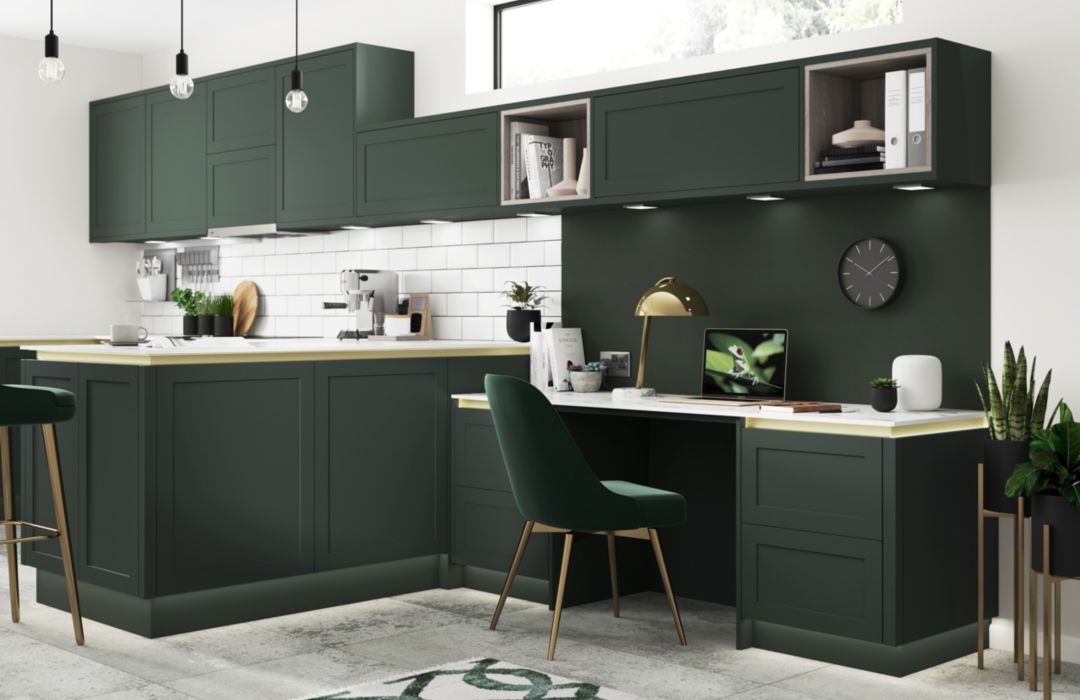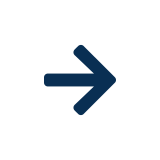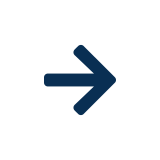 Chester Intelliga Range
The Chester Intelliga range mixes a contemporary narrow-framed version of the classic shaker with the option of a truly handleless kitchen, offering a combination that will make your kitchen unique.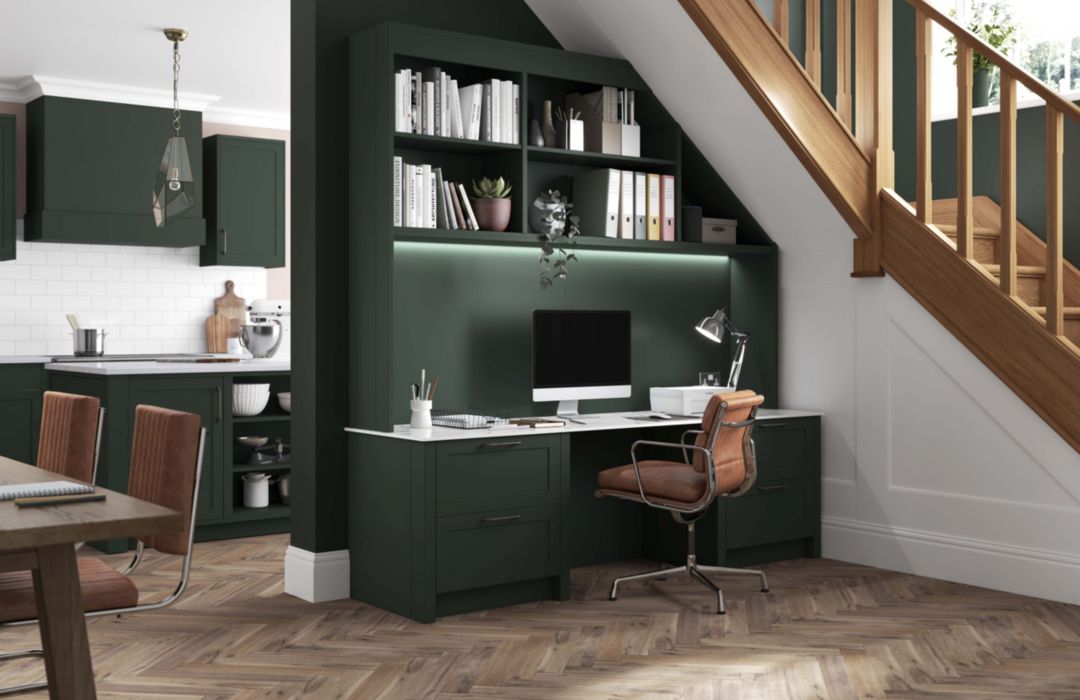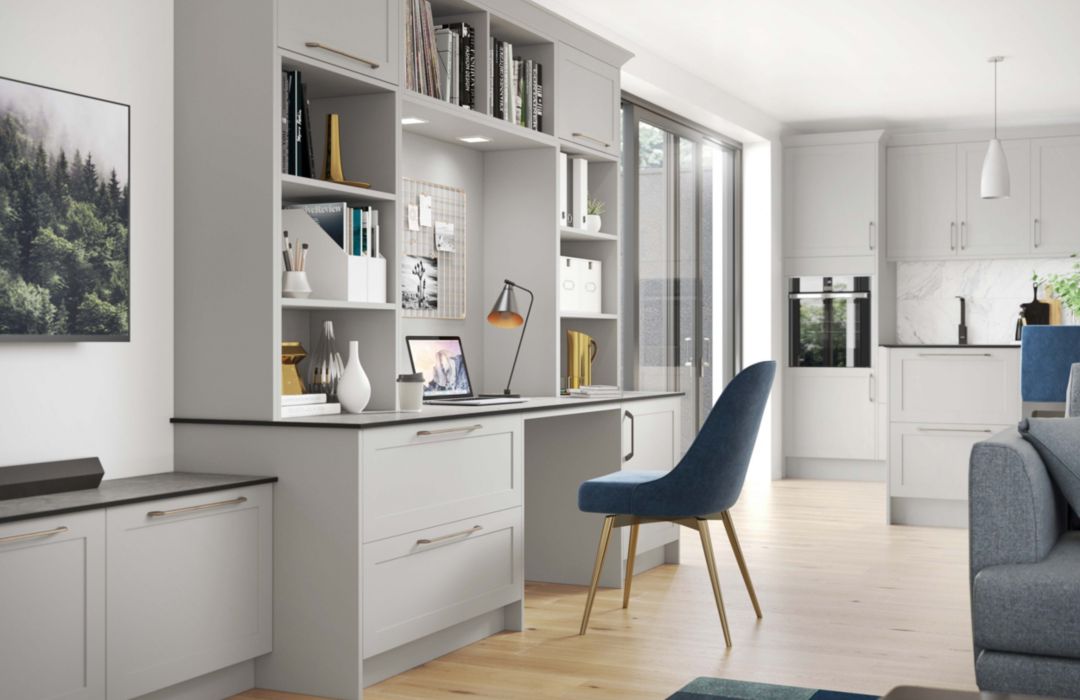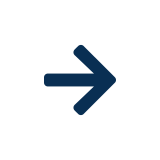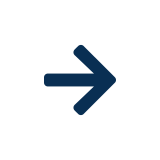 Chester Range
The shaker door gets an update with a stylish narrow frame in a beautifully tactile smooth finish. Cabinets are painted in soft grey, striking forest green or bold midnight blue, which can be styled individually or combined together to stunning effect.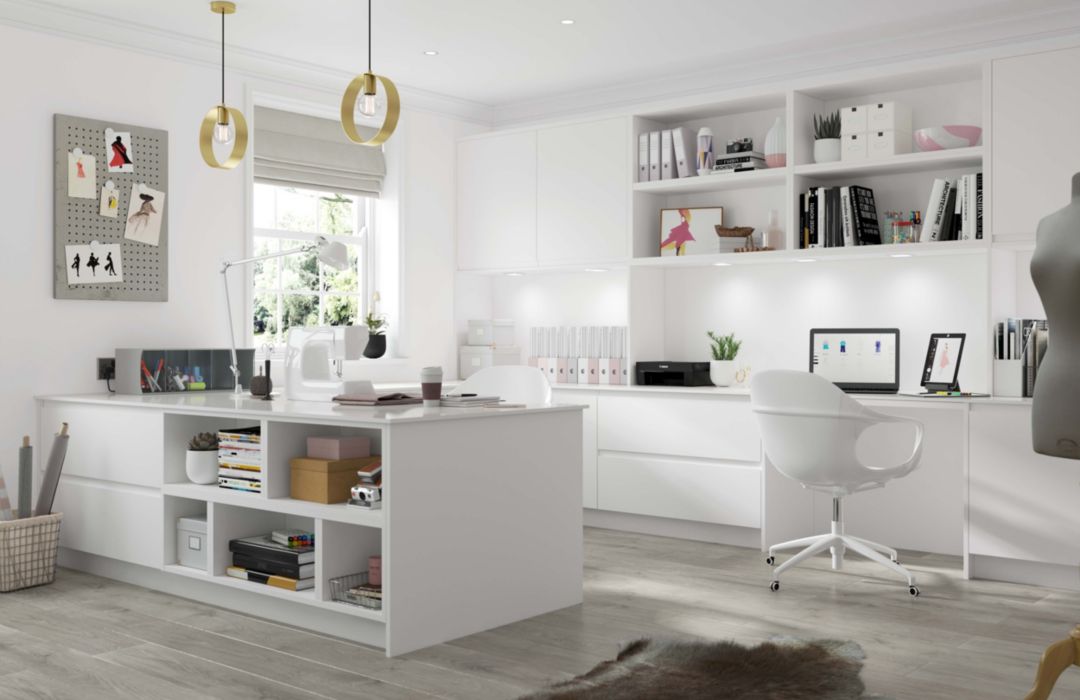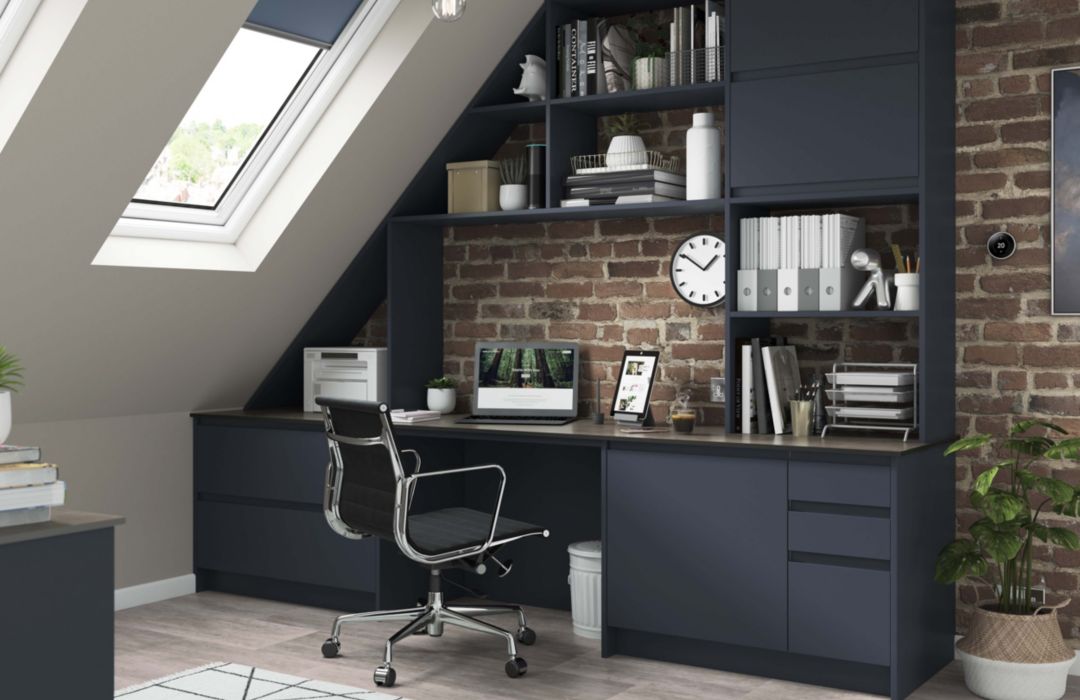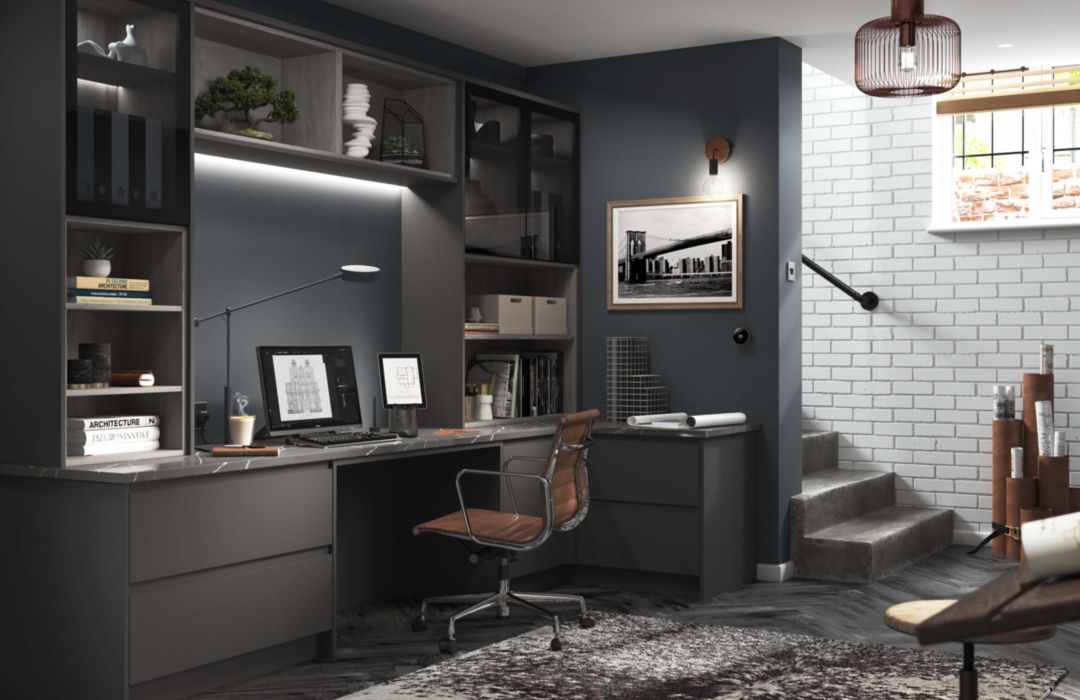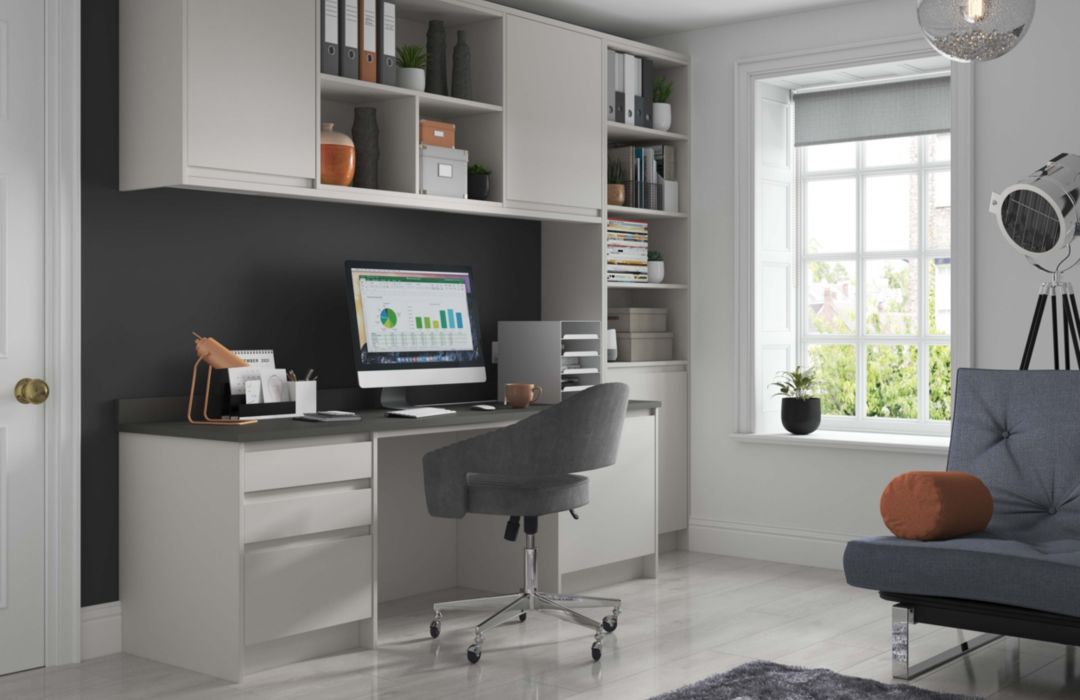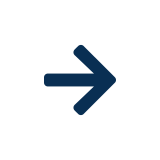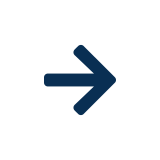 Camden Range
Modern and elegant, the stylish Camden range boasts sleek lines for an eye-catching design. The durable silky matt finish is fingerprint–resistant whilst the integrated J-Pull handles add a streamlined feel to this contemporary office space.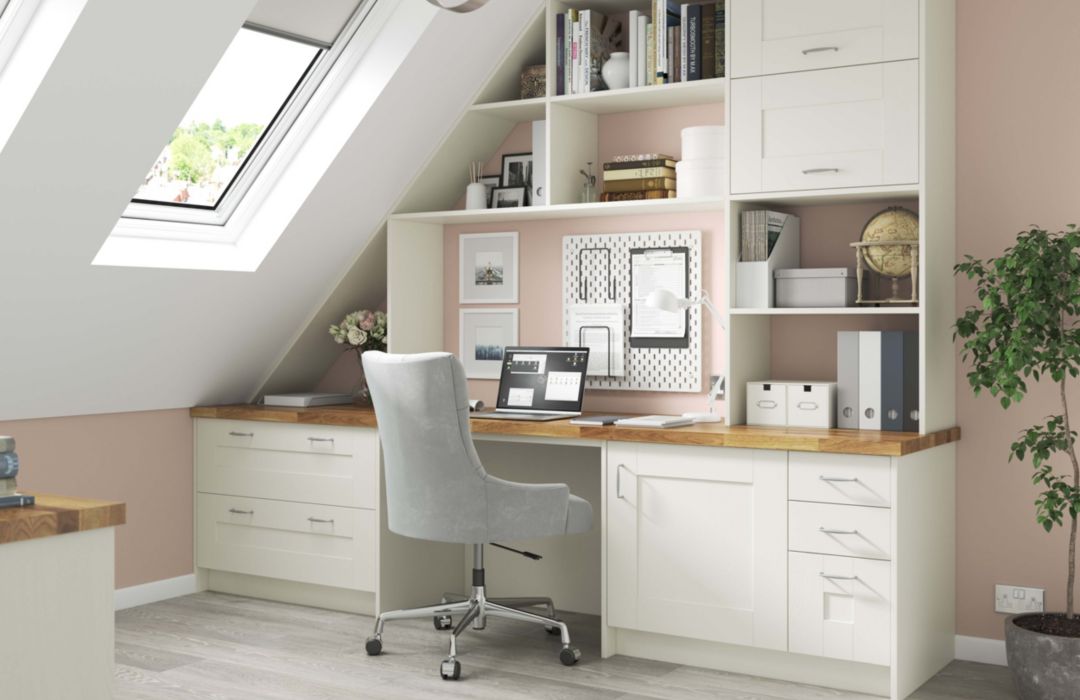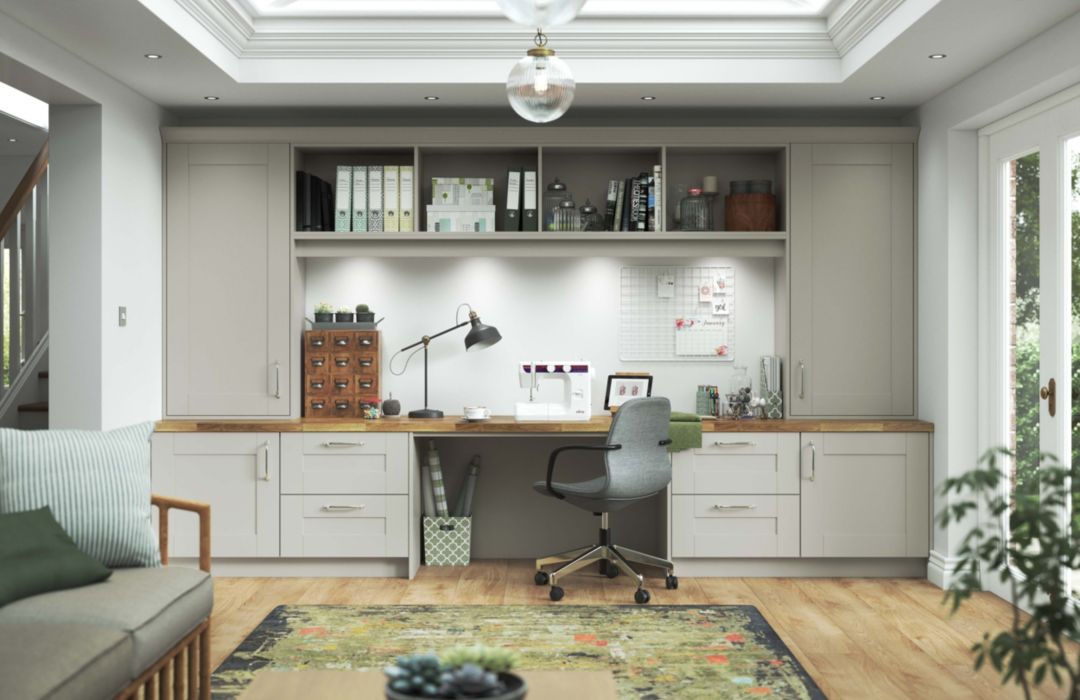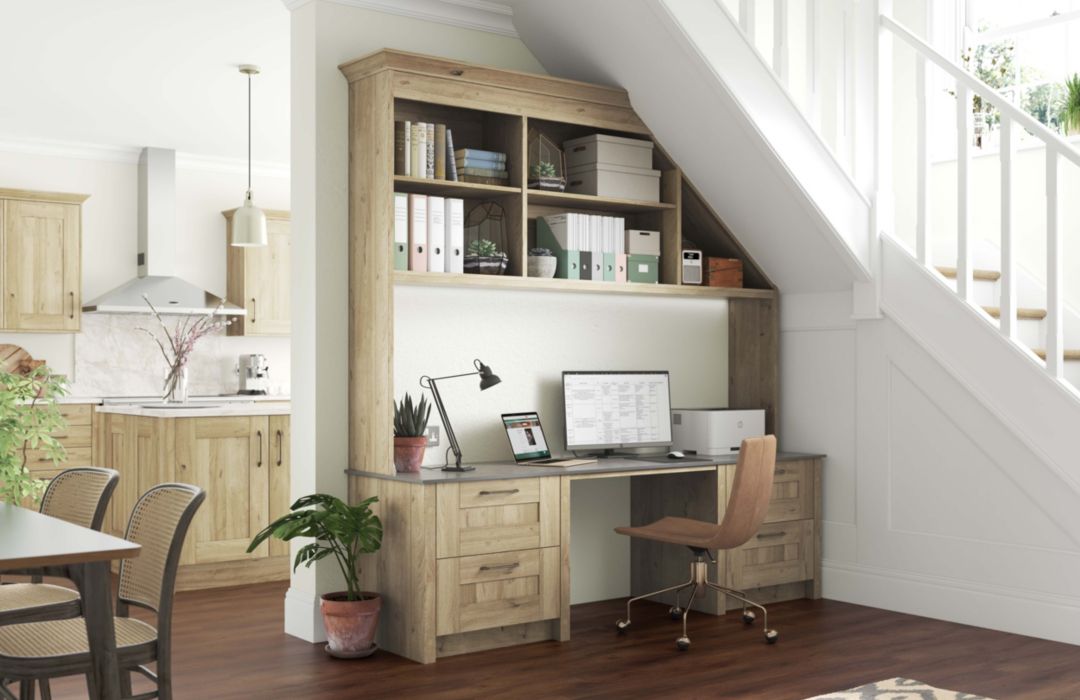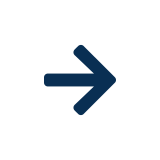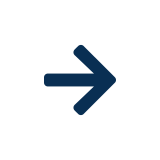 Tiverton Range
Tiverton adds a touch of vintage sophistication to traditional and contemporary style kitchens alike. This timeless shaker design is crafted with timber frames and veneer centre panels, complemented by a palette of classic period colours to choose from.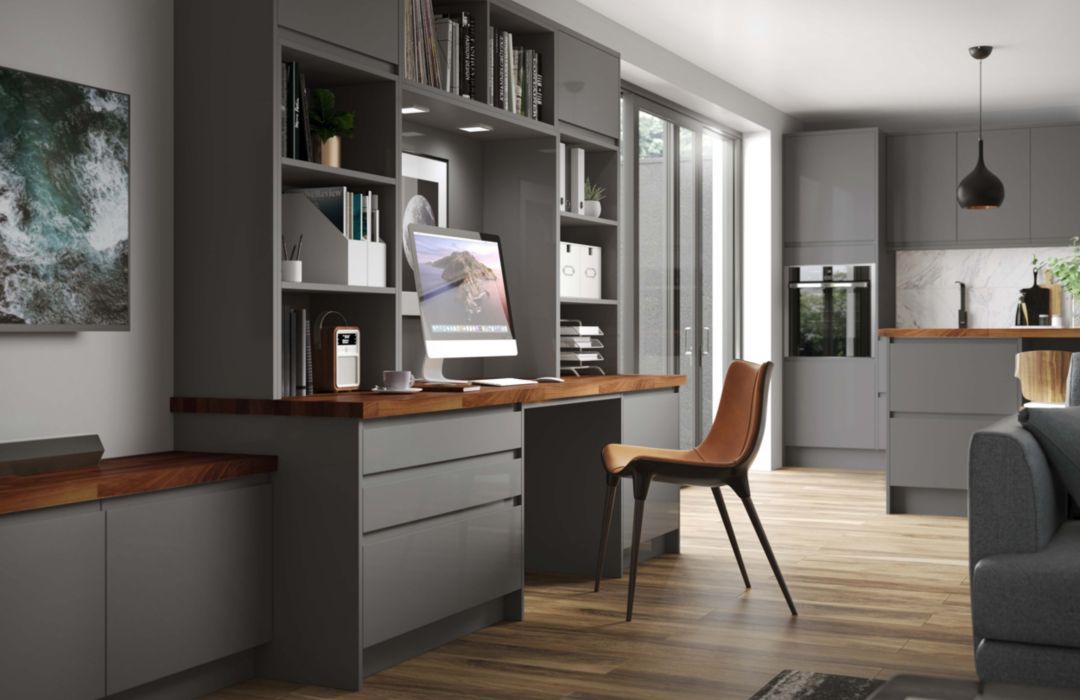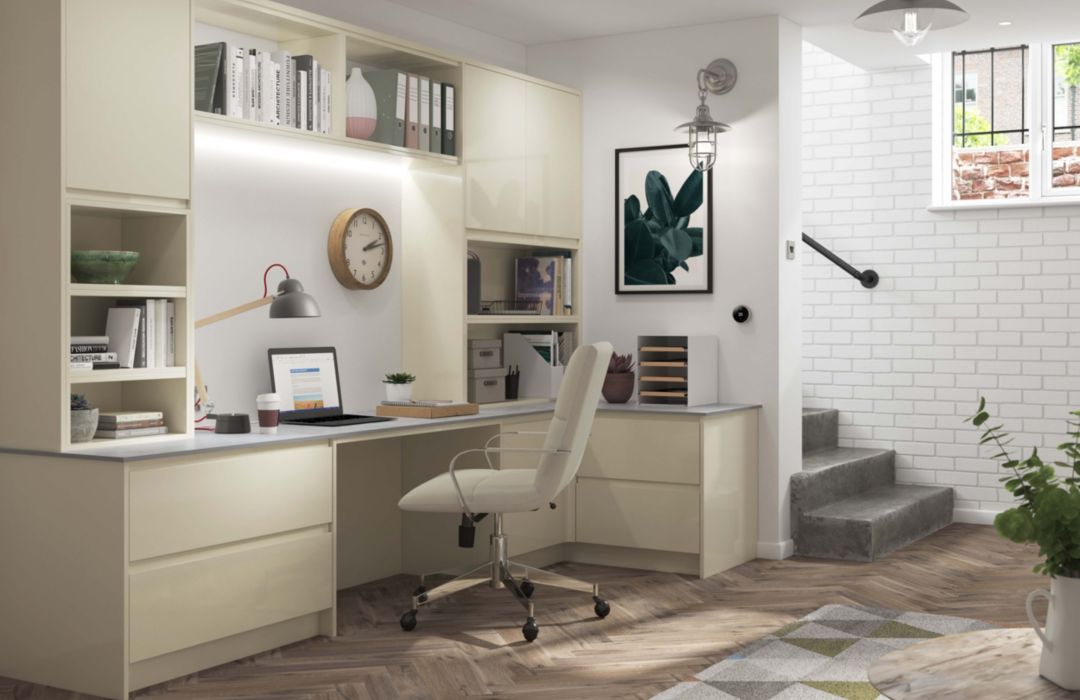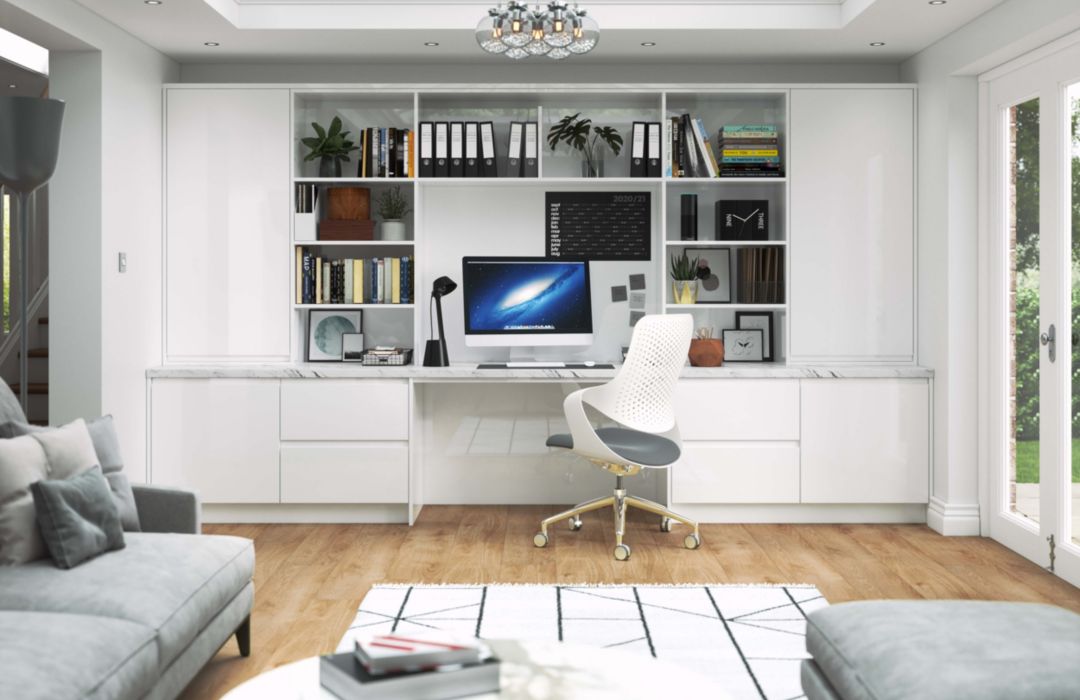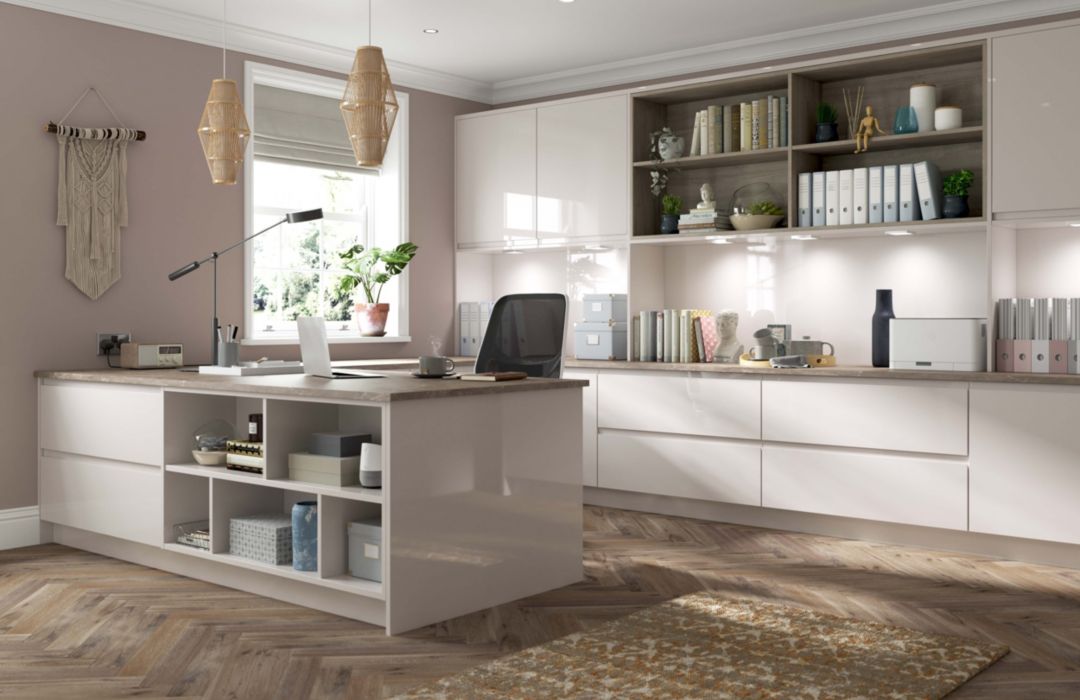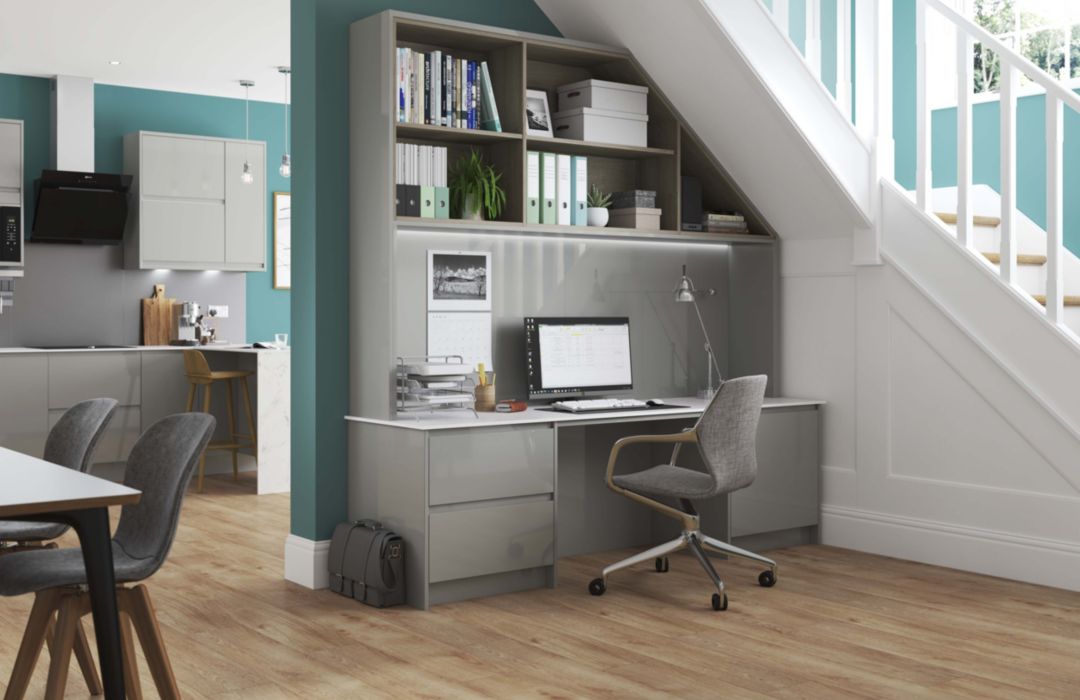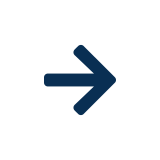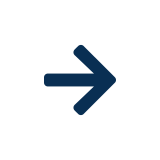 Sofia Range
An iconic, minimalist design which balances the beauty of simplicity with ultra-modern styling. With a stunning range of colours, Sofia offers supreme versatility and features the sleek lines of integrated handles and sweeping curves in a high gloss, lacquered finish.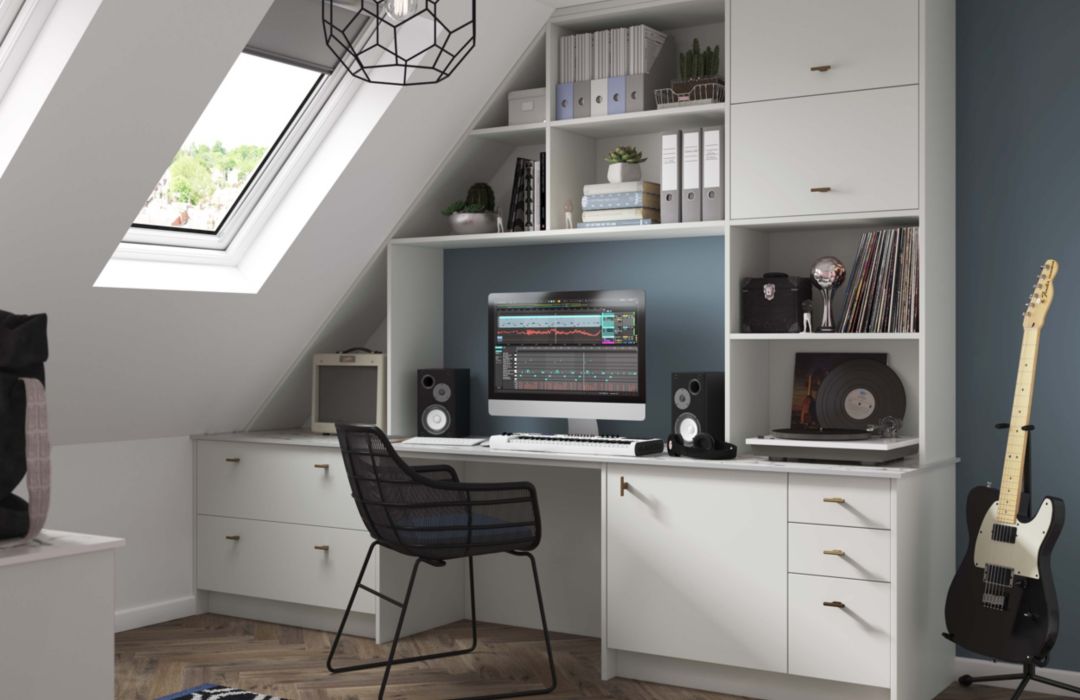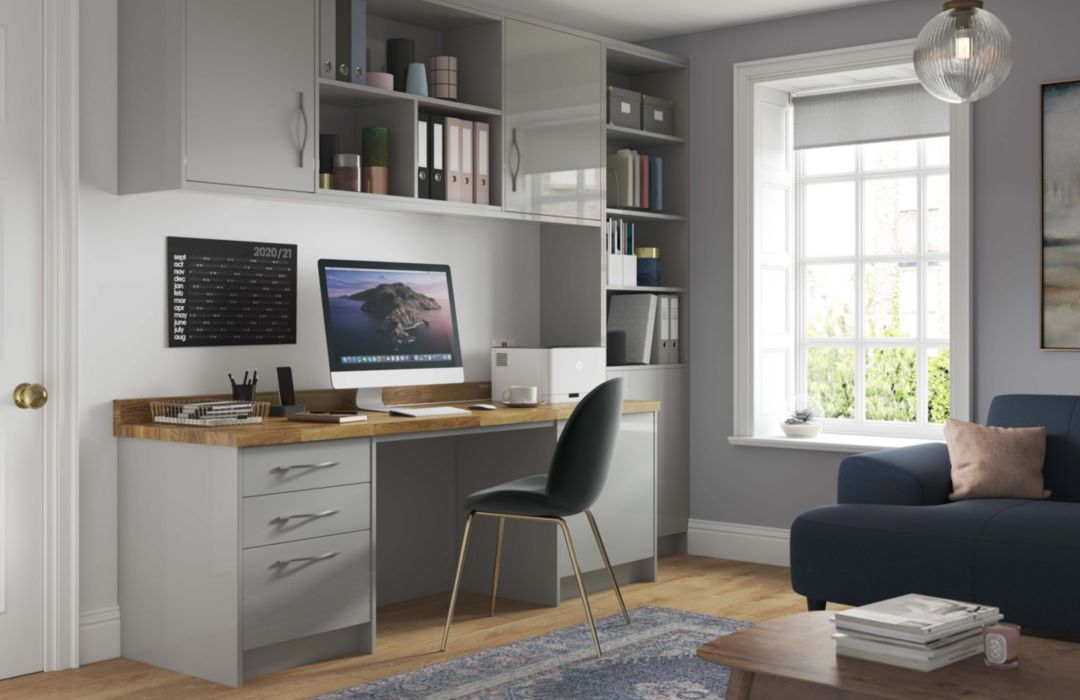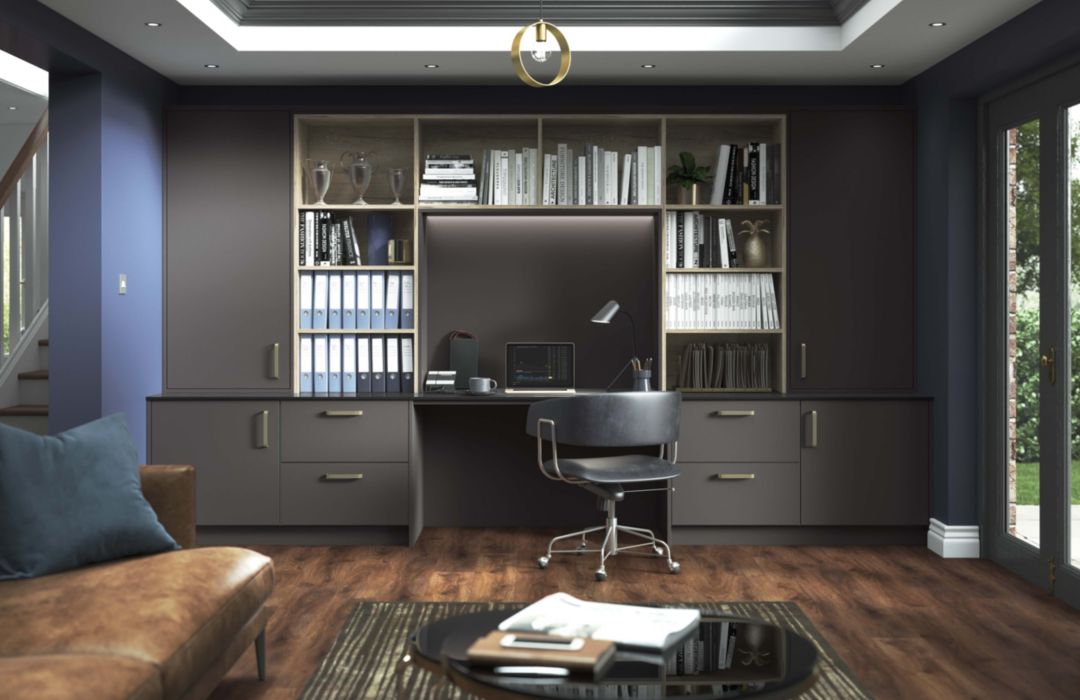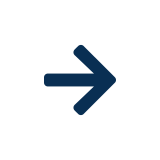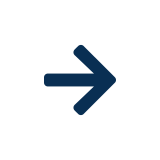 Melrose Range
This sleek slab-style office gives you the option to mix and match both colour and texture; silky smooth matt dove grey or carbon can be coupled with glossy pewter for the latest office look. The combinations are endless.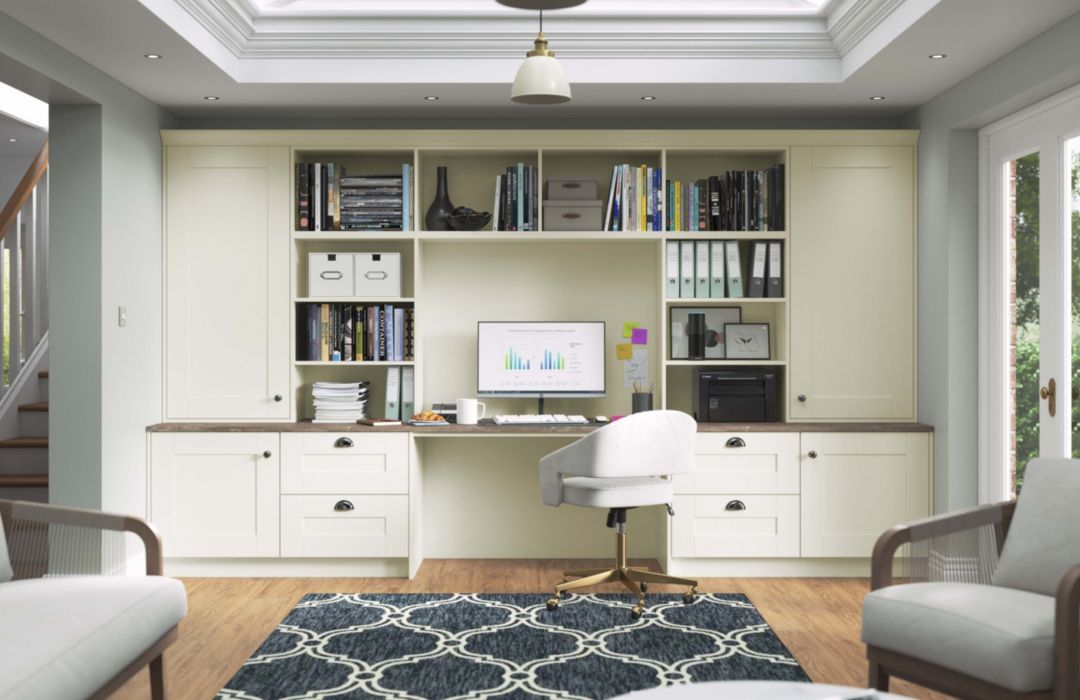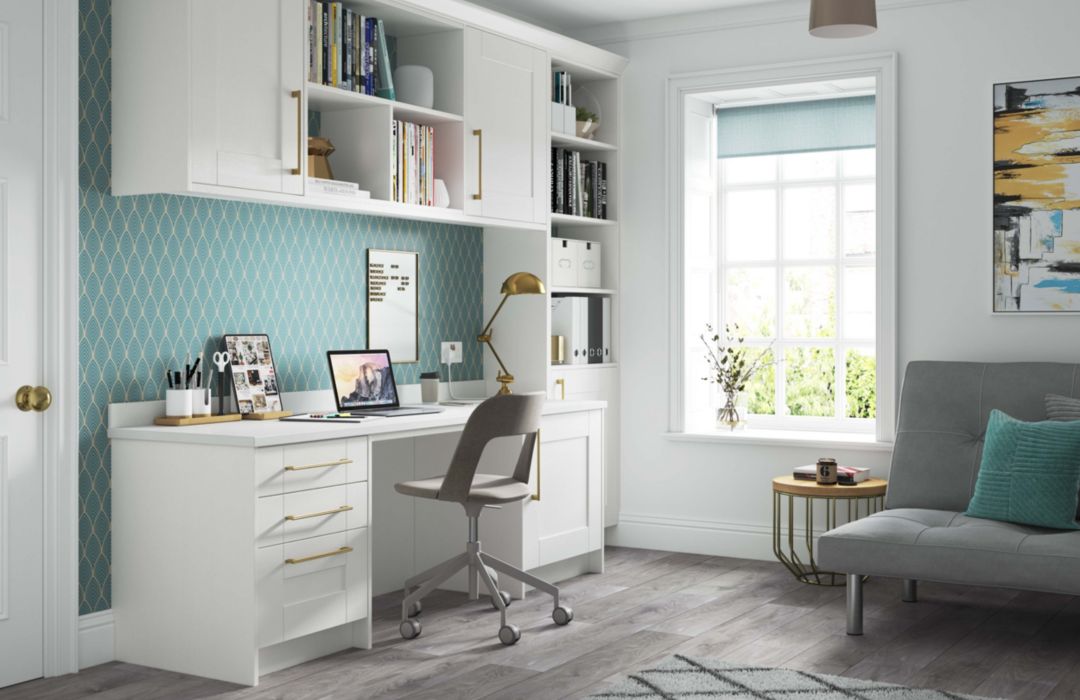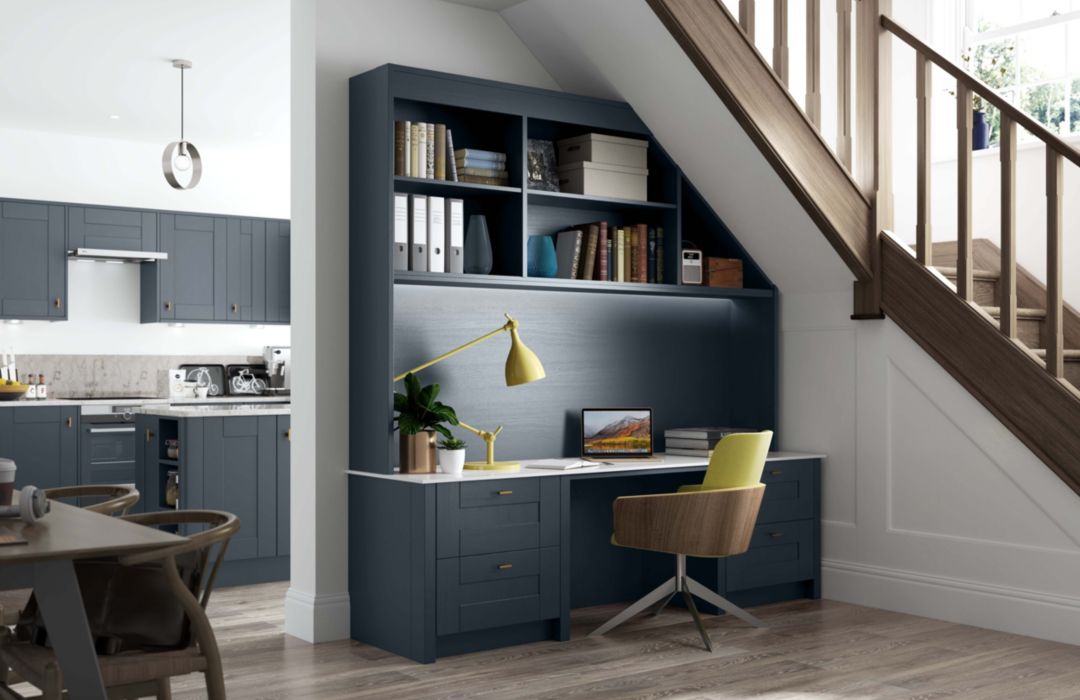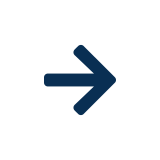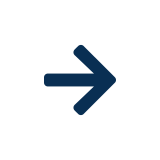 Milton Range
Milton offers the beauty of natural wood with the strength of the latest durable synthetic materials in a selection of decadent, rich shades. Providing exceptional versatility, this range of shaker units can be accessorised with classic knob handles or go contemporary with elegant chrome bars.
---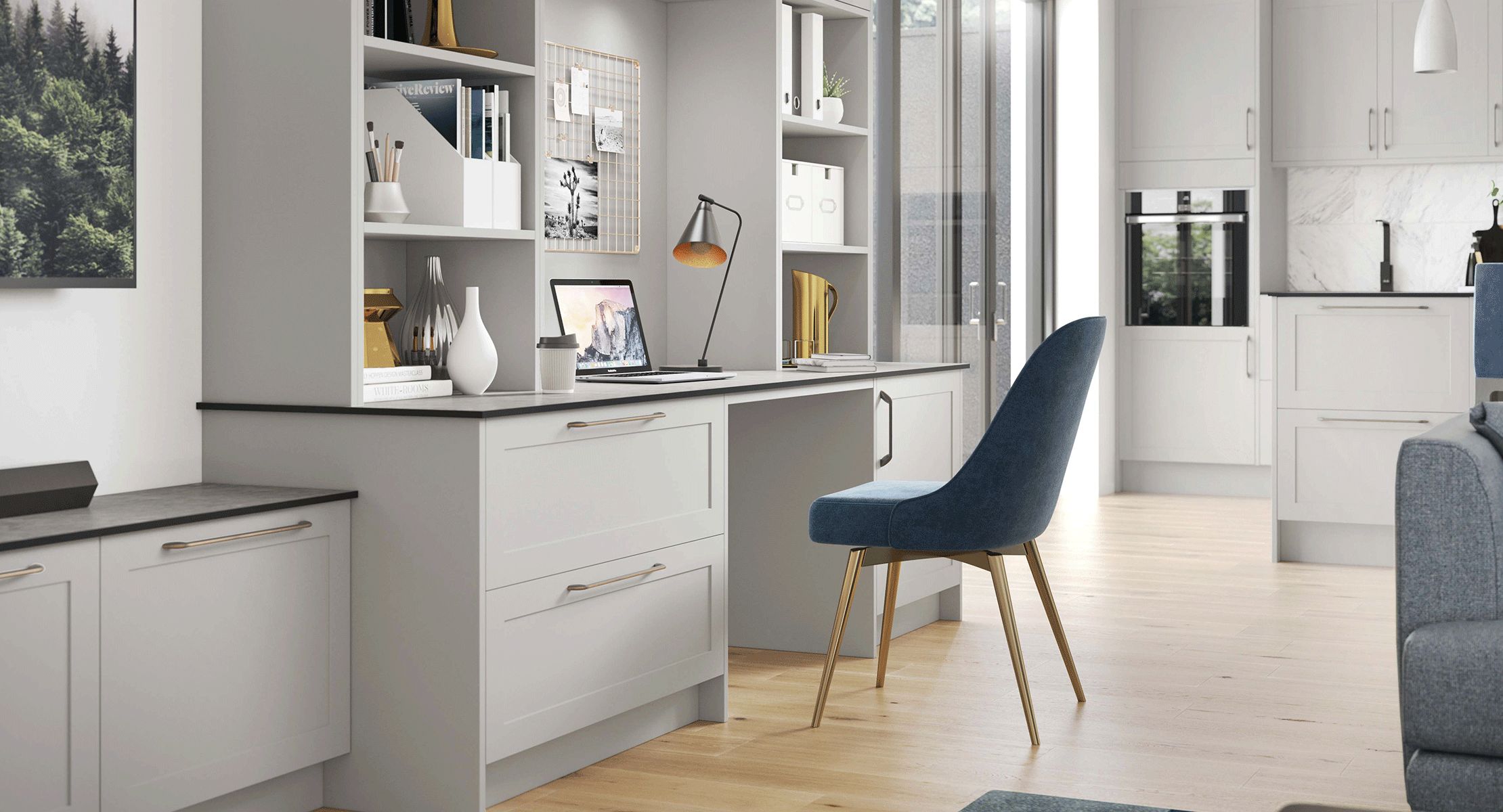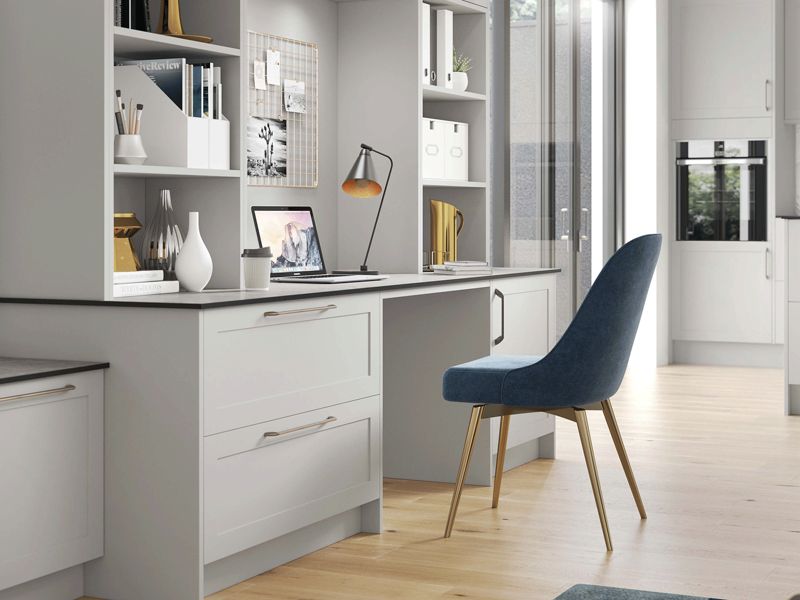 Things to consider
When thinking about your home office, it's a good idea to consider how you will use your space and what's most important to you and your needs, to work effectively.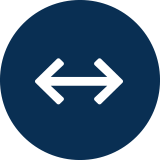 What space do you have?
Are you integrating a workspace into an existing area such as your kitchen, or converting a spare room? Will it be a dedicated area or a space for the whole family? Will it be used daily?
What type of storage do you need?
Do you want to keep everything packed away in our array of cupboard and drawer options? Or maybe you would prefer to have things on display or within easy reach - if this is the case then open shelving is a great option and allows you to personalise your space.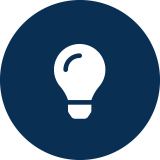 Lighting options
Think about the kind of environment you want to create: something soft and relaxing, or a space that needs to be brightly lit all year round? With our LED and pendant lighting ranges, you can ensure you get exactly what you want.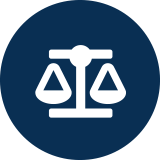 Work-life balance
Although working at home is becoming more typical,that doesn't mean it has to overtake home life. Well-designed spaces with plenty of storage can allow you to leave work at the 'office', and if it's a multi-functional space it can revert back to being a social space.
Ergonomics
It is important to ensure that your workspace is comfortable to use, particularly if it will be used for long periods of time. We have designed our office unit heights at 735mm to help you optimise posture and create a comfortable work area.
Your dream. Our experts.
From design to installation plus all the finishing touches, we have everything you need to create your new office furniture.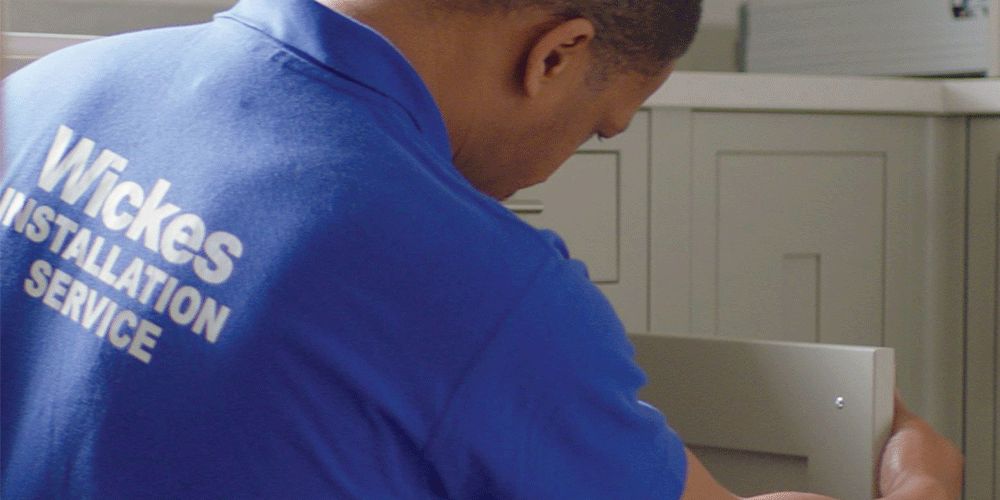 Our installation service
Our installers can take care of everything; from plumbing to electrics, lighting to tiling.
Find out more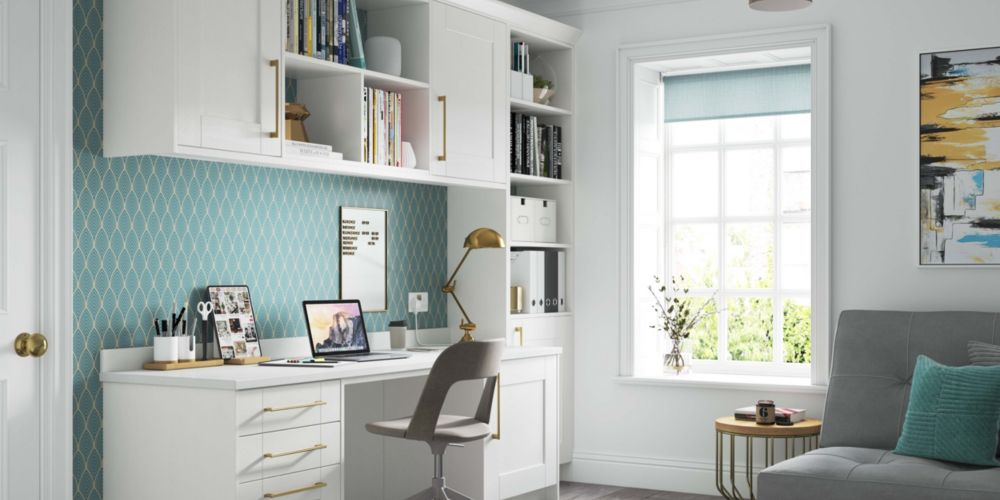 Discover our Home Office brochure
Working from home is here to stay and our Fitted Home Office brochure will help you find the right one for you, whether it's part of a kitchen or hallway or converting a spare room.
Find out more
Terms & conditions
*Up to 50% off fitted home office units: Excludes installation. Discount level varies by style. 50% discount applies to Esker, Heritage and Intelliga ranges. 40% discount applies to Camden, Chester, Sofia, Melrose and Tiverton ranges. 30% discount applies to Glencoe, Kendal, Milton & Oban Ivory ranges.Offer ends 9th August 2021.