Melrose kitchen - Dove Grey
Slab - Matt
This modern matt slab-style design uses fingerprint-resistant surface technology to make sure that it stays beautiful, however busy your kitchen gets. The cool grey colouring is extremely versatile, so it looks great against any combination of colours and textures.
Slab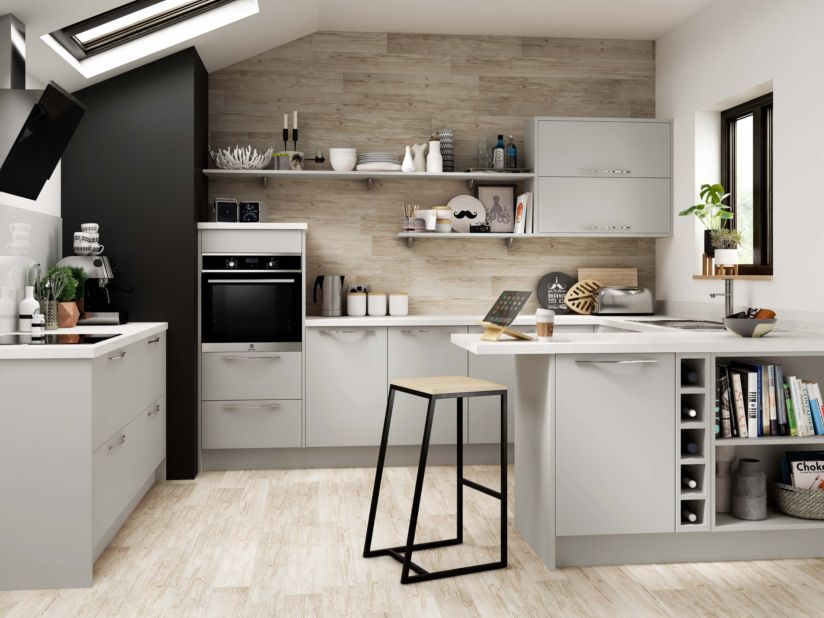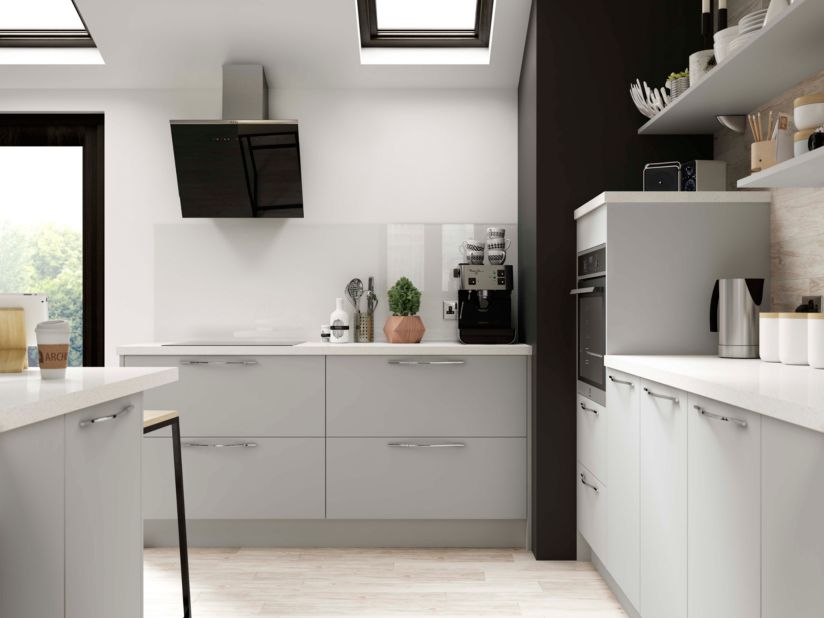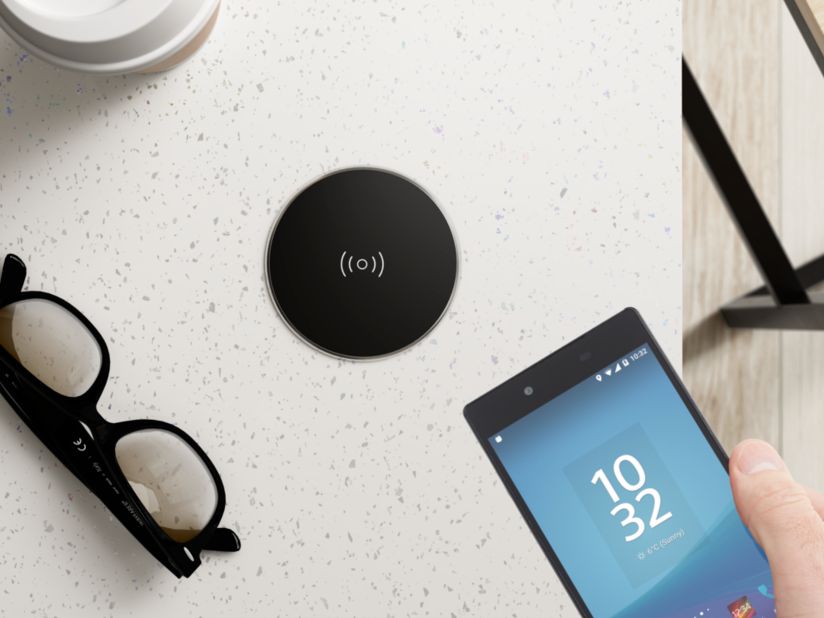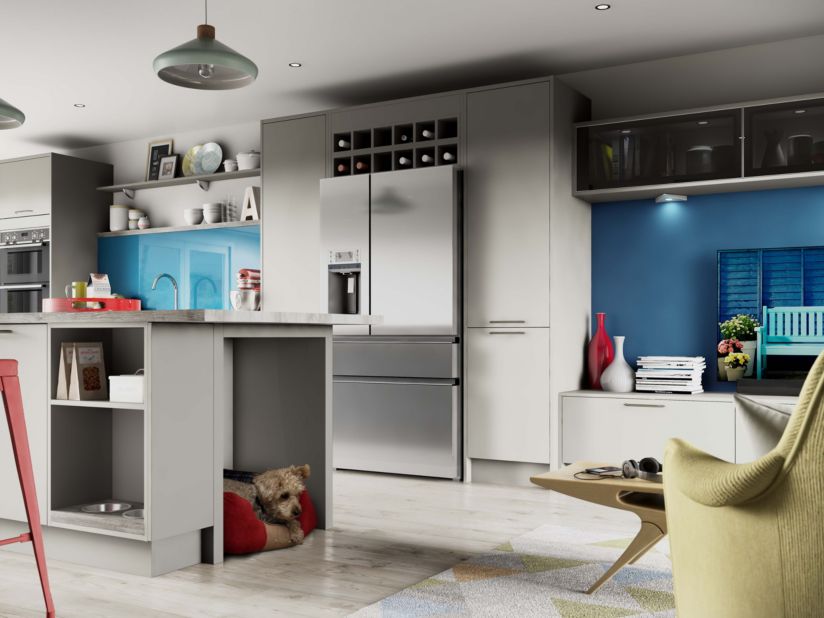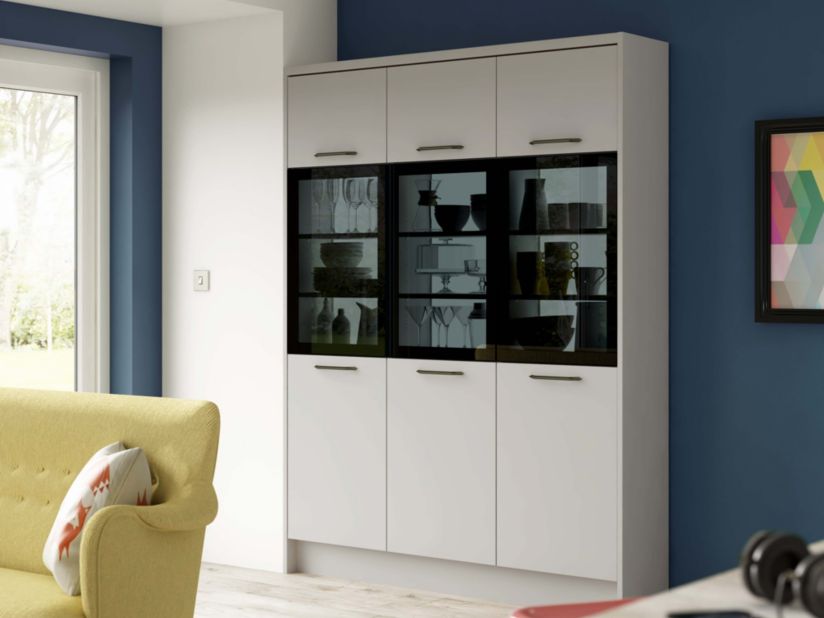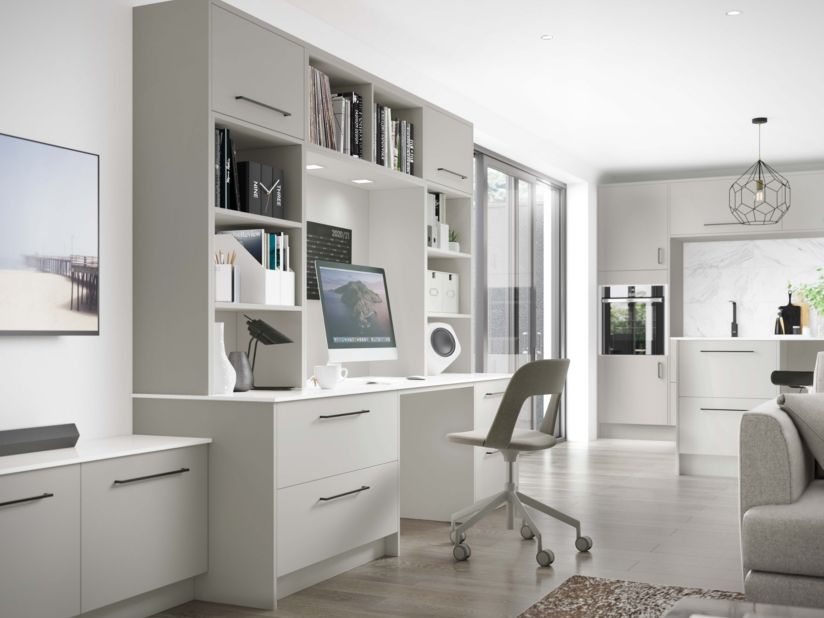 Melrose units*
no minimum spend
---
Ends 17th January
Finance options

Book a FREE design appointment
Everything you need, under one roof
We offer a fantastic selection of products and finishing touches to personalise your kitchen. From the latest appliances to completing your project with a stunning range of lighting, flooring, tiles, paint and more, we have everything you need to complete your dream kitchen project.
Showroom kitchens - Our expertise
You can learn more about our end to end installation service and how to spread your costs with our flexible finance payment options.
Ideas & Advice
Download our latest brochure or inspire your ideas with our kitchen gallery. Let us guide you towards your dream kitchen.
Your dream. Our experts.
From design to installation plus all the finishing touches, we have everything you need to create your new kitchen.
Bring your design ideas to life
Use our kitchen visualiser - and your imagination - to create your perfect kitchen.
Choose cabinets, worktops, flooring, splashbacks and wall colours from an array of designs and finishes to find what will work for you and your home.
Terms & conditions
^Up to 50% off Kitchen installation: Showroom kitchens only. Spend under £5,000 on Showroom kitchen products to qualify for 30% off installation. show more
Spend £5,000 or more on Showroom kitchen products to qualify for 40% off installation. Spend £7,000 or more on Showroom kitchen products to qualify for 50% off installation. These installation discounts do not apply to the Kendal ranges. Kendal kitchens qualify for 15% off installation (available on all Kendal kitchen orders). Product and installation must be purchased in a single order. Installation discounts apply to Wickes 'Dry Fit' installation of Showroom kitchens only. Dry Fit installation does not include specialist installation services, Wickes tiling and flooring services, made-to-order worktop installation or Wickes internal door installation service. Only one installation discount applied per order. Speak to a Design Consultant for more information about Wickes 'Dry Fit' installation, exclusions, terms and conditions. Qualifying spend excludes all installation services and is calculated after all discounts have been applied to the order. Offer ends 7th February 2022. show less
*Kendal 8 unit example price based on: 3 x 1000mm Base Unit, 1 x 500mm 4 Drawer Base Unit, 1 x 600mm Under Oven Housing Unit, show more
2 x 1000mm Wall Unit, 1 x 500mm Wall Unit. Price excludes plinths, cornices, end panels & handles. show less
*25% off Appliances + extra 10% off AEG Appliances: Spend £1,500 or more on Showroom kitchen units to qualify for 25% off selected Showroom kitchen appliances. show more
Offer not available with Kendal ranges. Offer excludes installation services, Samsung appliances & Ready to fit kitchen appliances. Spend £1,500 or more on Showroom kitchen units to qualify for an extra 10% off AEG appliances. Offer not available with Kendal ranges. Customers who qualify for both the Showroom appliance offer and the AEG offer, please note that the 10% off AEG discount is deducted from the sale price after the 25% off Showroom appliance discount has been applied. Offer ends 7th February 2022. show less
*Up to 50% off Worktops: Spend £1,500 or more on Showroom kitchen units to qualify for worktop discount. Discount varies by product. show more
Offer not available with Kendal ranges. 50% discount applies to Showroom kitchen ranges of: Laminate, Compact Laminate, Magna, DIY Slab Tech, 38mm/ 40mm solid wood. 25% discount applies to Corian, Granite, Quartz, Recycled Glass, Silestone, Slab Tech, Ceramica and 60mm solid wood. Excludes installation, templating/ fabrication/ delivery of worktops, worktops from the Ready to fit range and Bathroom worktops. Offer ends 7th February 2022. show less
§Up to 4 years interest free credit on Showroom kitchens: Terms, conditions and exclusions apply. Credit is subject to application, financial circumstances and borrowing history. Eligibility criteria apply. show more
0% APR representative.

10% minimum deposit required. Minimum spend required to qualify.
Spend £12,000 or more on Showroom kitchens to qualify for 48 months interest free credit.
Spend £9,000 or more on Showroom kitchens to qualify for 36 months interest free credit.
Spend £4,000 or more on Showroom kitchens to qualify for 24 months interest free credit.

Offer and qualifying spend only available on Showroom kitchen products, fitted home office units, Wickes "dry fit" kitchen installation service, Wickes tiling & flooring services & Wickes internal door installation service. (Wickes "dry fit" kitchen installation service, Wickes tiling & flooring services & Wickes internal door installation service included only when purchased as part of a Showroom kitchen project). Ask your Design Consultant for more information on Wickes service exclusions, terms and conditions.

Equal monthly repayments commence approximately 30 days from our confirmation to Barclays Partner Finance that we have fulfilled your delivery or Wickes installation service. Barclays Partner Finance will confirm the exact date of your first repayment with you via email.

Wickes Building Supplies Limited acts as a Credit Broker and not the Lender.

Wickes Building Supplies Limited is authorised and regulated by the Financial Conduct Authority. Financial Services Register No: 723596. Company Registration No: 1840419.
Registered office: Vision House, 19 Colonial Way, Watford, Hertfordshire, WD24 4JL.

Wickes Building Supplies Limited is a Credit Broker for credit provided by the Lender: Clydesdale Financial Services Limited trading as Barclays Partner Finance.

Barclays Partner Finance is a trading name of Clydesdale Financial Services Limited, a member of Barclays Group. Clydesdale Financial Services Limited is authorised and regulated by the Financial Conduct Authority. Financial Services Register No: 311753. Company Registration No: 2901725. Registered office: 1 Churchill Place, London, E14 5HP.

Wickes reserves the right to withdraw this offer at any time without prior notice.

Finance agreements can be settled at any point by contacting the Credit Lender, Barclays Partner Finance and requesting a settlement quote.
Settlement of credit is made to the Credit Lender and NOT to Wickes. We kindly remind our customers that repayment cannot be made using Wickes gift cards. Acceptable settlement methods are available from the Credit Lender on request.

Important information is detailed in the credit agreement and customers are reminded to carefully read the documentation provided to them before signing the credit agreement. show less